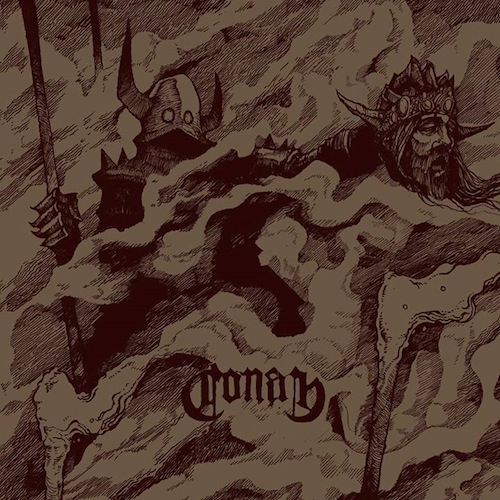 In a recent dream, a Walking Dead-type figure with spirals for legs starts walking towards the fray through a shallow stream, picking up pace, and eventually biting the hand off of a sheriff's deputy to the musical soundtrack of "Foehammer," the third track off of Conan's new album, Blood Eagle. Jon Davis' guitar couldn't be tuned any lower, while the band hits hard with a rhythm section that's all ground and pound like the NFL's best running back. Davis' guitar eventually turns into a sheet of galvanized metal before the stomp barrels out to complete death.
So starts the raw meat middle part of Blood Eagle, Conan's third album. For a band that has a collective plan to crush millions of skulls, their success is not in question. "Horns For Teeth" may squash the hardest, drummer Paul O'Neil's snare sounding like an actual sheet of bones, and cymbals clanging like empty souls. Do you like slamming your head against a brick wall repeatedly? Sounds awfully painful, but, for some musicians, it's a rite of heavy passage. "Horns For Teeth" ends like actual swamp sludge, slower…slower, the end into a pool of nothing.
Blood Eagle is a doom/sludge metal marathon, but the band's got stamina. After O'Neil's bass drum hits like a ton of bricks on dead skulls for eight minutes, the album ends with an unexpected flourish that Buzz Osborne and Matt Pike wound drool over. We hear the battle. We smell the roar of boiling blood. "A thousand heads piled high like a grim mound of suffering blasphemy to nature," Conan's biography says, and it certainly sounds true.
The down-tuned madness that Conan has cultivated over three heavy hitting albums is now a trademark. They've forged a war of head-rattling rumble — who the fuck is going to stop them now?
Similar Albums:


Pallbearer – Sorrow and Extinction


Indian – From All Purity


SubRosa – More Constant Than the Gods
)