Country music's early women pioneers, and the keepers of the flame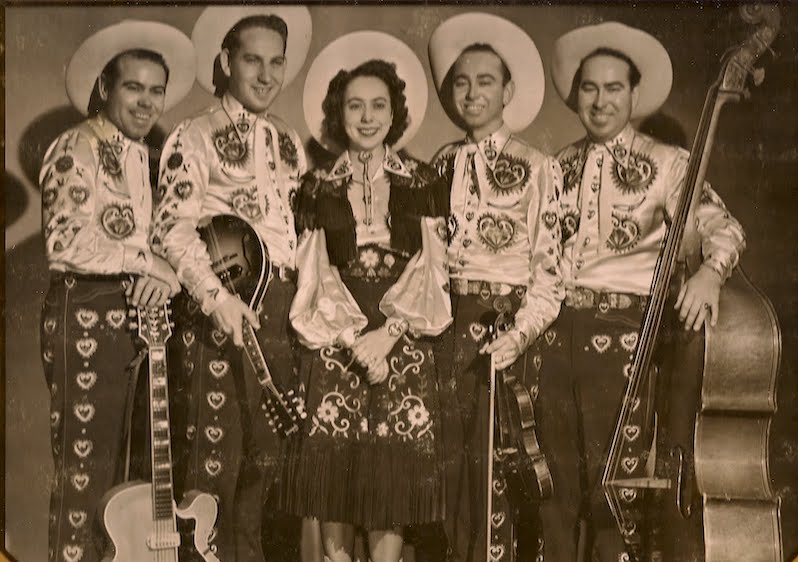 {The following column discusses songs about (and real-life incidents of) sexual assault and partner violence. Caution is warranted.}
***
In 2013, Kacey Musgraves and Ashley Monroe bulldozed their way onto country radio and album charts and got significant notice outside of the genre sandbox simply by being themselves. (It shouldn't be notable that Monroe got to  #39 on the country charts with "Weed Instead of Roses," but the realities of the genre's radio gatekeepers mean it was/is notable.) Plus we got the second Pistol Annies record that year. The following year was even more of a powerhouse, once again driven by women: incredible releases from Angaleena Presley, Rosanne Cash, Lee Ann Womack, Nikki Lane, Lori McKenna, Miranda Lambert and Lera Lynn, plus women-led groups like Little Big Town and Hurray for the Riff Raff. 
For me, almost all of that good and even great shit in 2014 is dwarfed by a song that—in all likelihood—many of you haven't heard or heard of. It is a song of diamond precision, deep humanity and incredible pain called "Quarterback," performed by Kira Isabella and written by Marti Dodson, Bobby Hamrick and Rivers Rutherford.
It tells a story we've all heard and more than a few of you reading this have experienced, in some version or another. A shy small-town high school girl (it's not always a girl, but often enough) seeks a moment of the ordinariness that she does not yet know to be conformity, because few of us do at that age. A boy (it's not always a man, but often enough) is reveling in his first tastes of the power and status that only truly exist for elite high school athletes, a surreality that Friday Night Lights, in all iterations, depicts almost perfectly. The boy, a quarterback, sees prey in the parking lot after a big win and flirts with the girl. The girl, a marching-band player, is receptive, as so many of us would be. "He was a quarterback/He smiled at her, imagine that?" The girl accepts the offered ride to a party. "He held it to her lips and she took her first sip/And before she knew it, she had three more." The tawdry, low act we are all anticipating occurs. Someone takes pictures or video; maybe both. They end up in the places you expect. "She found out the hard way about love when she saw those pictures on the internet."
The girl's life is effectively ruined for the immediate future; the boy's life goes on. Maybe he gets recruited by the "big-time college" who, the song tells us, was scouting his game. Maybe he ends up dead drooling on a fentanyl OD in a half-decade or less. Maybe he becomes a boring fucking insurance salesman like Mike in Twin Peaks. Maybe she ends up drooling dead on a fen overdose. Or perhaps with time and therapy she manages the PTSD and does not allow the rape to define her life. The song never gets that far. We're only left with her alone. Effectively imprisoned with her truth. Cast out by the hick town that believes his lie, or, arguably worse, believes some version of "she shoulda known better/why didn't she say anything/(insert victim-blaming statement here)."
"Quarterback" was written to be a pop-country hit, and it plays like one to these ears. It was a modest hit in Isabella's native Canada, where it hit No. 10 on the country charts and No. 79 on the nation's Hot 100. In the U.S., well…not so much: Documented evidence of godawful, bordering-on-nonexistent promotion and a strong possibility of mainstream American radio programmers' resistance to a socially charged song kept the track mostly absent from U.S. country stations—which, even in the streaming-driven 2010s and 2020s, is where a fuckton of American country music consumers get most of their music. It got plenty of critical praise and earned additional attention after several high-profile incidents of sexual assault at country concerts, including one (CW: statutory rape) I consider beyond any possible redemption for its perpetrators, including those who stood by and watched, regardless of the eventual non-consequences they earned. But in terms of popularity, it was and is a cult classic.
Isabella's small catalog is worth exploring, beyond the strong Caffeine and Big Dreams. She is definitely not gonna be some of y'all's cup of tea, I should say. There's intermittent overproduction, mostly on Isabella's vocals. And at least a few of you will cringe at the diptych of "Ring About It," a "no-fuckin'-before-marriage" song, and "Make A Sinner Out of Me," which is an "I'm totally gonna fuck before marriage unless Jesus gives me the STRENGTH" song. No matter what, the power of the songwriting in "Quarterback" and Isabella's execution of it cannot be denied. It belongs to a proud lineage of country songs by women that give voice to those who, throughout history, have been denied it in various ways. The stories they tell often end unhappily, or at least in a place of realistic and uncomfortable ambivalence. That is true of the best country music period, no matter the identity of the performer. But in an era where a sizable share of the genre's mainstream male artists often appear as if they're strictly content to dick around and count their money, it's hard not to think that it's been left to the genre's women to become keepers of the flame.
***
For the handful of women in country music during most of the first half of the 20th century, Sara Carter singing "I'm Thinking Tonight of My Blue Eyes" was about as risque as it got, and even then only so because of its backstory: Sara's husband A.P. Carter had adapted it from a traditional English ballad, but she sang it for A.P.'s first cousin Coy Bayes, who'd end up stealing her, a turn of events that eventually led to the demise of the original Carter Family. Whether country music fans of the time were following the background gossip the way fans do now and knew about this is unclear. But even without knowing that, I've read enough of the history of this nation to make an educated guess that those fans probably preferred the gentle piety of Mother Maybelle. Also, while the Carter sisters-in-law were not literally the only notable women in the genre during this time, they were the only two who could be considered stars.
This began to change in the 1940s. If the Maddox Brothers and Rose had been the smash hit they should've been when they started recording and regularly playing regional radio in Modesto, California, it might've changed faster.
Now let me tell you I, fucking, love, the Maddox Brothers and Rose. Fred, Henry, Cliff, Cal, Don and Rose Maddox played a sui generis blend of bluegrass, honky-tonk country, western swing and electric blues that predates rock 'n' roll and rockabilly, with Henry Maddox's guitar in particular being decades ahead of its time. It's raucous enough that it probably would've been outlawed if anyone in Nashville had gotten word of its existence. Songs like "George's Playhouse Boogie," "Sally Let Your Hair Hang Down," "Hangover Blues" and "New Step It Up and Go" are about….hmmm, how should I put this: Dancing yourself delirious, drinking yourself blind and fucking yourself stupid. Half the time when Henry has a solo break, Fred Maddox shouts out, "That's Friendly Henry, the workin' girl's friend," after which Rose lets out a gleeful giggle, and Fred means exactly what you think he does. (At least in the sense that he had no qualms about joking about his brother paying for sex; I can't say whether Henry did or didn't.)
Fred sometimes sang lead, but there is zero question that Rose Maddox was the star of this family's show. She is unabashedly presenting herself as the one doing most of the dancing, drinking and fucking, Christ, she has a song that revels in kicking an ex-husband to the curb and bilking him for alimony. I cannot stress how radical this is for the late '40s/early '50s, even as a tongue-in-cheek number, even taking their lack of mainstream exposure into account. Rose Maddox did not give a fuck about what a "girl singer" was supposed to sound like or how a person in that role was supposed to act. Her brothers must not have either, or they wouldn't have put her up in front and chosen the material they chose for her. Her best solo records, from the early '60s, don't have the same rowdiness of her family band in the arrangements, but I wouldn't call them staid affairs; The One Rose and Alone With You are particular highlights.
On the other end of the spectrum demeanor-wise, but equally important for women in early country, is Kitty Wells. She may not have meant to make a statement—multiple accounts have identified that she needed the $125 session rate to help support her family in the midst of a dry spell for her career—but she did with "It Wasn't God Who Made Honky-Tonk Angels." An answer song to Hank Thompson's "The Wild Side of Life" and its hectoring chauvinism, Wells' breakout tune dared to state that women who cheat don't do so in a vacuum but are usually in angry response to a man's infidelity. I, for obvious reasons, am not positioned to say whether this song is feminist or not. What I can say for sure is that A. it identified a clear double standard not often discussed in pop culture of the time and B. was an epochal hit: Even though the Grand Ole Opry banned it temporarily and some radio stations banned it outright, it went No. 1 country, the first song by a woman in the genre to do so (based on Billboard charts), and climbed as high as No. 27 on the pop charts. She became the first female honky-tonk superstar in an era where label execs were convinced women couldn't sell as country performers. (Sounds familiar, don't it? We'll get to that.) Someone like Patsy Montana, who sold more than a million copies of "I Want To Be A Cowboy's Sweetheart" in 1935 (pre-Billboard), was viewed as an improbable outlier until Wells, by sheer sales volume, proved that men were buying that record too. And asking for it to be played on the radio. And shouting to hear it on the Grand Ole Opry. It's all but statistically impossible for them not to have been doing so, even though the Opry banned it temporarily and some radio stations banned it outright.
Wells' catalog is not as interesting as that of the Maddox Brothers and Rose. There are more than a few other direct or indirect answer songs, because Nashville producers, especially at that time, did not ever let a gimmick die until it had truly lost the public's attention, and it took a long time for answer songs to go away. Musically, it's pretty straight-up honky-tonk, with little variation in the arrangements or the general tone of Wells' delivery. (Notable exceptions include the light norteño sounds of "Amigo's Guitar.") But personally, I have zero beef with straight-up honky-tonk, so that's not the issue, it's more the sameness of the material. It also sucks how Kitty Wells' recordings have never been properly remastered—a problem that pertains to not just Wells' work but also Maddox and Rose, and, well, the vast majority of classic country—so it's not easy to realize how significant these pioneers truly were. But you can trace a line from "George's Playhouse Boogie" to a Kira Isabella song like "Shake It If You Got It," and you can do the same, more or less, from "It Wasn't God Who Made Honky-Tonk Angels" to "Quarterback." (I'm not saying "X is as good as Y" in either situation, in case that's not obvious; just identifying the clear lineage.)
***
After Wells came Patsy Cline: the second-greatest country singer ever, after George Jones (IMO) the first one I loved listening to and probably the first woman in Nashville to exert some control over her career, abandoning Fourstar Records to find an inimitable creative partner in producer Owen Bradley and record most of her best music. Loretta Lynn followed that tradition to ever greater commercial and critical success, and more than a few banned songs (most of which, including "The Pill" and "Rated X," hit No. 1 country anyway and sold tons of copies).
Dolly Parton went from "Porter Wagoner's duet girl" to the icon we now know in fairly short time in around the same era (from the mid-'60s to the mid-'70s). This is also the time of Sammi Smith, Jeannie Seely, Tammy Wynette, Jessi Colter, Jeannie C. Riley, Melba Montgomery, Connie Smith, Brenda Lee (arguably pop), Bobbie Gentry (not exactly country but oft-categorized as such), Linda Ronstadt, Tanya Tucker and Billie Joe Spears, to name just a few. It was no longer a rarity to see successful women in country music, and everyone I've named in this section (plus the plenty I forgot) made great music. Some of them—Lynn, Connie Smith, Montgomery and Wynette come to mind—had sustained multi-album runs that are pretty much all killer no filler. No easy feat for a genre that at the time viewed albums not as artistic statements but vehicles for singles, but the music was just that good.
At the same time, it's not like that's a ton of names; those women's rise during that period just indicates that it was no longer a total anomaly. Loretta and Dolly were probably the best selling and most acclaimed of that group, setting records that wouldn't be beaten until Reba McEntire and The Judds came along in the '80s. Melba Montgomery is, by far, the most underrated: Don't Keep Me Lonely Too Long, I Can't Get Used to Being This Lonely and Country Girl are just tremendous records despite occasional dips in recording quality. (Only Country Girl is streaming and it will make you want more.) Male artists were still the genre's most dominant presence and outsold women by a significant degree. This, generally speaking, remains true. In a 2021 list of country's top 20 best selling artists of all time, Shania Twain is the only one in the top 3, ahead of Kenny Rogers and Alabama. Behind George Strait (no. 2) and—big surprise—Garth Brooks at the top. (Some perspective: Brooks has sold 157 million records, almost double Strait's total in a career almost a decade shorter. Also, while I'm here, Kenny Rogers fucking sucks. Just saying.)
The difference between then and now, though, is that plenty of the country made by men back then was great. If we're saying this is the early '60s to the '80s, it coincides with peak eras by Ray Price, Charley Pride, George Jones, Willie Nelson, Townes Van Zandt, Waylon Jennings…you get the idea. Now, most of it sucks.
***
In the '90s, when my mom was going through her mainstream Nashville phase, there wasn't much I remember hearing and liking. Trisha Yearwood's "She's In Love With the Boy," maybe, although even as a child/preadolescent things like, "This guy Tommy sounds like a redneck; he's not cool." Mary Chapin Carpenter and Kathy Mattea made what I would've said at the time was the most boring music I'd ever heard, and I thought the same of Reba (while also hating her corny public persona). I thought Faith Hill's music sucked then and think so now, and while I understand why Shania Twain sold a gazillion copies, her stuff is not my cup of tea then or now. (Nor is it necessarily meant to be; part of why Twain's work has objective merit was her openness to fans that country music often ignored, including women and LGBTQ audiences.)
Before I heard Patsy as a teenager, the first time a country song by a woman truly got me was Martina McBride's "Independence Day," written by Gretchen Peters. And it was kind of by accident, because while her voice is obviously incredible, it sounds to a child/preadolescent like some rah-rah America crap. I think I said as much to my mom.
"That is not what that song is about," she replied, and then told me what it is about: a woman who, after too many years of "tryin to pretend he wasn't drinkin again, but Daddy left the proof on her cheek," sets her house on fire to kill her abusive husband and possibly herself. It's loosely based on the true story of Francine Hughes. She might have said, "A woman who's beaten by her husband" or something; I don't remember if she gave me all the details. The next time I heard it, I paid attention to the lyrics, and figured out the gist for myself. I've never forgotten that and probably never will. I listened to it for the first time in years just a few days ago, and it's a perfect song. Even the churchbell sound effects on the chorus can't dull the sharp of its blade. (The album it's on, The Way That I Am, is well worth exploring; I will admit I have not deep-dived on the rest of McBride's catalog.)
Flash forward to the mid-2000s, the peak of my alt-country phrase. I hear Lucinda Williams. I think "Changed the Locks" was the first tune of hers I heard chronologically. The first one that dug into me was "Concrete and Barbed Wire," from Car Wheels on a Gravel Road, a Literally Perfect Album. (Williams famously worked almost nonstop for two years to make it that way.) It's not one of that album's lyrical peaks, like "Joy" or "Jackson" or the title track. But the combination of its slow-building instrumentation—starting with acoustic guitar and gradually adding bass, slide guitar, drums, mandolin and accordion in perfect layers—and the unparalleled ache in Williams's voice sends it into transcendence for me.
Between that record and Neko Case's Blacklisted, I'm kinda surprised I didn't turn into a pure country fan right then and there.
***
I think my country renaissance began slowly in 2013, with Kacey Musgraves' debut and Ashley Monroe's breakout second album. (Taylor Swift's Red didn't hurt, but only about half of that is country.) I was aware of the current country radio stable, which hasn't changed much since then. Just as I do now, I thought, "Man, most of the dudes doing this genre just suck, but the ladies know what's up." I didn't know about Sturgill then, Stapleton hadn't come out yet and I probably was still too self-conscious back then to admit even to myself that I liked stuff by Old Crow Medicine Show, Josh Turner…even the odd Dierks Bentley tune. I do remember hearing Dwight Yoakam's Second Hand Heart in 2014 and loving it, but Dwight Yoakam transcends these boundaries for me, not unlike Garth's best stuff. (Dwight Yoakam is the only "hat act" who is also inexplicably but unassailably cool as shit. He will almost certainly get a chapter of his own.)
Let me clarify right now: I don't write this looking for points with anyone or clicks or clout. Even if I was, I don't necessarily think it's working. I have no idea if people who read The Boot or Saving Country Music or CMT.com will ever stumble across this, or if the non-country fans I'm hoping to intrigue will catch on. I may be speaking to a formless void. But in any event, what I'm doing is writing a series of often-meandering, unvarnished thoughts on a genre that I cannot fully articulate my obsession with but in the past couple of years can't stop talking about. The point being, I wouldn't devote a chapter to how I believe country music's contemporary women are, right now, usually a better representation of the genre at its best than their male counterparts if that wasn't exactly how I felt. No more and no less.
This isn't about impressing anyone with how enlightened I am. It's me stating that, say, Miranda Lambert (with the help of Jack Ingram and Jon Randall) is recording near-experimental acoustic albums in the fucking desert. Kacey Musgraves just dropped a concept album about a divorce that also articulately explores the toxicity of fame and the burden of expectations placed on women. (You can argue that Kacey's latest isn't country, but you get the point.) Carly Pearce's 29: Written in Stone expands on the promise of the 29 EP with a fleshed out record that's neo-traditionalist in sound but decidedly modern and frank in its superb songwriting. On the dude front, well, folks like Jason Aldean and Morgan Wallen are releasing records with inspired titles like 9 and Dangerous: The Double Album full of the same old lowest-common-denominator, Stetson-hatted pop shit. Christ, the fans will know it's a double album! It has a lot of tracks on it! (Cody Johnston recently did this too, with Human: The Double Album, but his music is decent, if overproduced.) Am I not supposed to note the readily evident disparity?
Those guys—the Wallens, Aldeans, Bryans, Chesneys, Urbans and Sheltons—are the vast majority. Simpson's ambitious The Ballad of Dood and Juanita and A Sailor's Guide to Life (to say nothing of Sound + Fury, but that's not country) are major outliers, even though they hit No. 1 on the country album charts if you include digital sales and streaming. Even straightforward, exquisitely written straightforward country records, which wouldn't have been remarkable simply for existing as recently as the late '80s/early '90s, like Starting Over by Chris Stapleton and Southeastern by Jason Isbell, are exceptions to the general rule. Old heads like Steve Earle and Rodney Crowell also still regularly make solid new records, but even fewer people hear them.
These days, country's women obviously don't have the deck stacked so heavily against them as Kitty Wells and Rose Maddox did when they started out. Lambert is a superstar, which is why she gets to make near-experimental acoustic records recorded live to tape in Marfa, Texas. (Her last two solo records, Wildcard and The Weight of These Wings, are even better.) Musgraves is approaching that tier, while being more than willing to eschew the genre's sounds in her work and having one of the most welcoming and inclusive fanbases I've observed in recent years, in any genre. Maren Morris is a star as a solo act and as part of The Highwomen. A bit further from the mainstream, fellow Highwomen Natalie Hemby, Amanda Shires and Brandi Carlisle steadily put out quality music. Pearce and Ashland Craft are off to very promising starts. Margo Price, her siren voice, quality country-rock material and willingness to call out the genre's hypocrisies have made her a hit among the "I hate country except [insert name here]" crowd, which…well, whatever; at least they're listening. Not all of the music that Yola and Rhiannon Giddens make is country, but it's all really good. (Giddens' breathtaking cover of Nina Simone's "Black Swan," a collaboration with multi-instrumentalist Francisco Turrisi, has lived rent-free in my head for two years; now it will live in yours.) Moreover, the significance of Black women carving out spaces in the genre cannot be overstated.
But here's the motherfucker of it. That critical acclaim doesn't necessarily transfer to commercial success, Lamberts and Carrie Underwoods notwithstanding. The Nashville establishment doesn't try to directly ban or blackball women artists who don't play their game anymore—they just make sure their shit barely gets played. There are several studies covering this subject; the Annenberg Inclusion Initiative and SongData reports are probably the most reputable and most damning. The Chicks put out their first record in 14 years last year, and it was a Top 5 album chart debut…but "Gaslighter," the title track, peaked at No. 36 in country airplay. (We can argue that all of Gaslighter isn't country, and lay other criticisms at its door if we want to—maybe in a Chicks Who Were Once Dixie column—but if the drawl-pop trash of Florida Georgia Line is country, "Gaslighter" better be.) The Highwomen reached No. 1 on the country album charts, but none of its singles got significant airplay. Kacey Musgraves has exactly one Top 10 country single in her career, "Merry Go Round" (from Same Trailer), though the same album's "Follow Your Arrow" made it to No. 10 on the Hot Country Songs chart. A powerhouse of a song like "High Horse," from Golden Hour, only made it to No. 36 on the "Hot" chart. Margo Price doesn't chart at all for airplay in the U.S., nor do any of the solo Highwomen except Maren Morris (and she does quite well across all verticals). Nor do Rhiannon Giddens or Yola, though Giddens doesn't appear to have any interest in significant pop success.
(Interesting siderbar: In Canada, the U.K. and Australia, many of these ladies do extremely well on the charts. Country has always been popular in those nations, where listeners' idea of it seems to be more rooted in the genre's sounds from the late '60s to early '90s rather than contemporary Nashville. Also, country is fucking huge in Germany, and before you get any jokes off, German fans gave us the musical archivist's paradise known as Bear Family Records, so I got no gripe with them.)
What it all boils down to is that to achieve success and appeal even somewhat commensurate to that of men in country, it seems, depressingly, that women keep being expected to shut up and sing—as Carrie Underwood appears more than content to do, and as performers like Faith Hill and Shania Twain were essentially content to do before her. Or you gotta be so outrageously popular, as Lambert is, that it doesn't matter if you don't fit quite in the box they'd like you to. Can't walk their line or beat them at their bean-counting game? You won't necessarily never be popular or acclaimed and do well for yourself, but you won't reach nearly as many people, because, as previously stated, dinosaur-ass terrestrial radio is still the medium through which the statistical majority of country fans hear most of their music. (Streaming beats radio for pure music listening overall, per the study in that link…but be real with me; you think that holds true for casual country fans?) The attitudes of these radio programmers and label execs are entrenched to such a degree that even evidence suggesting most fans don't feel the way they do, evidence compiled by the CMA, has yet to notably affect the status quo.
That's how songs like "Quarterback" and "Independence Day," which explain in stark but honest terms how basic notions of consent and safety, respectively, are denied to women with alarming frequency, don't necessarily reach the ears of who'd benefit the most from hearing them. (In McBride's case, the song wasn't unpopular, but it didn't crack the top 10 after its 1994 release, and later it was deliberately misinterpreted by conservative presences like Sean Hannity as a patriotic anthem.) Long-ingrained patriarchal bullshit is obviously a factor in Nashville's radio programming, as the infamous Keith Hill interview and subsequent vociferous but questionably effective backlash illustrated. But at the root it's the pernicious bullshit of capitalism that drives it the most, more than some specifically defined long-game misogynist plot. This is how I only hear of "Quarterback" due to vociferous recommendations on an obscure message board that shall remain nameless. (If any of you see this, well, thanks.) This is how some of country music's most extraordinary material doesn't reach the heights it ought to.
***
I think the only way to, maybe, become better than you are is to immerse yourself in perspectives outside your experience. I know for sure that one of the only ways to truly be a good man—as a partner, husband, father or friend—is to truly listen. I'd be the first to tell you that I'm woefully behind on listening and learning about many perspectives that are not "angsty male headcases full of Catholic guilt and unresolved trauma." But I resolve to never stop searching and listening.
The art produced by the women of country music has been one of the most valuable teaching tools I've ever received in terms of broadening my emotional intelligence—and becoming cognizant of my inherent privilege. At its true best, it's been as valuable as the writing of anyone from any alienated or otherized community, be it Malcolm X, Angela Davis, Arundhati Roy, Anabel Hernández, Chester Himes, Stephen Graham Jones or László Krasznahorkai. Can I guarantee it'll do the same for you? Of course not. But you'll hear so much great music along the way that it'll be worth your while no matter what.
---
Support our Site—Subscribe to Our Patreon: Become one of our monthly patrons and help support an independent media resource while gaining access to exclusive content, shirts, playlists, mixtapes and more.