Daft Punk : Random Access Memories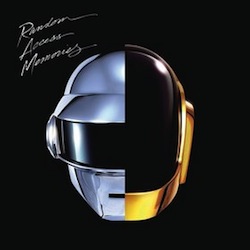 By now, the premise of Random Access Memories should be well understood: French house superstars (mostly) drop their electronic-savvy approach in favor of '70s-style production including studio musicians, a full orchestra, and a choir. And with the release of single "Get Lucky" earlier this month, Daft Punk seemed to be making a promise that, no matter how far back the robots traveled in time, they would still hold tight to a groovy, danceable feel at the heart of their album. Given the duo's track record, it seemed they would most likely keep their word. After all, fellow French electronica duos Air and Justice have made recent attempts at similar concepts (with Love 2 and Audio, Video, Disco, respectively) with at least some success, and it wouldn't be the first time Daft Punk pulled off a pretty risky move without suffering so much as a scratch.
But, despite an admittedly sexy production job and an impressive list of collaborators, Random Access Memories fails to deliver the dance-floor epic as promised, with the result feeling much more like an epic cock tease. Sure, the session musicians are mega-talented, and a handful of moments are quite beautiful, but many of the pieces are painfully anti-climactic, and a majority of the vocal collaborations feel forced at best. Opening with "Give Life Back to Music," the album starts off sounding like a flashy Vegas show, and rarely drops the high level of camp. And "The Game of Love" and "Lose Yourself to Dance," by far the worst cuts on the record, have good intentions but are hard to get through, vamping the same tired concepts on repeat.
Additionally, while most of the guest vocalists really sell their performances, only "Touch" (Paul Williams) and "Fragments of Time" (Todd Edwards) come off as natural compositions, with "Doin' it Right" (Panda Bear) and "Instant Crush" (Julian Casablancas) seeming like solo works with a slight (and somewhat lazy) robot hand mixing the record. Even the album version of "Get Lucky" (Pharrell), which carries few flaws on its own, loses a bit of its luster by the time it surfaces on the album.
On the brighter side, the key-shifting ballad "Within" is one of the most beautiful and subtle moments on the album, following an introspective and lonely robot through its own brand of existential crisis. Likewise, the instrumentals on "Giorgio by Moroder," "Touch," "Motherboard," and "Contact" use live musicians to create brilliant textures and moments like the ones achieved on Discovery. But, unfortunately, "Giorgio" and "Motherboard" are the only two that don't quit just as they pick up their stride.
If Daft Punk had not promised to keep the spirit of dance strong at play here, the resulting tracks probably wouldn't come off as dull, but, instead, the best moments of the album only wind up accenting the bigger failures. At the 3:15 mark on closer "Contact," comes the ultimate tease on an album full of them: a four-on-the-floor beat finally erupting, building upon a dubstep-style roar leading to a break that never comes. And with that final phrase, Daft Punk seem to be rubbing in the fact that, if they had wanted to, they could have made an amazing dance album with the use of these live musicians and classic recording techniques. And therein lies the album's ultimate and most painstaking disappointment: rather than making a beautiful, thoughtful record or a dance-pop sensation, the robots tried to straddle a thin line and appear to have fallen off at some point.
With Random Access Memories, Daft Punk is perhaps making a statement that carries some merit: some musicians have fallen into a trap set by the ease of digital production techniques and sampling. But releasing an awfully derivative album that cost a fortune to produce somehow violates the original promise that great producers like Daft Punk made: That brilliant music truly could be made with nothing but synthesizers, computers, and a couple of solid brains.
Similar Albums:

Phoenix – United


Air – Le Voyage Dans La Lune


Justin Timberlake – The 20/20 Experience