Earlier this year, Deerhoof released "Fresh Born," the first single from their new album Offend Maggie, in the form of…wait for it…sheet music! This could be seen as a commentary about piracy, an abstract artistic statement in and of itself, or even a prank, but from the announcement of its distribution, it was clear that only a band like Deerhoof would pull off such a stunt. Furthermore, it presented ample evidence that, even after the relatively catchy and certainly accessible Friend Opportunity, Deerhoof are still miles from `normal.' And if that wasn't quite enough to convince you, the band's latest album, Offend Maggie, should properly do the trick.
In contrast to the outstanding Friend Opportunity, Offend Maggie isn't quite as broad in its scope, though it's clearly cut from the same cloth. If anything, Offend Maggie seems a bit closer to 2005's The Runners Four, in that it's a twisted punk rock record with exuberant pop hooks and few bells and whistles to stand in the way of its jerky riffs and breakneck melodies. What it does contain are some wonderful tunes, some of their most accessible yet, and a stronger emphasis on tunefulness than on noisy guitar freakouts, not that those were ever a bad thing.
Leadoff track "The Tears and Music of Love" is pure Deerhoof, crunchy and weird, with frontwoman Satomi Matsuzaki chirping her unintelligible chant of "let's go out/ let's go out/ let's go out/ town of cement." It's a strange but comfortable sound, made even more exciting with its nearly arena rock worthy power chord hooks. "Chandelier Searchlight" has a bit more of a spunky twee pop bounce, though with peculiar and spooky riffs guiding the fantastic verses. "Buck and Judy," meanwhile, presents the greatest balance of the band's strengths, as a stunning melodic progression is juxtaposed against a whalesong of feedback, further exhibiting the band's dexterity at composition and complexity. In simpler terms, it's a hell of a song.
"Snoopy Waves" is another example of the curious balance that Deerhoof maintains. Though the band's noisier elements aren't on display, their technical prowess is, as time signatures are cut and pasted onto new measures, splicing an otherwise approachable melody into a choppy patchwork. The title track is practically baroque in its intricate pop arrangement, teetering between meaty chords and steely acoustic plucks. Were it not for Satomi's unmistakable voice, one would almost confuse it for The Essex Green. "Family of Others," meanwhile, is pretty weird. It begins with atonal squeaks, but ushers in an almost British folk-sounding style, just before a shuffling beat and sing-songy melody take over. And then there's that sheet music worthy single, "Fresh Born," which is, simply, one of the best pop songs they've written to date.
As Deerhoof approaches `accessible,' they never do so by sacrificing the idiosyncrasies that set them apart in the first place. Greg Saunier's guitar work is, at this point, as recognizable a trademark as Jimmy Page's (on a smaller scale, of course), and Satomi's vocals are an institution all their own. And yet they grow and evolve, keeping integrity intact and evading the cliché. Offend Maggie is like no Deerhoof album and every Deerhoof album, but it resembles little else, and that's why it's such a welcome sound.
Similar Albums:
The Mae Shi – Hllyh
Sonic Youth – Sonic Nurse
Enon – Grass Geysers, Carbon Clouds
Download at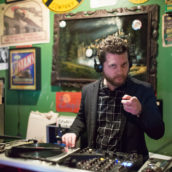 Jeff Terich
Jeff Terich is the founder and editor of Treble. He's been writing about music for 20 years and has been published at American Songwriter, Bandcamp Daily, Reverb, Spin, Stereogum, uDiscoverMusic, VinylMePlease and some others that he's forgetting right now. He's still not tired of it.