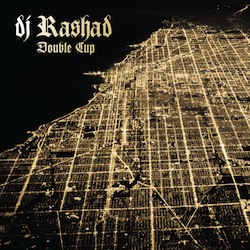 Buy at iTunes | Buy at Insound (vinyl)
Footwork, or Juke as it's sometimes known, is still a relatively young genre. The style, born in Chicago, has given rise to a few headlining artists, like Traxman and Machinedrum, and has a pretty solid primer in Planet Mu's compilation album Bang & Works Vol.1 for those looking to explore what it's all about. There is a specific format that footwork follows, which includes, but is not limited to: keeping the pace at 160 bpm, kick drums, and crackling snares, all of which are reminiscent of a classic 808 sound. The idea behind footstep is that it was created for what it exactly holds in its name, dancers to cultivate movements worthy enough to keep up with the music.
Footwork pioneers DJ Rashad and his partner DJ Spinn have been championing this sound for at least over a decade, but their total career spans more than 20 years. Rashad has said that both started dancing in the early house scene in Chicago, but later shifted their interest toward DJing. Planet Mu's compilation placed Rashad and Spinn's sound on a global stage, and while that album is worthy of a spin, Double Cup is a fine supplement and an excellent addition. Spanning 14 tracks, Double Cup showcases 14 different ways to captivate listeners while remaining coherent with the variations of sounds woven together.
With that out of the way, it doesn't really matter how it's classified — Double Cup is an engaging experience and sounds like an album Rashad's been building up to over the course of his career. I, like many others, was caught by surprise by "It's Wack," which was featured in Grand Theft Auto V, on Flying Lotus' radio station, FlyLo FM. The song is a little heavier on the drums, but the styles represented in it are present all over Double Cup. I'd even argue this entire album, while footwork in nature, is rooted in hip-hop. It's littered with samples, and "Drank, Kush, & Barz," "Pass That Shit," "She A Go" (which features a short verse) and "Feelin" could all function as unique hip-hop tracks, all ready for a bold MC with the right rhymes to do them justice.
Rashad's style and sound is frequently reminiscent of J Dilla's Donuts, with its warm crackles, as well as Flying Lotus' penchant for slowed-down vocals and tightly knit beats. Still, some tracks like "Let U Kno" and "Leavin" are formatted more as house tracks —which comes as no surprise given Rashad's early background as a house DJ/producer at the start of his career. At times, Double Cup may seem overwhelming and exhausting due to its onslaught of heavy hitting tracks — that's exactly why it deserves your attention.
Similar Albums:


Flying Lotus – Los Angeles


J Dilla – Donuts

Africa Hitech – 93 Million Miles