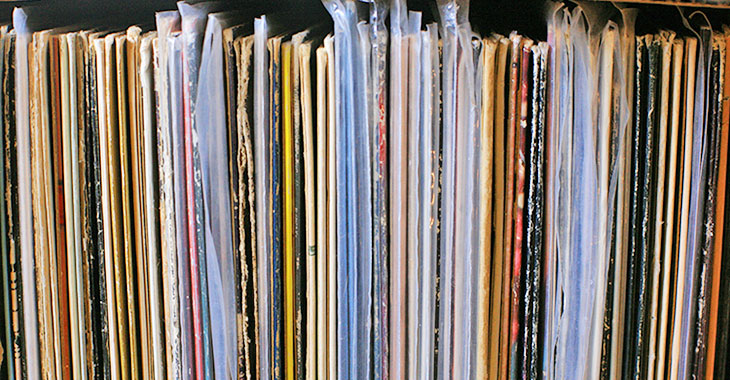 Determining the top 50 albums of 2013 — or any year — is a complicated process. In all honesty, this year it was much more difficult to reach a consensus on our best songs of the year list, but the idea is the same. A dozen or so writers talk for about two months, recommending albums, reminding each other of things we forgot, applying a system of points to our favorite albums of the year, voting, tallying, and then reaching a result. But it's more than just simply choosing what albums we listened to the most, or what gave us the most direct shot of pleasure. It's about what challenged us the most; what album made a lasting statement, and will be one we're likely to talk about in another 10 years. Now, we can't very well predict the future, but looking over the past 12 months, there are dozens of albums that stand out as being not just strong collections of songs, but powerful statements unto themselves. One in particular stuck with us, a reminder of what it feels like to hear something for the first time and get that indescribable bolt of adrenaline and a rush of endorphins while it happens. And no, it wasn't Yeezus.
We already listed our favorite electronic albums, metal albums, hip-hop albums and top 50 songs of the year. And now, the time has finally arrived to reveal the records that made this year not just a little more enjoyable, but considerably more memorable. We present our Top 50 Albums of 2013.
---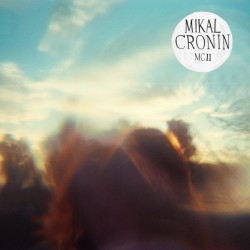 50. Mikal Cronin
MCII (Merge)
Buy at Insound
Mikal Cronin showed some pretty impressive songwriting chops on his self-titled debut, but on MCII he definitely stepped his melodic sensibilities up a notch. Shedding much of the garage rock noise that he's become associated with and adding a little viola and violin where necessary, Cronin proved that making a 'mature' follow up doesn't have to mean making a boring one. Guitar solos still pop up from time to time, but this record owes more to Elliott Smith and Paul McCartney than The Stooges. One thing's for sure — you would be hard pressed to find a better power pop record in 2013. – Chris Karman
Video: "Change"
---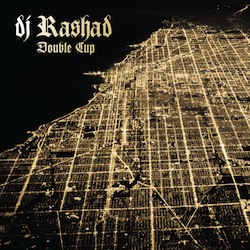 49. DJ Rashad
Double Cup (Hyperdub)
Buy at Insound
The untimely loss of J Dilla in 2006 sadly means we'll no longer hear any new music from the Detroit producer, but since then his influence has only grown, spreading out across multiple genres. It can be heard in the the dark reaches of Flying Lotus' dream-like beats to the mad creations of juke/footwork pioneer DJ Rashad. Never mind that Rashad's latest is associated with one of the craziest dance movements to hit the map — Double Cup offers something for those not as adept with their feet, offering something for everyone. Deeply rooted in Chicago house and hip-hop, Double Cup branches out from the styles of Africa HiTech and Dilla, Rashad proving himself an unstoppable force with the help of his pal, DJ Spinn. Even at a manic 160bpm, it begs to be played over and over again. And if you're feeling really bold, maybe you could try brushing up on your footwork skills while it spins. – Giovanni Martinez
Stream: "Feelin"
---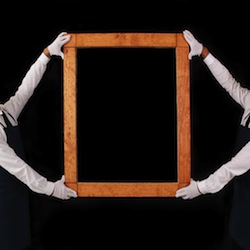 48. Autre Ne Veut
Anxiety (Software)
Buy at Insound
R&B and soul are frequently fueled by heartbreak; just ask Al Green and Marvin Gaye about what happens when a relationship goes bad. So it goes for Arthur Ashin, aka Autre Ne Veut, a Brooklyn-based R&B artist with a penchant for inward-looking stream-of-consciousness meditations on sex, love and other things that keep him up at night. His new album is called Anxiety for a reason — pretty much everything here is marked by an emotional or psychological turbulence. Check the desperate loneliness of "Play by Play," the insecurities of "I Wanna Dance With Somebody," or "Gonna Die"'s musings on mortality. But despite such uneasy feelings, Anxiety has a sound that projects a sumptuous, open-hearted warmth. Some of that is thanks to the production work from Joel Ford and Daniel Lopatin (aka Ford & Lopatin), who turn this late-nite bummer into an endless dance party/booty call/hallucination. It's not the first time an artist has attempted to dance the pain away, but it's certainly an example of how to do it right. – Jeff Terich
Video: "Play by Play"
---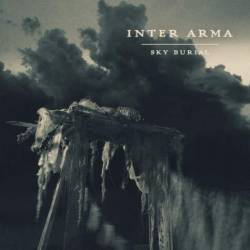 47. Inter Arma
Sky Burial (Relapse)
Buy at Insound
Black metal. Doom. Sludge. Does any of it even really matter anymore? In certain, specific corners of the Internet, it's of the utmost importance, but the best metal being made right now is done without the baggage of "purity" and instead, with a focus on music that doesn't just sound massive and intimidating, but more importantly, transcendent. This is where Inter Arma comes in. The Richmond-based outfit certainly have an ear for the epic and awe-inspiring, but there's soul, blood and sweat in their sprawling, ten-minute anthems. If at first Sky Burial opener "The Survival Fires" booms like traditional sludge, give it time; it stretches out and transforms into a spacious work of darkness and intrigue that deftly evades easy labels. And on "The Long Road Home," the band churns more human emotion from guitar, drums and Hammond organ than most could extract from an entire orchestra. In hindsight, "tr00 kvlt" seems quaintly naive; Sky Burial is as powerfully genuine as metal gets.  – Jeff Terich
Stream: "'sblood"
---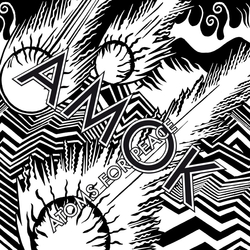 46. Atoms For Peace
AMOK (XL)
Buy at Insound
Much like the chaotic violence its album cover depicts, Atoms for Peace's debut album Amok is an explosive collision of ideas. That's not surprising considering the amount of creative talent involved (including Radiohead's Thom Yorke, producer Nigel Godrich, and the Red Hot Chili Peppers' Flea), but it's especially unsurprising given the way the album was created. Yorke and Godrich cobbled songs together by looping snippets recorded by the band over a three-day period, and the results sound cobbled together. Sometimes they work, as they do with the grooving, catchy lead single "Default" or the delicate "Ingenue." Other times, such as the too accurately titled "Stuck Together Pieces," the songs sound dangerously close to unraveling.
But they never do. What makes Amok such a thrilling listen is that it's standing on the line between order and chaos with one toe over. The result might be an album that's less than the sum of its parts, but it's made up of better parts than most. And, like the asteroids plummeting to earth on the album's cover, there's real joy in watching those parts crash together. – Sam Prickett
Video: "Ingenue"
---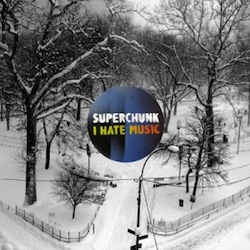 45. Superchunk
I Hate Music (Merge)
Buy at Insound
There was no shortage of '90s bands reuniting this decade, but what's more important than their actual return is the quality of work they all produced. This includes champions of peppy, upbeat indie rock, Superchunk. I Hate Music is a little more crisply produced than their earlier work, like the indispensable No Pocky for Kitty, but the energy and songcraft both show that Mac McCaughan & Co. have lost none of their edge. Album opener "Overflows" is darn near perfect, drawing you in and keeping you there throughout, leaving no doubt that Superchunk not only does not hate music, but that — if we're lucky — they have 20 more years worth of great music in them. – Chad Gorn
Video: "Staying Home"
---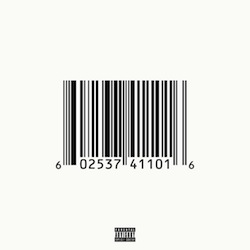 44. Pusha T
My Name Is My Name (G.O.O.D./Def Jam)
Buy at Insound
After hip-hop duo Clipse announced their hiatus, both members found their own savior. No Malice (formerly Malice) found Jesus and wrote his memoir, and Pusha found Yeezus, who executive produced his slow-churning solo debut. My Name is My Name features several guest spots, but Pusha's prowling delivery maintains the spotlight until "Nosetalgia" where he splits the track with Kendrick Lamar to reenact perpetuating roles worsening a drug-infested neighborhood. Pusha opens his album with bravado by rapping "This my time/ This is my hour," letting it be known that even appearances by Rick Ross, Big Sean and Young Jeezy can't break his focus. The lyrical parallelism in "Sweet Serenade" and the industrial grind of "Numbers on The Boards" are just a few of the characteristics guiding Pusha through the valley of the shadow of death. – Dan Pritchett
Video: "Numbers on the Boards"
---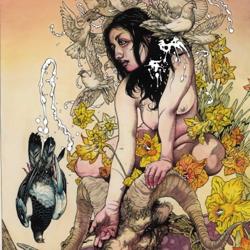 43. Kvelertak
Meir (Roadrunner)
Buy at Insound
Beneath their punk and metal influences, Kvelertak are most accurately a classic rock band. Sure, the guitar licks, drum blasts and backup vocals on Meir can easily be traced to hardcore and metal throughout the ages, but the Norwegian sextet has two distinct purposes — to play kick-ass music and have a hell of time doing it. On sophomore release Meir, the band accomplishes both objectives to the fullest. From slow-build opener "Åpenbaring" to the AC/DC-referencing anthem "Kvelertak," these tracks kick it hard all the way through. Sure, they write catchy songs and display killer instrumental chops as well, but what really sets Kvelertak apart among the hordes of modern guitar-based bands is that they don't mind creating music whose purpose is more fun than artistic or thematic. And they're damn good at it. If you don't believe me, just try to listen this record and not to bang your head for the entire 50 minute run. Dare ya. – A.T. Bossenger
Video: "Bruane Brenn"
---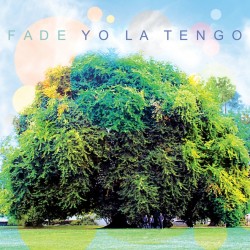 42. Yo La Tengo
Fade (Matador)
Buy at Insound
I want to say that any Yo La Tengo album that begins with a one-chord song will undoubtedly turn out to be a good Yo La Tengo album, but I can't really be bothered with checking out whether or not that has in fact been the case — although I am reassured by the fact that there is no Yo La Tengo album that isn't good in some way or another. Usually, in fact, they are wonderful in many ways, as Fade is, whether or not one takes the mellow ecstasies of "Ohm" as a harbinger of that wonderfulness or not. "Cornelia and Jane," while lovely all on its very own, is made all the more lovely for reminding me of Electro-pur-a's "Pablo and Andrea," both through its title and its aesthetic of anesthetic joy. "Stupid Things" does that limber, cosmic, apache-beat, starry sky thing that is one of the things that Yo La Tengo do that I love most, and "Before We Run" closes everything down with a sustained note of indefatigable optimism that may just make one remember to breathe for days on end after it winds down. – Tyler Parks
Video: "Ohm"
---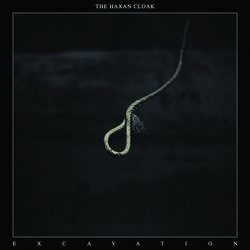 41. The Haxan Cloak
Excavation (Tri Angle)
Buy at Insound
2013 was a truly superb year for electronic music, and you need no other evidence for that other than the fact that The Haxan Cloak's ominous Excavation placed this low. On his second (official) LP, Bobby Krlic (The Haxan Cloak) compiles nine tracks of dark soundscapes, demonstrating masterful skill and a prodigious ability for sound arrangement (e.g. the careful viola in "Dieu," the vocal microsamples in "Miste"). Krlic, unlike Daft Punk, does not intend to make people dance; instead, he'll terrify you with disquieting cuts like "Excavation (Part 2)" and "The Mirror Reflecting (Part 2)". The true masterpiece of Excavation, however, is the long closer "The Drop," an amorphous, 13-minute-collage that ends with a lingering, ghostly drum pattern. The moral, I suppose, is something like that found in Pet Sematary: be careful when you excavate, lest you unearth something dark. – Connor Brown
Stream: "The Mirror Reflecting (Part 2)"