Dry Cleaning : New Long Leg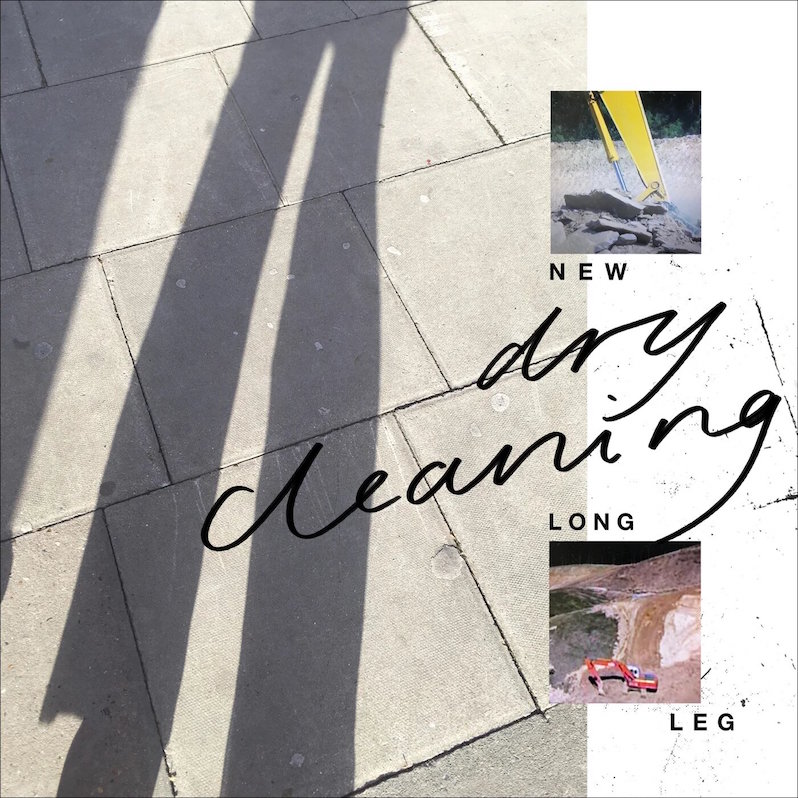 When the coronavirus pandemic hit in March of last year, it shut down global touring schedules. London's Dry Cleaning—comprising guitarist Tom Dowse, drummer Nick Buxton, bassist Lewis Maynard and vocalist Florence Shaw—had just signed with the 4AD label and were celebrating the feat with a series of gigs in Los Angeles. The band managed to get the last five seats on a sold-out plane out of LAX. Upon boarding they quickly surmised, it was just pilots, stewards and the band. Flying into the unknown on a completely empty sold out plane, Dry Cleaning narrowly made it back to London before everything shut down.
Despite a world in turmoil, however, the band had plenty of new songs ready for studio experimentation, but the four-piece had to bide their time before getting to the work of recording New Long Leg. According to drummer Nick Buxton, within the first sentence of the 2018 audition with Florence Shaw, he and the rest of the post-punk ensemble knew she was the frontwoman needed to complement the group. Before that, Dry Cleaning was just a project formed after a karaoke night and based out of the small garage next to the house of Maynard's mum.
One day Dowse played some snippets of what they'd been working on to Shaw. A few days later, she came to his flat armed with a copy of Michael Bernard Loggins' "Fears Of Your Life" to read out over the music, and later started contributing words of her own. It provided the perfect counter to the musicians' rigid instrumentals. Eventually, they produced two thrilling EPs, 2019's Sweet Princess and Boundary Road Snacks and Drinks. From that word-of-mouth buzz, the foursome spent more and more of their lives on tour, refining their craft even further. The formative time they spent together meant they developed a near-psychic knowledge of how to leave the right amount of space for each other in their songs. They swapped influences from Black Sabbath to Augustus Pablo to Yuzo Koshiro as they traveled. "It all absorbed," says Dowse. "Then when we got back to writing, we felt like we were drawing very organically from a collective palette."
Eventually they secured dates, a studio and a producer for the 4AD debut. Traveling to Rockfield in Wales allowed them to self-isolate and work with producer John Parish, known for his work with PJ Harvey and Aldous Harding. Watching a performance by the four piece UK band, you can sense a strong whiff of some type of live-action contradiction going down. You can't pull your senses from it. Shaw pens like a social scientist, weaving her libretto through inner thoughts and outer observations, verbalizing Sofia Coppola's nightmare: An introverted protagonist whose thoughts go running amok. With a turtle's measure, gaps and spaces are left in to ponder what was just said—"I've been thinking of eating that hotdog for hours"—recounting the daily particulars we fabricate and then post, a litany of grumble-whine quibbles. Shaw doesn't sing. Wielding a word racket is her speed.
"I found the lockdown played into some of the themes I was interested in anyway, living in a small world, a feeling of alienation, paranoia and worry, but also a joyful reveling in household things," she stated in the album's press release. Dry Cleaning have forever concocted a nearly flawless Covid-19 lockdown record. New Long Leg rattles and buzzes along uncontrollably with its nervy, edgy rhythmic-assault-meets-frigid-cold-narrator type fusion. Here, on a ten song, 42-minute communique documenting isolation, cosmic alignment gets extracted from insane preoccupations; on "Scratchcard Lanyard" air fresheners become mighty oaks, and Instagram filters time travel as exotic destinations. That's just the start. Shaw gives drive-by scene visuals to acerbic supermarket behavior against the backdrop of nosediving guitar strings and cool-daddy rhythm grooves that zag all over your 1980s dollar bin record jammers.
"Her Hippo," a confident standout expression in agitated nervy assault finds Shaw as a visual artist, picture researcher and drawing lecturer, while overlapping and intertwining that droll narrator "I'd like to run away with you on a plane, but don't bring those loafers" amid dubby Television consistencies and jangle-pop evergreen goodness, Smiths style. Repeat listens reveal how expansive this band is on their own, and Shaw at times is the lucky one to stumble across such a lockstep oriented wiry outfit.
Revisit: "I've been thinking of eating that hotdog for hours" from "Strong Feelings" but this time witness the shakers, drum machines and handclaps, circa peak Joy Division, by way of stale recycled indoor apartment air. Shaw's verbal Jabberwocky plays on with an entire album dedicated to groove versus sway, on repeat, all day, never once feeling pedestrian.
---
Label: 4AD
Year: 2021
---
Similar Albums:
John-Paul Shiver
John-Paul Shiver has been contributing to Treble since 2018. His work as an experienced music journalist and pop culture commentator has appeared in The Wire, 48 Hills, Resident Advisor, SF Weekly, Bandcamp Daily, PulpLab, AFROPUNK and Drowned In Sound.