Durand Jones & the Indications : Private Space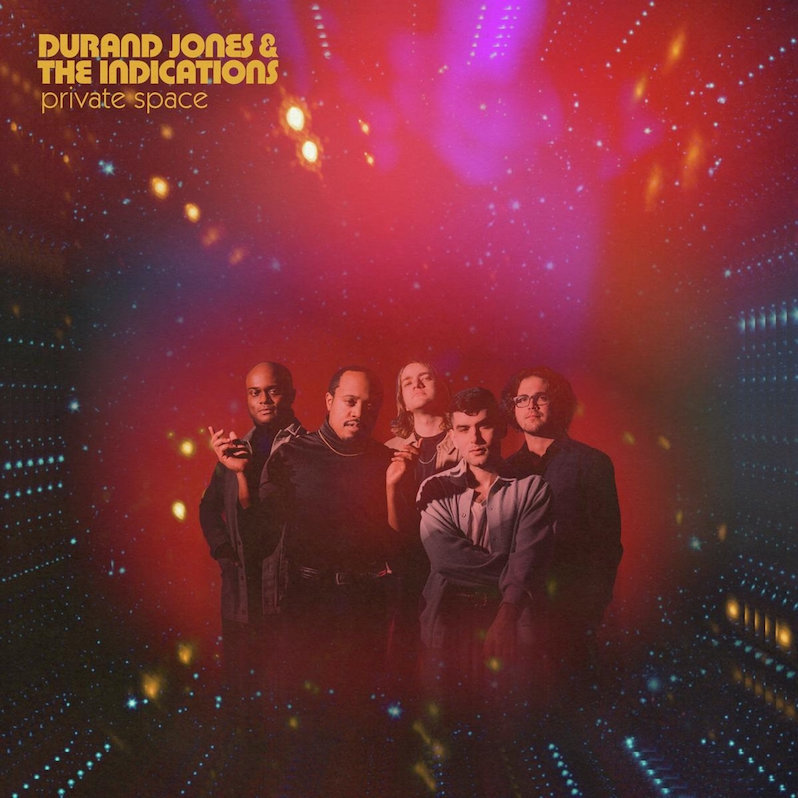 Let's be frank—Durand Jones & The Indications have an embarrassment of riches. They have two, count 'em, two lead vocalists who could each walk in separate directions and start their kick-ass R&B, retro-sounding bands, by next Tuesday. Say around lunchtime. Durand Jones with his gritty throwback growl (his name comes first) and Aaron Frazer, with a soft-spoken approach, retro thrift-store matinee idol looks, and vocal prowess that can dip in between eras if need be. Besides being a part-time drummer in the band, he's working that falsetto back to the Frankie Valli origins. Both succeed quite well, alternating between the high and low vocal presentation, leading this five-man unit.
With a deep crate love and dedication for Gamble and Huff, Isley Brothers, and Maurice White to name a few, they do it all without mimicry. In the past, these five friends who met as students at Indiana University, recording their first record in 2016 for $452.11, including a case of beer, have used regal strings, falsettos and pastel horn lines to deliver a Saturday Night Soul Party vibe where everybody clamors to play their fave dusty soul-oldies 45s.
Their last release, American Love Call, displayed their version of executing the Trinity on how to deliver a simpler time in an R&B vinyl record. The track "Morning In America", a well-built stretch of songwriting delivered by the gruff forthright vocals of Durand Jones, gave us a vision of the incorrectness going on in society when the government is not protecting the people. It could easily be a lost Bobby Womack anthem. Private Space, their third album, plays mind reader. Anyone fully invested in this group, picking up a contact high off what they've been putting in the air, must have wondered at some point, "can y'all switch it up?"
This time around, they did. Private Space owns a moment of throwback funk and soul partially derived from the disco era. "Sea of Love" delivers on that smell good, look good, feel good '70s synth sheen arrangements, lavish string charts, and double-down confidence from a band who gets to move their core expertly into a different decade. "Sexy Thing," a fidgety Neptunes-era Pharrell-type joint, answers the question if they could swing contemporary-sounding R&B tracks. Yes, they can. "At the end of the day, I just want people to close their eyes and forget where they are. Just the way a Stevie Wonder album does for me," Jones says.
"Reach Out", a rare solo lead song for Jones, (Frazer is featured on 8 out of 10 songs here, but who's counting) does just that. It kinda steals the show with its reassuring laments, Gap Band chord progressions, active vocal lead positive shouts, while giving solace. This is a new type of ballad for the group and a spiritual center to the record. Working on some of the directions disco went, "Witchoo" is good for that—these are durable songs that steer clear of trendy kitsch.
Upbeat dancing is balm number one in dealing with lockdown and COVID's dark cloud. Shades of Earth Wind and Fire positivity and fortitude make this project fortify the human spirit, reaching far beyond the fleeting endorphin quick buzz of yet another 'really cool' retro-soul album. All of those previous records are solid and quality, so there is no need to repeat. Private Space displays how the band got caught up in lockdown like everyone else. They relied on the power of music and how it can travel through time. At just the right time.
---
Label: Dead Oceans
Year: 2021
---
Similar Albums:
John-Paul Shiver
John-Paul Shiver has been contributing to Treble since 2018. His work as an experienced music journalist and pop culture commentator has appeared in The Wire, 48 Hills, Resident Advisor, SF Weekly, Bandcamp Daily, PulpLab, AFROPUNK and Drowned In Sound.