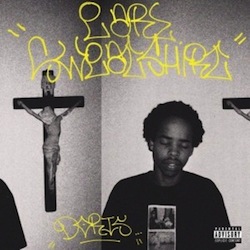 Until now, the story of Earl Sweatshirt boiled down to a small sample size of precocious rhymes, a less than 30-minute mixtape that created an unprecedented thirst for more. Then, a year of complete silence followed by another year of spare guest verses and buzzworthy interviews as this album came into focus, it built a soft demand. Critics of Odd Future's shock value have long-since moved on and, beyond the occasional, controversial corporate sponsorship spots, Tyler and the OF crew signed to labels and carved out comfortable creative niches. The Free Earl campaign, Tyler's debut, Frank Ocean taking over R&B, Domo smoking more pot than ever—"Stressin' over payment, so don't tell me that I've made it / Only relatively famous in the midst of a tornado"—all came and went, with the myth of Earl's return perpetuating.
In that time, listening to Earl on repeat, the charm never faded; the almost-cartoonish images of vicious crimes mixed with a blunt honesty to match. Those wild swings in subject matter, the resentful tone of the more confessional moments are still present on Doris — "This is painfully honest / and when I say it I vomit" — and they still bespeak the anxieties of a teenager. Maybe it wasn't the shock value that scared OF and Earl's critics as much as it was denial that this, in fact, is how kids' minds work in a hyperactive, hyperinformed society. Whether it was this dichotomy or his fresh flow that garnered attention, Earl became a martyr for an Internet subculture nobody really knew existed until even a disconnected hideaway in Samoa couldn't keep him hidden — "Supposed to be grateful, right? Like, 'Thanks so much, you made my life / Harder, and the ties between my mom and I are strained and tightened / Even more than they were before all of this shit' / Been back a week and I already feel like calling it quits."
In one sense, there's inherent, objective value in hearing an honest rapper go through this once-in-a-generation experience. In another sense, he's simply a self-aware talent who, three years after his debut and despite all the fanfare, is still green enough to call precocious — "Too black for the white kids, and too white for the blacks / From honor roll to cracking locks up off them bicycle racks / I'm indecisive, I'm scatterbrained, and I'm frightened, it's evident." And now he's producing, he's telling stories, he's putting on a hard front opposite Vince Staples. He even brags about having money once or twice: "Spit and grip my genitals / My bitch to split the swisher / My niggas split the residuals."
True to the standards that Tyler set for the group, Doris is one psychedelic, warped beat after another, nothing out of line in terms of tempo, and while the album moves by at a brisk pace, there's only one inexplicable sharp turn — the outro to "Chum." All of the other production, including the mellow triumphalism of The Neptunes and the token RZA track, fit well within the brooding yet transparent atmosphere that Earl embodies. Yet there's this outro, with its glaring, galloping toms. But then you remember, this is a 19-year-old kid. You remember that this kid is writing circles around most rappers out there, and he's got an interesting story to tell along the way. Then you start thinking about how high his ceiling is, start the album over and just listen. Because this is as good as 19 gets.
Similar Albums:


Joey Bada$$ – Summer Knights


Mellowhype – BlackenedWhite


Madvillain – Madvillainy