Eluvium: Nightmare Ending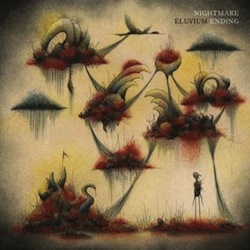 The term "cinematic" gets thrown around a lot to describe the sonic textures and scope of plenty of electronics-heavy indie acts as of late. M83 and Chromatics, in particular, have both made huge splashes in the last couple years by expanding their releases to double LPs, and by incorporating long dramatic builds and soundtrack-influenced atmosphere into more standard pop fare. And minimalist post-rock and ambient acts like Dntel and Mogwai (not to mention one of their biggest influences, Brian Eno) have decades of experience releasing albums that reflect the tropes of a film score, much more than those of pop music.
Matthew Cooper, better known as Eluvium, is no stranger to producing ambient, score-like compositions. Since 2003, he has been releasing music that lands somewhere between ambient noise and classical minimalism, but his last major release, 2010's Similes marked a huge departure for Cooper. Veering away from his minimalist tendencies, the composer opted for a somewhat more traditional approach to songwriting, including both vocals and percussion — both a first for Eluvium. If you were to follow his discography all the way through, you would perhaps believe that Cooper was moving on past his minimalist roots and might begin to expand Eluvium into more of an ambient-pop outfit.
However, in his expansive new release Nightmare Ending, Cooper offers some of his most sparse and gorgeous work to date. Assembled from a group of experimental tracks originally labeled as either 'dreams' or 'imperfections', Nightmare Ending embraces minimalist textures and subtle changes to a degree that makes the work a little bit difficult to chew on the first listen. But, after a few more spins, the record gains a powerful ability to transport the listener mentally, working as a real-time soundtrack to one's own experiences.
Kicking off with the seemingly infinite circular piano of "Don't Get Any Closer," Nightmare Ending is surprisingly varied in its execution, exhibiting a number of tricks that Cooper has learned along his musical path. "Warm" and "Unknown Variation" focus on cycles of growing ambient noise, while "Caroling," "Impromptu (For The Procession)" and "Entendre" are completely piano-based compositions, not too far of from something you'd hear on a Clint Mansell soundtrack. Other tracks find themselves somewhere in between, incorporating a variety of methods to create drone-heavy, slow-brewing goodness.
Even Cooper's collaborative decisions on Nightmare Ending are sparse as gently applied. First-disc closer "Envenom Mettle" features textural support from guitarist Mark Smith of Explosions in the Sky, but Cooper in this case tends to use the collaboration as more of a background to growing bursts of electronic sound. And the album's closer, "Happiness," features a hardly recognizable Ira Kaplan (of Yo La Tengo) presenting delicately spread-out vocals and hardly distracting from the noisy dissonance behind (or perhaps in front of) him.
It's through all these various pieces that Nightmare Ending becomes a masterpiece of sorts. While it's gentle and thematic, what Eluvium churns up here is hardly easy-listening ambience. In fact, the listener is rewarded dramatically in proportion to the amount of effort they put into a careful study of the sounds at play here. Admittedly, this work might be a bit too expansive for those new to the genre. But, for those with a conditioned ear and a patient mind, Nightmare Ending is likely to warrant an enjoyable round of repeat listens.
Similar Albums:


The Album Leaf – A Chorus of Storytellers


Dntel – Aimlessness


Mountains – Centralia