20 Most Anticipated Albums of Winter/Spring 2023

We're still shaking off the hangover of 2022, but 2023's here whether we're ready for it or not, and so comes the flood of new releases. Or perhaps more accurately the slow thaw. But no matter, given how we were inundated with so much great new music last year, it might be nice if the best releases of the year were parceled out more judiciously, but even so, we already have some major releases from some of the biggest names in metal, post-punk and synth-pop arriving in the coming months. At least that's the plan, and there's plenty more where that came from. Here are our most anticipated albums of winter/spring 2023.
---
Ladytron – Time's Arrow
(January 20)
British synth-pop vets Ladytron return with their first new album in four years, following the release of their 2019 self-titled album. The group describes the themes surrounding the album as "dreamlike", and its first single "City of Angels" has an immersive atmosphere about it, even while pulsing with the minimalist drive of Stereolab at their early '90s best. The group seem to be embracing a heady psychedelia that finds them delving deeper into unexplored territory—which by their measure is a domain of dreams.
---
John Cale – Mercy
(January 20)
Though John Cale hasn't released a lot of material over the past decade, the legendary Welsh artist has nonetheless been a notable presence, whether through his reworking of his 1982 album Music for a New Society or his collaborations with electronic producer Kelly Lee Owens. With Mercy, he invites a dazzling list of guest collaborators, including Animal Collective, Laurel Halo and Sylvan Esso, and on lead single "Story of Blood," Weyes Blood's Natalie Mering. His songwriting continues to grow more strange and fascinating, and despite his more-than-50-years of making music, as relevant as ever.
---
Fucked Up – One Day
(January 27)
The concept behind One Day is an ambitious one. Following the epic sprawl of 2021's Year of the Horse, Fucked Up took on a more compact approach with their latest offering—a set of songs each written and recorded in the span of 24 hours (more specifically, each band member's contributions had to be completed in that span of time). Its early singles showcase a band sounding tighter and more focused while honing in on the big hooks and furious drive that they're known for. Any year with new Fucked Up promises to be a good one, but the unique approach offers new possibilities for creative potential.
---
Deathprod – Compositions
(January 27)
The solo project of Helge Sten of Motorpsycho and Supersilent, Deathprod has been the Norwegian artist's outlet for eerie, ominous and abstract dark ambient music for three decades. But where past triumphs such as 2004's Morals and Dogma were built from longer compositions, Sten's latest, Compositions, features 17 shorter pieces, each sequenced in the order that they were composed and recorded, each one bringing the listener deeper into Sten's unsettling atmospheric domain.
---
The Men – New York City
(February 3)
The Men have proven pretty reliable at dropping new music every few years, sometimes playing up the country rock on albums like New Moon, or embracing weird psychedelia on Drift. With songs like "God Bless the USA" and "Hard Livin'" (great titles by the way), The Men get back to basics on their latest and first for Fuzz Club, wherein they get back to their garage rock roots and simply rip. We're ready to turn this one up.
---
Kelela – The Raven
(February 10)
Kelela's taken her time working on the follow-up to her 2017 debut Take Me Apart, but the early singles from her sophomore album suggest the wait was worth it. The upbeat standout "Happy Ending," one of our 2022 Essential Tracks, set her sleek, futuristic pop aesthetic to breakbeats, while the atmospheric "On the Run" is steeped in Balearic beat. In a press release, Kelela described the album as an "affirmation of black femme perspective in the midst of systemic erasure and the sound of our vulnerability turned to power," and it promises to be something stunning.
---
Paramore – This Is Why
(February 10)
Paramore's evolution from their early pop-punk sound into the more groove-laden post-punk and new wave they've since embraced has been a lot of fun to watch. Their songwriting chops have never been in doubt, though the immediacy of new singles "The News" and "This Is Why" (one of our favorite songs of 2022) is paired with a rhythmic complexity that shows even more frontiers for the group to continue exploring. While Paramore's evolution has felt organic, it's been anything but predictable.
---
Quasi – Breaking the Balls of History
(February 10)
Portland duo Quasi haven't released a new album in ten years, which makes their return with Breaking the Balls of History the end of the longest hiatus of any band on this list other than The Cure (14 years, though they've toured regularly). Since debuting with R&B Transmogrification in 1997, the duo of Sam Coomes and Janet Weiss have been putting out consistently strong and endlessly creative indie rock albums that balance humor with social conscience, so it's a pleasure to hear them capturing that on tape again.
---
Yo La Tengo – This Stupid World
(February 10)
Yo La Tengo have recorded some of the greatest albums in indie rock, as well as more recent atmospheric meditations on contemporary unrest. But when you get down to it, making great rock music is what they do best. "Fallout," the lead single from their upcoming album This Stupid World, their 17th overall, is a prime example of that, balancing shoegazing layers of guitars with bittersweet melodies and a kind of warm density that's become their signature.
---
Pile – All Fiction
(February 17)
Since beginning as the solo project of Rick Maguire, Pile has evolved into something increasingly hard to define. Ostensibly a post-hardcore band, Pile's incorporated elements of folk, country and pop, and with their latest album All Fiction, more atmospheric art-rock territory that veers into the avant garde. Lead single "Loops" is heavier in its back end than its riffs, Maguire's riffs more abstract and ambient, but the end result is something that feels heavy as fuck. And it's strange moments of magic like this that make Pile such a thrilling band to keep up with.
---
Algiers – SHOOK
(February 24)
Algiers continually redefine the parameters of their sound with each release, incorporating new elements and textures each time they emerge from the studio. Recent singles "Bite Back" and "Irreversible Damage" are prime examples, each one steeped in the eerie, cinematic darkness that permeates their sound, but with more expansive parameters—and some impressive company. The former finds them teaming up with billy woods and Backxwash, while the latter features Zack de la Rocha, and the band's fourth album SHOOK likewise features contributions from Big Rube, Future Islands' Sam Herring, Lee Bains III and more. SHOOK is shaping up to be a blockbuster cross-genre gothic mixtape.
---
Big|Brave – nature morte
(February 24)
Big|Brave is one of the best bands in heavy music, crafting maximalist sounds from minimalist principles, which is one of the reasons why their 2019 album A Gaze Among Them was our favorite metal album of 2019. And after collaborating with The Body on a set of public domain folk songs, the group return with a set of thunderous, amplifier blasting drone metal, which on first single "carvers, farriers and knaves" translates to some of their most climactic and sheerly physical material. Awe-inspiring stuff.
---
The Church – The Hypnogogue
(February 24)
Let it first be said that the title track of The Hypnogogue, the first new album from The Church in six years, is one of the most breathtaking singles they've released in years, a darkly psychedelic six minutes that slowly spirals into a menacing descent. That alone is reason to keep this one on your radar; the Australian neo-psych band have been going for over 40 years, with around a half dozen classic albums and zero bad ones, yet their ability to keep evolving and uncovering new aspects to their sound and approach only serves as a reminder of how vital they remain after four decades.
---
Shame – Food for Worms
(February 24)
The video for "Fingers of Steel," the first single from Shame's third album Food for Worms, still features some shirtless antics from vocalist Charlie Steen, but the group's evolved and grown a bit since their debut. Much like Iceage, they've continued to push toward a more layered, melodic rock direction that still harbors some of the post-punk edge of their early singles, but with an added sense of maturity. They've always had the makings of a great rock band, and with each release, they grow stronger both as songwriters and as a musical unit.
---
Kate NV – WOW
(March 3)
Russian-born electronic artist Kate NV delivered one of 2020's best under-the-radar gems with Room for the Moon, taking inspiration from new wave, minimalism and '80s-era Japanese city pop. With WOW, she takes another stylistic shift into what she describes as "funny tiny sounds." Introduced with the playful "oni (they)", WOW promises a less pop-structured experience and one more defined by exploratory sonic delight.
---
Fever Ray – Radical Romantics
(March 10)
Fever Ray makes up with fascinating spectacle what they might not have in terms of prolificacy. Karin Dreijer's third album arrives six years after Plunge and 14 years after their self-titled debut, but the leadoff singles, "What They Call Us" and "Carbon Dioxide" (and their peculiar videos) already push this up to the top of our most anticipated list. The former features a reunion with Dreijer's brother and former The Knife bandmate, Olof Dreijer, while the album also features appearances from Nine Inch Nails' Trent Reznor and Atticus Ross, each of which gets a head turn from us. If the rest of the songs are as strong as those two singles, however, we're in for something stellar.
---
Metallica – 72 Seasons
(April 14)
The intervals between Metallica albums seem to keep getting longer and the results more unpredictable, though after two double albums—one of them a proper if overstuffed set of rippers and the other one being Lulu—the band tightens up a bit with a record of thirteen new thrash anthems. The title is a reference to the first 18 years of a person's life and the importance of those formative seasons, which feels fitting, since Metallica's best music brings out the teenager in all of us. Plus, after "Master of Puppets" had such a significant moment in Stranger Things, it's hard not to be hungry for some new riffs.
---
Eluvium – (Whirring Marvels in) Consensus Reality
(May)
Matthew Robert Cooper has built up a stunning body of work comprising various approaches to ambient music, drone and modern classical, as well as the occasional foray into techno under his Martin Eden alias. With his latest album and follow-up to 2021's Virga II, Cooper explores our relationship with technology via writings from T.S. Eliot and Richard Brautigan, as well as via fully orchestrated arrangements, making it the first of his albums to do so. The first taste of the album, "Swift Automations," is gentle, graceful, yet richly arranged, highlighting another new aspect of his remarkable musical world.
---
Depeche Mode – Memento Mori
(TBA)
Grief hangs over the release of Depeche Mode's upcoming fifteenth album. Last year, longtime member Andrew Fletcher died, marking the end of an era of sorts for the synth-pop legends. The group had started work on the album the year prior and ultimately decided to keep going, and even with the shadow cast over it, vocalist Dave Gahan said in a statement that "Fletch would have loved this album." And that's reason enough for me.
---
The Cure – Songs of a Lost World
(TBA)
This space has been reserved for The Cure for a few years now, and though Robert Smith said back in 2019 that the group were working on not one but three new albums, it seems that there's at minimum one album they're planning on releasing this year, Songs of a Lost World. During their fall 2022 tour in Europe, the group have been playing an ample amount of new material, so fans have been getting a preview of what's to come. Whenever and however it arrives, we're just excited that it finally will.
---
Treble is supported by its patrons. Become a member of our Patreon, get access to subscriber benefits. and help an independent media outlet continue delivering articles like these.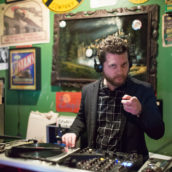 Jeff Terich
Jeff Terich is the founder and editor of Treble. He's been writing about music for 20 years and has been published at American Songwriter, Bandcamp Daily, Reverb, Spin, Stereogum, uDiscoverMusic, VinylMePlease and some others that he's forgetting right now. He's still not tired of it.