Factory Floor : Factory Floor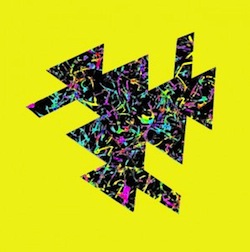 The great goof of DFA Records was — is — their knack for finding and releasing artists who sound even larger than their membership. Gavin Russom and The Juan Maclean generate layers and layers of music which belie their solo and duo status, respectively; Hot Chip and LCD Soundsystem expand to fill rooms. Even the production house's minimalists like Prinzhorn Dance School and Pylon (in reissued form) are loud and fluid, and to this afterthought circle in the Venn diagram you can add the British trio Factory Floor.
Discussions of Factory Floor's early singles and expectations for their self-titled debut usually reference the graying locomotion of post-punk and the bearded newness of synth-rock. Frankly, I don't know what those discussing, expecting idiots are hearing. The trio might occasionally touch the sharp tonal angles of The Fall; they don't land anywhere near the songsmithing of a Cut Copy or a Phoenix. This is some newfangled Detroit shit, dance music turning corners and bumping into obstacles like those revised muscle cars hitting the last few years' worth of highways.
Yeah, Factory Floor feels like Robocop driving a new Dodge Charger or something. And it shouldn't be this fulfilling, this weighty, because of everything out there Factory Floor really seem to have a lot in common right now with minimal wave. The difference between the warmth here and the chill of, well, an actual factory floor is that the group's music isn't so much minimalist as it is reductionist. They don't use a lot, but what they use takes up a lot of space and moves listeners to new imagined places.
There's little more than a twangy loop and snappy percussion from the new Daft Punk school at the heart of "Here Again," but it suggests a joyride under streetlights down long coastal highways — Miami, Ibiza, left coast. When you hear the monotone loops of "Fall Back" traveling over a bunch of high hats, supplemented by garbled vocals and bleating low horn sounds, you're transported not just to the early days of MIDI but maybe to somewhere in the Throbbing Gristle universe where they're taking the piss out of it, and then maybe inside Aphex Twin's tank for a much more serious lucid-dreaming session about it.
There are many other twinkling acid-techno spasms ("Turn it Up," "Work Out") with Richard D. James' name on them, as well as mesmerizing lyrical nonsense ("How You Say") and gothy interludes to suggest each band member's strength. But throughout Factory Floor and especially in centerpiece single "Three Different Ways," we hear a sense of mirth and mischief in sounds that in others' hands might be crushingly dour and dark. Factory Floor don't make big beat, but they make beats that sound impossibly big.
Similar Albums:


The Knife – Shaking the Habitual


Nine Inch Nails – Hesitation Marks


Various Artists – After Dark 2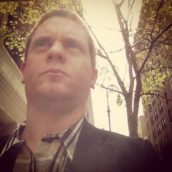 Adam Blyweiss
Adam Blyweiss is associate editor of Treble. A graphic designer and design teacher by trade, Adam has written about music since his 1990s college days and been published at MXDWN and e|i magazine. Based in Philadelphia, Adam has also DJ'd for terrestrial and streaming radio from WXPN and WKDU.