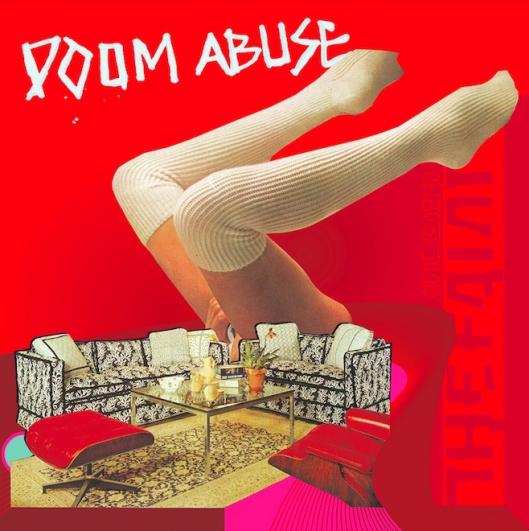 OK Faint fans, let's get something out of the way here: Fasciination was a pretty bad album. For a band that made their name by combining the most engaging elements of bar punk and electronica, The Faint's fifth studio effort was overly ambitious at best. They not only toned down their energy extensively, but the songwriting was painfully overthought without any clear payoff. The Faint was a band that had mastered the sonic encapsulation of raw energy, but Fasciination honestly sounded like a group of has-beens throwing in the towel.
And throw in the towel they did — at least on any project called The Faint. After touring for Fasciination, the band seemingly disappeared; even bassist Joel Peterson vanished entirely from the band's official roster. Three out of four of the remaining members spent most of their time performing as a DJ trio under the name Depressed Buttons.
Six years later, the band has allowed a lot of breathing room between Fasciination and Doom Abuse, and it shows. Intentional or otherwise, The Faint has stepped back the pretension in favor of cranking out fun, synth-boosted punk romps. There's the chaotic energy of opener "Help in the Head," the hook-heavy dance-punk of "Evil Voices," even more modern eclectro-punk influence in "Animal Needs." But what ties all these tracks together is a simplified approach to songwriting and an attention to sonic detail that was clearly missing the last time around.
In some ways, the entire album is a natural extension of "Dropkick the Punks" from 2004's Wet From Birth. There's a mildly tongue-in-cheek aggression throughout Doom Abuse that works in the band's favor. Todd Fink's strength as a lyricist has always leaned towards vague statements — mantras of sorts — and this album provides plenty of gems like "we don't need software to tell us we're lost," and "loss of head, loss of heart, timing broke the human parts of our heart into bits." Doom Abuse provides some great synth-punk bursts without ever trying too hard to take itself seriously.
If there was one thing that The Faint could learn from a recent influx of incredible punk-leaning records, it's brevity. The songs here are well constructed, but some some tracks are definitely stronger than others and the band would do well by filtering down to the best 8 or 9 cuts rather than jamming in 12 tracks for the sake of it. Still, this album's fun drive and the attention to small details in the mix are a big step back on track for The Faint — a good fit for your headphones and the dancefloor alike.
Similar Albums:


Depeche Mode – Violator


Crystal Castles – (III)


Placebo – Meds