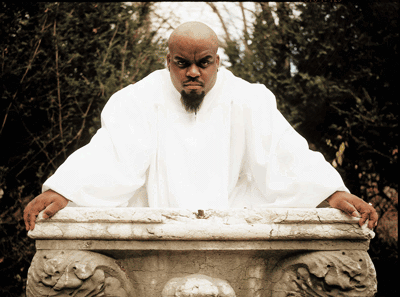 Summer is generally considered a heavy season for singles, and rightfully so. When the weather's hot and friends start hosting cookouts, nobody really wants to put on Dark Side of the Moon. But 2010 has shown that some of the best singles (or what, for all intents and purposes, we'd classify as singles) of the year have emerged in the fall. Just a few weeks ago we assembled a list of our most highly anticipated singles of the year, and since then we've not only gotten some definitive proof of just how good some of these albums may well be, we've also come across some unexpectedly awesome tracks from some newcomers and surprises from veterans as well. And as usual, each track comes paired with a video, stream or download, so you can hear the goods for yourself.
Cee-Lo – "Fuck You"
(Elektra)
It's a bold move to make a song that sounds like a classic Motown jam, call it "Fuck You," repeat the profane title a couple times throughout the song, and then release it as a single. But Cee-Lo Green appears to know what he's doing. I've already heard this song on a Top 40 station and an alternative rock station within the same 24-hour period. Of course, those versions find the Atlanta soul man singing "Forget you" instead. Radio edits aside, this is quickly becoming the monster single of the fall. Consider it this year's "Crazy," which should be pretty easy to do, given that Cee-Lo was also responsible for that runaway hit.
Belle and Sebastian – "Write About Love"
(Matador)
It would be disingenuous to say that most actors or models who enter the musical world leave something to be desired, and here's why: with very rare exception, they pretty much all suck. From Russel Crowe to Billy Bob Thornton to Milla Jovovich, Eddie Murphy and Bruce Willis, there's very little that remains salvageable. Yet Belle & Sebastian's new single, featuring the vocals of An Education star Carey Mulligan is more than salvageable, it's quite good. Of course, the reason for that has little to do with the band's guest. Rather, it's a classic Belle & Sebastian song, rich in jangle and sweet melody. It just so happens to have an actress singing part of the time, and a pretty darn good one at that. Stuart Murdoch you've done it again.
MP3 (with e-mail address)
No Age – "Glitter"
(Sub Pop)
As singles go, No Age's "Glitter" is simultaneously one of the prettiest, most accessible and most dissonant tracks the Los Angeles duo has released. Randy Randall's layers of guitars squeal and screech over a persistent wash of fuzz and My Bloody Valentine style effects. Yet every piece of its jagged puzzle congeals into a stunning and unlikely catchy whole, as drummer Dean Spunt sings the sweetly vulnerable refrain, "Everyone is out to get you but I want you back under my skin." For a band that has a history of dropping winning single after winning single, this one is truly top shelf.
Women – "Narrow With the Hall"
(Jagjaguwar)
Fans' first taste of Women's Public Strain came via "Eyesore," a glorious, six-minute epic that showed off their rhythmic and melodic side in their most ambitious track to date. By comparison, second single "Narrow With the Hall" is a bit more concise, but no less mesmerizing. Balancing the group's vintage, richly melodic sound with a healthy dose of noise, "Narrow" is a beautiful standout. The Calgary group at times sounds like a long lost garage act, yet there's something progressive and ultimately quite weird about this band that makes them excitingly modern.
Twin Shadow – "Slow"
(Terrible)
Despite being a newer artist from Brooklyn, Twin Shadow could easily fool the listener into thinking it's a vintage post-punk act from the UK circa 1984. Shadow, whose real name is George Lewis Jr., is linked to Grizzly Bear via label connections (Chris Taylor runs the Terrible imprint), yet the deep, distorted bass and chorus laden guitars are less in line with today's crop of indie rock and more aesthetically in line with the likes of The Smiths and The Chameleons. And believe me, that's a very good thing. In fact, when Lewis sings, "I don't wanna… believe… in love!", it's tempting to do a double take and ask whether or not this is actually some great, lost post-punk single. But it's an original, and a damn good one at that.
Small Black – "Photojournalist"
(Jagjaguwar)
Small Black's debut EP was a pleasant surprise arriving under the guise of glo-fi/chillwave/hypnagogic whatever, but rich enough in sound and strong enough in melody to transcend the constraints of a genre that some asshole blogger probably made up anyway. Yet there's something much sexier about "Photojournalist," the lead single from the band's upcoming full-length, New Chain. Its drums are massive, yet atop its clattering beats lie twinkling synthesizer and breathy vocals, recalling a more new wave-minded version of The xx. What started out as a strong first EP has gotten much more interesting indeed.
Zola Jesus – "Sea Talk"
(Sacred Bones)
I was never a goth kid, but I've always been drawn to musical artists with a dark and theatrical side, and 21-year-old Zola Jesus more than fits that description with her accessible yet dark synth-pop symphonies. "Sea Talk," from Zola Jesus' upcoming EP, is a glorious anthem, akin to The Cure's "Plainsong" with a bit more Kate Bush, and a lot more get up and go. It's a heroic song, a magnificent bit of eyeliner theatrics fit for the closing credits in a Donnie Darko sequel, or, barring that, a late night with a bottle of wine.
Glasser – "Home"
(True Panther Sounds)
Following released by bands like garage rockers Harlem, psych-popsters Magic Kids and indie pop darlings Girls, the synth-laden soar of Glasser comes as a bit of surprise. The recording name of Cameron Mesirow, Glasser is a project with more in common with the likes of Fever Ray and Bat For Lashes, and as such, is a truly stunning exercise in passion and beauty. "Home," the first single from Glasser's debut album Ring is a mesmerizing blend of heady synthesizers and handclap percussion, instantly likable but lovable in just a few short moments more. But great becomes sublime as the song reaches its choral climax, in which Mesirow chants the song's title as beautifully and hypnotically as possible.
Gold Panda – "Same Dream China"
(Ghostly International)
Just a touch glitchy and a whole lotta gorgeous, "Same Dream China," the newest track to be released from Gold Panda's soon-to-be-released debut Lucky Shiner is a trip to the Orient through a hazy, kaleidoscopic lens. Far Eastern samples creep into what is an otherwise hypnotic electronic pop song, and the UK producer layers lots and lots of twinkling, shimmering beauty together into something that very much seems like a quite pleasant waking dream in Beijing. On the basis of this alone, Lucky Shiner is very much an album to look forward to this fall.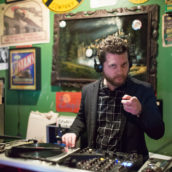 Jeff Terich
Jeff Terich is the founder and editor of Treble. He's been writing about music for 20 years and has been published at American Songwriter, Bandcamp Daily, Reverb, Spin, Stereogum, uDiscoverMusic, VinylMePlease and some others that he's forgetting right now. He's still not tired of it.