The 10 Best Fela Kuti Songs

Ian Watts
Few musical artists of the 20th Century have a biography as incredible as Fela Kuti's. The Nigerian bandleader and pioneer of Afrobeat was born to politically progressive parents, attended university in London, started a highlife band in the '60s which evolved into Africa 70, and recorded some early sessions in Los Angeles before having to split the country in a matter of days. In the ensuing years, Kuti would soon start a commune in Nigeria he dubbed the Kalakuta Republic, learn to play saxophone (and quite well at that) and increasingly compose funkier and more expansive Afrobeat tracks with lyrics detailing political and social strife in West Africa. One of his songs resulted in the burning and brutal attack on the Kalakuta Republic, and in return, Kuti sent a replica of his mother's coffin to the Head of State. And this is all before we even get into his 27 wives and swallowing a joint to escape prosecution.
Of course, no matter how much stranger Kuti's life was than any fictional story could do justice, he was best known for his music, which found him dubbed Nigeria's answer to Miles Davis and James Brown. Kuti's funky Afrobeat style inspired numerous artists, from Talking Heads to Will Smith and Jay-Z, both of whom co-produced the recent stage production of "Fela!" Over several years, Knitting Factory has reissued key recordings in the Fela Kuti catalog, which spans three decades and includes more than 40 albums. That's a pretty intimidating catalog to dive into, however, so we took it upon ourselves to assemble an essential guide to Fela's music, featuring several of the best Fela Kuti songs, from his highlife beginnings to his epic Afrobeat masterpieces in the '70s.
Listen to our Best of Fela Kuti playlist.
***
Buy these albums at Turntable Lab
---
"Highlife Time" (5:23)
(from Koola Lobitos—1965)
Before delving into the heavily jazz and funk infused Afrobeat sound that made him famous, Fela Kuti fronted a highlife band called Koola Lobitos. The songs were shorter, and more importantly, far less angry. Koola Lobitos predated Kuti's outspoken political anthems, and "Highlife Time" is a perfect example of that. A sprightly, danceable tune with a fun little melody, the track finds Kuti singing lines such as "I jump for joy!" A far cry from "Expensive Shit," for sure. But a great track all the same.
---
"Fight to Finish" (7:23)
(from Fela's London Scene—1971)
Fela's London Scene was Fela's first album with band Africa 70, and largely considered to be the first ever Afrobeat album. It's simpler and more based in funk than many of his later releases, and for that matter, less expansive in duration. Yet, it's an explosive and exciting piece of music, thoroughly soulful and masterfully played. The back-and-forth between guitar and horns is something quite stunning. It was really only an early stage in his long career of artistic growth and innovation, but an impressive one nonetheless.
---
"Let's Start" (7:45)
(from Fela with Ginger Baker Live—1971)
Cream drummer Ginger Baker headed to Nigeria in the early '70s, driven by his interest in the country's music, and as a result he recorded or released a handful of records by Nigerian artists. In 1971, he even performed with Fela Kuti's Africa 70, sitting in for drummer Tony Allen, and on "Let's Start," the leadoff track to the album that resulted from the sessions, Baker provides a solid backing for the group's deep funk, which actually is one of the more rock-oriented tracks they recorded, thanks in large part to the fuzz guitar riff that drives the song.
---
"Eko Ile" (6:40)
(from Afrodisiac—1973)
While Fela has been described as Nigeria's answer to James Brown, a good portion of Kuti's music didn't necessarily sound all that much like that of the American funk pioneer. However, on Afrodisiac, one of the rare Kuti albums that features tracks well under ten minutes long, he and his band actually hit a deep groove strongly reminiscent of the J.B.'s. "Eko Ile," spanning only six and a half minutes, is a catchy, vibrant tune that finds Kuti at his funkiest. Maybe not his most adventurous work, but certainly a great starting place for newbies to segue into Afrobeat.
---
"Roforofo Fight" (15:41)
(from Roforofo Fight—1972)
By 1972, Fela Kuti had released a pretty good amount of material, though Roforofo Fight was the beginning of his peak years in creativity, one of the first of a long string of masterpieces. The title track is a furious and funky stormer of a track, and positively epic at more than 15 minutes long. Fela begins by dropping some spoken word chants over its upbeat rhythm, but within a couple minutes comes a blast of mighty horns, bass and hypnotic keyboards. Sure, it's long, but don't be surprised if you drop this on at a party and everyone starts to move. It grooves hard.
---
"Gentleman" (14:43)
(from Gentleman—1973)
Up until 1973, Igo Chico was Africa 70's saxophonist, and with his horn, he sonically was almost an equal to Kuti in leading the band. After his departure, however, Fela decided to take up the saxophone himself and proved himself a quick learner-listen to his solo at the beginning of "Gentleman" and say that isn't the work of a seasoned pro. In any case, "Gentleman" is just as notable for its criticism of post-colonial Africa and the lasting influence that the English had on the region. He sings, "I am not a gentleman like that/ I be Africa man original." As it turns out, Fela Kuti did in fact live and attend college in England, though he made it clear that his priorities and his heart lie in Nigeria.
---
"Water No Get Enemy" (11:00)
(from Expensive Shit—1975)
Fela Kuti's Expensive Shit is an album with a legendary backstory, involving a joint that was planted on Kuti in order to have him incarcerated, Kuti swallowing it to destroy the "evidence," and subsequently swapping feces with another inmate to evade punishment. But the album's B-side, "Water No Get Enemy," is perhaps the more intriguing piece of music. Jazzier, more laid back and still hypnotic, "Water No Get Enemy" reveals a different side of Kuti's musical persona. Given how dense and similar some of Fela's mid-70s output can be, it also shows more diversity in his approach. Stunning stuff.
---
"Zombie" (12:26)
(from Zombie—1977)
Zombie is often cited as Kuti's finest or most essential album, and its title track is also one of his most notorious compositions. It's one of his most upbeat and deeply funky, with horns blazing in a frenzy. Yet the lyrical content of the song, which compared Nigerian soldiers to zombies, pissed off the government something fierce, to the point that Kuti's commune, the Kalakuta Republic, was raided and burned. Fela was brutally beaten, his band's instruments and master tapes were destroyed, and his mother suffered fatal injuries after being thrown out of a window. Yet, while the history makes the song intriguing, it's the furious rhythms that make it an enduring and hotly grooving piece of music.
---
"O.D.O.O." (Edit) (6:55)
(from The Best of the Black President)
The original version of "O.D.O.O." from the album of the same name is more than 30 minutes long. When Best of the Black President was released, however, 25 of those minutes were spliced off, leaving a surprisingly slim edit of the song. This isn't necessarily such a bad thing, however. One of Kuti's later compositions from the '80s, it's a lot more mellowed out, without much of the furious funk that marked many of his standout works from the 1970s. Still, whether in edited or extended form, it's a cool and breezy continuation of the Fela catalogue and proof that even toward the end of his career, he could still create something quite impressive.
---
"Confusion" (25:36)
(from Confusion—1974)
Considering how few of Fela Kuti's tracks are presented in concise, digestible form, it became clear pretty quickly that a 90 Minute Guide just wasn't going to be sufficient. Of course, adding one more 25-minute song may not appear to be a good way to take advantage of an extra 30 minutes, but seeing as how this mixtape is all hypothetical anyway, I'm just going to go with it. "Confusion" may be an intimidatingly lengthy track, but it's also a jaw-dropping masterpiece. One of the few Fela Kuti records in which there's actually only one "song," "Confusion" unfolds slowly but meticulously, opening spaciously and slowly before steadily building up a groove. Whereas much of Kuti's music earned him comparisons to James Brown, this composition finds him more in league with the likes of Miles Davis, another artist frequently referenced in relation to Fela. The solos and improvisation at play here in particular make that comparison apt, though the second half features Kuti's taking over on vocals—as with most of the best Fela Kuti songs, it doesn't really get cooking until halfway through (though it's all stunning). As Fela goes, it's by no means his most difficult work, but it is pretty damn long. Still, it's one of his best, and as a closer to this mix, a hell of a way to close the festivities.
---
Support our Site—Subscribe to Our Patreon: Become one of our monthly patrons and help support an independent media resource while gaining access to exclusive content, shirts, playlists, mixtapes and more.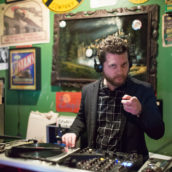 Jeff Terich
Jeff Terich is the founder and editor of Treble. He's been writing about music for 20 years and has been published at American Songwriter, Bandcamp Daily, Reverb, Spin, Stereogum, uDiscoverMusic, VinylMePlease and some others that he's forgetting right now. He's still not tired of it.