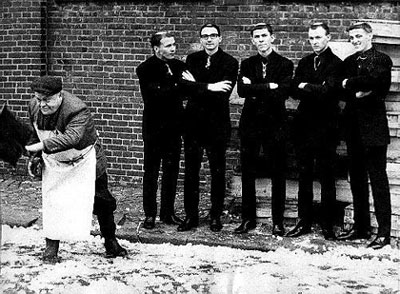 Since beginning our 'For the Record' feature three months ago, we've essentially tackled two types of albums: widely renowned or "classic" albums that somehow evaded us in spite of their fame, and underground albums that have become highly regarded long after their time. And this month, once again, our panel takes on five albums that range from genre icons and best-sellers (Iron Maiden, Yes) to critics' darlings (Richard and Linda Thompson) and fascinating underground works (Swans, Monks). With each album, however, there's opportunity for discovery and enrichment. A commercial favorite gone long unlistened can give insight into what many others have already come to love, while something more obscure can reveal an impressive work that most people don't even know they're missing. No matter what, this monthly exercise is always enlightening and, above all, fun.
This month's panelists are, in alphabetical order: Adam Blyweiss, Jackie Im, Ernest Simpson, Jeff Terich and Hubert Vigilla.
And, as always, if any readers have suggestions for future installments, send us an e-mail, write on our wall on Facebook or hit us up on Twitter.
Monks – Black Monk Time (Polydor, 1966)
Buy at Insound/iTunes
Jeff: Much like The Sonics, in a previous installment of For the Record, Monks' Black Monk Time took about two seconds for me to love. Similar in aesthetic if not in approach to Here Are the Sonics!!!, Black Monk Time is a highly entertaining, sometimes unhinged, frequently hilarious album of oddball garage rock with few true peers. The product of a group of G.I.s in Germany in the '60s, Black Monk Time is a mega-fun and manic trip through a dozen rave-ups strummed out on a fuzz-drenched banjo. Yep, a banjo. That's part of what makes this band's sound so completely out there, though other bands have used a similar trick (like Chicago's Coctails). The other important element that sets the band apart is the vocals, which aren't so much sung as yelped or chanted. There is one other element that makes the band similar to the Sonics, however, namely that they're still together! So kudos to the garage rockers for keeping the fire burning. They think like I think. They're Monks. I'm a Monk. We're all Monks!
Hubert: Black Monk Time tells you straight out that it's beat time, it's hop time, and it's Monk time. It's also a good time, a fun time, and ahead of its time. Who else did anarchic, spastic music like this back in the '60s? It's like a garage rock ancestor of punk, post-punk, and post-hardcore. There are little staccato bits of muted guitar and jagged chords like bursts from a tommy gun. There's organ used as percussion, and on a few songs the banjo sounds less like a banjo and more like a guy playing a washboard with some wooden spoons. Gary Burger growls as he tries to woo a girl on "Oh How to Do Now," which unexpectedly gives way to something that's part howl and part yodel. Maybe it's that sense of surprise that makes the album so enjoyable from beginning to end. It's right there at the start. "Monk Time," the opening track, introduces itself, condemns the Vietnam war, pulls James Bond and Pussy Galore into the mix, makes a series of free associations, gets into a free-wheeling conversation, and then basically says, "Screw this, let's dance!" And so I bounced along and swayed along in my chair, like I was half-dancing and half-davening. It gave me no choice. In a way, the album reminds me of something David Byrne said when he interviewed himself for Stop Making Sense: "Music is very physical, and often the body understands it before the head." That's Black Monk Time. It's not an album made at first for the mind; Black Monk Time is music for the body, it's music for the soul.
Jackie: Prior to this assignment, I knew nothing about The Monks. Not a word. But when I started listening to Black Monk Time, it was as if I had been listening to them forever. The vibrant, frantic beats and the Dadaist lyrics reverberate through so many bands, that the songs were both a surprise yet remarkably familiar. I'm actually shocked that I didn't come across them earlier. Opening track, "Monk Time," bursts with frenetic energy with alternately cutting and absurd lyrics about the military and the glorification and fetishization of violence. Singer Gary Burger's scraggly voice serves as a call for action – but what action? Released in the middle of the United States' involvement in Vietnam, Black Monk Time is fraught with confusion, disillusionment and biting critique. However, I can't say enough about how much fun this album is. Stomping drums, Burger's herky-jerky vocals and blistering organs make these songs incredibly full of life and palpable energy. It took me way too long to get here.
Ernest: After being indubitably impressed by the Sonics, I thought I might never uncover as aggressive, primal and revolutionary a band from the 1960s again. Boy, was I wrong. I've been hearing about Monks for years, the unlikely story of a group of American G.I.s stationed in Germany, experimenting until they found their perfect blend of plodding rhythms and fiery, sharp-tongued lyrics, but I never took a listen until now. As has been said before, let's not focus on the fact that I arrived late to the party, but celebrate the fact that I arrived at all. Black Monk Time is wild and woolly genius, quite possibly a half century before its time. It's easy to hear why Jack White finds them such an influence. Just one month after the release of Black Monk Time, the Beatles would create a stir by attempting to release an album with their infamous 'butchers and dolls' cover (this after receiving earlier criticism for an infamous incident, John Lennon's 'bigger than Jesus' statement). A few months later, Revolver would blow people's minds, but that's only because they probably hadn't heard Monks.
Yes – Close to the Edge (Atlantic, 1972)
Buy at Insound/iTunes
Jeff: It seems every month we do this, a prog-rock album ends up in the rotation, and much to my surprise, I end up really, really liking them. I did with King Crimson. I did with Genesis. And now, with Yes, I find myself highly satisfied by their opus, Close to the Edge. At first glance it seems kind of daunting-three gargantuan tracks comprise the entire album. But now that I think about it, the longest is 18 minutes and the shortest is 8. Can's Tago Mago is about twice the length of this album and I've listened to that album a bunch of times. So anyhow: prog. This is certainly an album that displays the excesses of progressive rock, though it does so in a highly accessible fashion. There are mathematically complex riffs and solos, adventurous song odysseys and ridiculous titles like "Siberian Khatru." But when you get right down to it, this is simply great rock 'n' roll, packaged in a slightly less conventional form. And the title track's refrain "I get up/ I get doownnn" struck me upon hearing it as the chipmunk sample in Busdriver's "The Troglodyte Wins." Yeah, I know, obscure of me to notice. Nonetheless, great album. Maybe it's just that I don't like Tool…
Jackie: I had never heard a Yes song in my life. I sort of regulated them as one of those "boy bands" that only boys like (see: Rush, The Doors, King Crimson, etc.) and that I wouldn't like them. I had only a vague idea of what they sounded like – excessively long songs, squiggly organs, opaque lyrics and high drama. I'll tell you this: I wasn't exactly wrong. It was barely seven minutes into the over 18-minute "Close to the Edge," before I got tired of the operatics and jammy jam guitars. I refuse to say that this was a bad album – one man's trash is another man's treasure after all. The music here is pretty astonishing in the skill and ambition behind it. The acoustic guitar riff that runs through "And You And I" has such a lovely melody that I feel chagrined to say that I wish the song had fewer movements and focused on the really beautiful simpler moments. But then again, that would greatly take away from the unique qualities that make Yes (or Prog Rock for that matter) what they are.
Ernest: In many ways, Close to the Edge was, if not a drastic departure for Yes, at least a shift in presentation. Though they already had penned songs that were much longer than what was playing on mainstream rock radio in their 'hits,' "Starship Trooper," "I've Seen All Good People" and "Roundabout," they hadn't yet recorded a sonic landscape that would take up one whole side of an album. The three songs on Close to the Edge are a fantastic study in composition and how even rock songs can have suites, movements or chapters. Jon Anderson's vocals could either delight or annoy in his delicately high register, but none can say they're not distinctive. Each musician in the band gets their moment in the spotlight, from Steve Howe's varied guitar mastery on "And You and I," to the combination of Howe and bassist Chris Squire on "Siberian Khatru," to Rick Wakeman's electrifying keyboard solos on the title track, and frankly, Bill Bruford's solid drumming throughout. I had never been a big supporter of prog rock, but if there are more albums out there like Close to the Edge, I might be persuaded to try again. Unfortunately, many claim that this album is the high water mark, and the rest is all downhill.
Richard and Linda Thompson – I Want to See the Bright Lights Tonight (Island, 1974)
Buy at Insound/iTunes
Jeff: Prior to marrying Linda Peters, Richard Thompson had a female foil in Sandy Denny as part of Fairport Convention. And it seems that Thompson's most acclaimed work is that which finds him collaborating with an equally strong female voice. On I Want to See the Bright Lights, it just so happened to be that of his wife. Together, the Thompsons sound sublime. Their voices together are dynamic and beautiful, while Thompson's guitar work itself is intricate and gorgeous. What's perhaps even more impressive is that the duo turn traditional English folk influences into something that, 36 years down the line, still sounds contemporary. By and large, however, these songs are timeless, particularly the lovely title track. It's just a shame that these two couldn't keep their marriage together, because they literally made beautiful music together.
Adam: I have a good friend of mine who, despite being a native U.S. resident, has enough Irish friends and family and knows enough of the history of Northern Ireland's "troubles" and their attendant culture that, if she's out on the town, she'll seek out bar bands and other performers who can play Irish rebel music-songs related to fighting, dying, mourning and living for the land. I'm still a neophyte when it comes to it, but I imagine that Richard & Linda Thompson's I Want to See the Bright Lights Tonight would on the surface fit right in with that genre's balladry. Intersecting rock, folk, and regional traditional music, there's frankly not much here that's uplifting; this is a mostly slow, often sad release, a last-call album if there ever was one. But therein lies its faithfulness and legitimacy: Even with English upbringing and proper Scottish influences, when the couple made this album in 1974 they managed to manufacture a world of moody hymns, borders to reach, lost dreams and heroes, and the solace found in meeting a friend for a snog or a pint. Such themes translate easily across the social fabric and storytelling pedigree of the British Empire, regardless of regional flag or tribal color, and they provide early insight into Richard Thompson's rise to singer-songwriter legend. And for what it's worth, I'm amazed no long-established punk-paging Mr. Armstrong, Mr. Graffin, Mr. Ness-has at least tried to turn the title track into a modern-day double-time anthem.
Ernest: It's hard for me to imagine a world with Bonnie "Prince" Billy, Conor Oberst, Natalie Merchant, the Waterboys, the Mendoza Line, Whiskeytown, or more recently the Swell Season or Jenny and Johnny, were it not for Richard and Linda Thompson. Their first album together, after his years in Fairport Convention, and one failed solo album, is the exquisite I Want to See the Bright Lights Tonight. For years, I have seen this album appearing on best-of lists everywhere, along with the duo's sixth and final album together, the appropriately titled, Shoot Out the Lights. I had my first taste of their songwriting when I heard Matt Pond PA's cover of the title track, and I knew I had to hear more. The pair find beauty in misery throughout Bright Lights, even on such weepy tracks as "Withered and Died" and "Down Where the Drunkards Roll." Being a fan of all of the above listed artists, there was practically no way I wouldn't find joy in this album, but I didn't know it would likely be an album that would be cemented in my iPod, receiving repeated listens.
Iron Maiden – Powerslave (EMI, 1984)
Buy at Insound/iTunes
Jeff: Heavy metal has long been considered, at least in terms of media and PMRC perception, as a fringe genre. Even in 2010, two decades after Metallica crashed mainstream radio and, more recently, indie rockers began to accept riffs descended from the champions of Valhalla, metal remains something far outside the mainstream. But for a period during the 1980s, metal was the mainstream. Sort of. At the very least, Sunset Strip icons like Motley Crue made for endless MTV fodder. But there's arguably no bigger metal band in the world, nor one as legendary, as Iron Maiden. We're talking huge here. Fucking enormous. Selling 80 million records huge. Playing to 100,000 people in Brazil huge. Really, what we consider popular by today's standards in America is pitiful when compared to the magnitude of Iron Maiden's reach and accomplishments, particularly when you consider that they were pioneers of the genre. The biggest name in the New Wave of British Heavy Metal (along with Judas Priest), Maiden was a band that dealt heavily in heroics. And that includes epic poetry; Powerslave's closing track is a 13-minute adaptation of "The Rime of the Ancient Mariner." Wow. But on a musical level, Powerslave is a dazzling feat of instrumental pyrotechnics. Bruce Dickinson's vocals are near operatic. And the band is notorious for their harmonized guitars that reach toward the heavens. In fact, Maiden isn't so much about melody as they are harmony, both in vocals and in guitars. That isn't to say they don't have some great melodies, though. "Aces High," "Two Minutes to Midnight" and "Flash of the Blade" are as catchy and anthemic as metal has ever sounded, which is something that, looking back, makes Iron Maiden enduring. Metal has evolved so much in the past three decades that you can take any half-dozen bands under the same genre umbrella and very few of them will sound anything like one another. But even rarer still is the metal band with the classic rock sensibilities of Iron Maiden.
Ernest: So far, out of all the metal we've covered in "For the Record," Iron Maiden is my favorite. That might be predictable for someone who is more drawn to pop than more extreme experimental genres, melody as opposed to dissonance, or straightforward rock guitars instead of thrash, but aren't we all somewhat predictable? Powerslave is smack dab in the middle of a run of Iron Maiden's most historic albums, with "Aces High" as the powerful intro that later became a staple for "Guitar Hero." But, it's not just the great musicianship, the accessibility, or those amazing harmonized guitars on "Losfer Words (Big 'Orra)," it's also their image. Many metal bands have distinctive fonts, but few have mascots as darkly appealing as Eddie the Head. Eddie was enough to make me at least look at their albums back in high school even if I didn't purchase them. It's difficult to think that Guns 'n' Roses' debut album cover, or even Spinal Tap's sound would have been possible without Iron Maiden. Maybe had I actually heard songs like "Flash of the Blade" and "The Duellists" in my youth, I would have been a lifelong Maiden fan, but…hindsight and all that nonsense.
Swans – Soundtracks for the Blind (Atavistic, 1996)
Buy at Insound/iTunes
Adam: Having listened to bits and pieces of the Coil and Psychic TV catalogs, as well as early work by industrialists like Greater than One, I wholly accept musicians' and listeners' desire to embrace songs intended to be themes for nightmares, if not the nightmares themselves. The double-disc Soundtracks for the Blind by Swans certainly ranks up there on the fucked-up scale. Swans' concept for this release was a soundtrack for a nonexistent movie, and in 1996 it served as a fitting capper on their career. The tape manipulation game was becoming idiosyncratic in the face of modern industrial music, as the latter was being subjugated by straight-up electronic body music. Swans certainly toyed with and tweaked that, as on Jarboe's fractured and depraved electro-disco vehicle "Volcano," but otherwise they tilted at the looming digital windmill using punk (live cut "Yum-Yab Killers"), goth ("Minus Something"), art rock ("The Sound"), and fearsome noise ("I Love You This Much," another live track). The assault, frankly, is dizzying to the point of nausea. For one thing, if Leonard Cohen were found strung out on junk and beaten in an alley, he might strain, scream, and mumble his lyrics like Swans ringleader Michael Gira and his longtime female foil Jarboe. For another, such performances fall right in line with Gira's arrangements, suggesting Trent Reznor on his worst day, or more likely his worst year. These often juxtapose uncomfortable elements in even more uncomfortable ways: loops of feedback, field recordings of sloppy percussion, one harmonizing track fading into a dissonant one or worse, purposeful tunelessness. To Swans' credit there are specific thematic moments, especially in the eerie dialogue clips, suggesting the titular failure or inability in many ways to see: social and psychological behavior barriers, the aural focus of phone sex, degenerative eye conditions. This is one of the few unifying features on Soundtracks for the Blind, which is otherwise a disconcerting and jagged collection of funereal epics. The album can be entertaining and even darkly beautiful, but it takes a strong stomach-maybe a masochist-to make it a regular listen.
Jackie: What was interesting about this round of For the Record was that I had almost no entry point with any of the albums chosen. I only had the vaguest ideas of what these Yes, Richard and Linda Thompson or Iron Maiden albums sounded like. Furthermore, I hadn't had even heard of The Monks and while I knew of Swans, I certainly had no idea of what their music was like. Reminiscent of Slint's Spiderland, Nick Cave and a dash of The Microphones, Swans' Soundtracks for the Blind is a striking record, crafting complex and vivid soundscapes. An epic 26-track long album is not for the faint at heart and these often droning, dark, almost cerebral songs isn't really meant for casual listening. But it's precisely for that reason that I was drawn to it. Each song, from the feedback loving "The Beautiful Days" to the relatively straightforward "Animus," creates fully realized and unique environments that envelop you. As I sit inside a busy café with headphones on, I found myself lost in these songs, completely transported to Michael Gira's carefully crafted worlds.
Ernest: Over two hours and 15 minutes of music on one album is epic by any standard, but very few albums redefine epic like the Swans on Soundtracks for the Blind. It's been said many times that tracks such as "I Was a Prisoner in Your Skull" is an obvious precursor to Godspeed You! Black Emperor, with its rambling recorded diatribe over ambient noise, but the double album sendoff for the influential band has many layers. Though many listeners might not be able to sit through the entirety of the near 16-minute "Helpless Child," there is no denying its artistry. The oddly placed, jarring live track, "Yum-Yab Killers," might make people wonder if they accidentally hit the shuffle button, but displays the diversity of the band's sound. That shuffle button is hit again with "Volcano," an electronic dance track that is as accessible as most of the album is not. The album jumps around from minimalist works to ambient drones to post-rock and some that seem a combination of all three. I might not choose to listen to Soundtracks for the Blind for fun, but moments like the last 30 seconds of "All Lined Up," the sprawling beauty of "Animus" or "The Sound," the more accessible rock of "Blood Section" or "Fan's Lament," the witchy weirdness of "Hypogirl," or the hypnotic closer, "Surrogate Drone," will surely lead me to return to the album. Nah, screw it, I'll listen to it for fun.
Jeff: Soundtracks for the Blind is one of the longest albums I've ever listened to, let alone the longest we've tackled in any installment of 'For the Record.' So it requires more than its share of patience on the part of the listener. By anyone's measure, 135 minutes of music is a lot, and when that music is as abrasive, abstract and harrowing as that of Swans, the listening experience becomes less an experience in listening for leisure as it is being held captive by the material. That probably sounds backhanded, but honestly, once I started it, I had trouble tearing myself away, and that ultimately meant sitting and listening to it for more than two hours straight. As a (once) final statement in the band's career, Soundtracks for the Blind is an artful and strangely alluring blend of electronic drones, gothic folk, post-punk, post-rock and found sound. And though much of it is, actually, fairly accessible, just as much of it is distant and very, very dark. The 15-minute "Helpless Child" seems intimidating at first, but actually proves to be one of the prettiest vocal tracks on the album. "Yum-Yab Killers," recorded live, is an oddity among the other muted tracks, but there's no denying that it rocks. "All Lined Up" takes a long time to get to a pair of climaxes, but they're both well worth it. And "How They Suffer," "Animus" and "Secret Friends" are all, simply, just beautiful pieces. I dare not call this rock. Hell, I'm not sure what it is, exactly, but it's astonishing. And after hearing Soundtracks for the Blind, I'm that much more intrigued by the group's upcoming fall release, their first since this sprawling masterpiece marked the band's dissolution.