Gogol Bordello : Pura Vida Conspiracy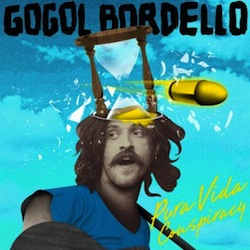 Buy at iTunes | Buy at Insound (vinyl)
The traveling circus has returned. The last we heard new music from Gogol Bordello was 2010, when the group released  Rick Rubin-produced Trans-Continental Hustle, which was followed by a stint in South America. However, the classic Gogol Bordello gypsy-punk sound returns with a vengeance on Pura Vida Conspiracy, an adrenaline-packed set of songs that add broader cultural background to an unrivaled musical experience. "Pura vida" translates to "pure joy" in Spanish and reflects the ethos that Eugene Hütz has held over the years. Hütz, a Ukraine native and Chernobyl survivor, has been leading Gogol Bordello for about 15 years, and if the band is anything, it's a celebration.
Pura Vida Conspiracy isn't about the cliché notion of surviving through the difficult times, but rather the opposite — seizing the positive. "Rainbow" clarified with some simple advice, as Hütz sings, "When your enemy gets cruel, Let 'em down, don't break him down, and if you hear of something good, don't hold it back, pass it around!" Having the energy to search for the blessings in life is something that embodies not only Pura Vida Conspiracy, but any time Gogol Bordello takes the stage.
Despite easing off the frenetic speed that characterized previous efforts, Gogol Bordello is still encouraging the world to join them on their path to enlightenment, making as much noise along the way as possible. The newest addition to Gogol Bordello's sound is the influence Hütz has acquired after his latest relocation to Brazil. Strong South American vibes begin to arise while fused into their melodic punk-rock energy, as heard in "Malandrino" and "Dig Deep Enough."
The Spanish rap in the album's punk-inspired opener "We Rise Again" has the classic foreign dialect that seduced Brooklyn in the band's earlier years, and "Name Your Ship" contains the same elements that made "Wonderlust King" and "Immigranida" such winning shout-alongs. Lyrically "Name Your Ship" is another gypsy reminder that your life is your story. "You know it's time for a change, but how, and where do you start," Hütz questions.  "It's the way you name your ship, that's how it's gonna row." It's exemplary of Gogol Bordello's ability to create a feeling of camaraderie through music, the kind of sound that can make hundreds of strangers share flasks and sway arm-in-arm while singing in unison like sailors.
While the band sets their sights on narrow minded perspectives with frenetic music styles derivative from just about every corner of the globe, what makes them special is their unique place both musically and culturally. Pura Vida Conspiracy, as with the albums that preceded it, is another welcome chapter in the Gogol Bordello saga of joyful chaos and continuous surprises. Gogol Bordello is getting better with age.
Similar albums:


Gogol Bordello – Super Taranta


Gultskra Artikler – Kasha Iz Topora


Devotchka – A Mad and Faithful Telling