Greetings from Sufjan Stevens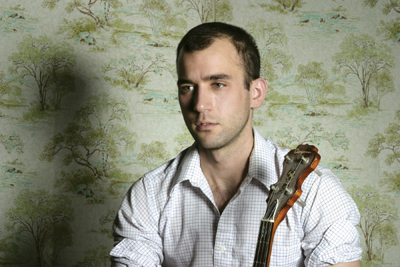 Sufjan Stevens just might be this generation's most gifted songwriter. In the last year alone, he's released two concept albums, Greetings From Michigan: The Great Lakes State, an ode to his home state, and the Biblical Seven Swans, while planning to write an album dedicated to the rest of the 50 States. While his audacity and conceptual tightness on Michigan are nothing to shake a stick at, what's even more impressive is how good it is.
The songs on Michigan are all densely layered, complex compositions. The album's centerpiece, "Detroit! Lift Your Weary Head!" is an eight-minute, Dave Brubeck-like, rhythmically complicated opus, replete with a horn section and countless backup singers. Elsewhere, songs like "Sleeping Bear, Sault Sainte Marie" feature Coltrane-worthy horn squalls. But some of the best tracks are the most simple ones — the graceful "For the Widows in Paradise, For the Fathers in Ypsilanti," the heartbreaking "Romulus" and the haunting "Holland."
But as overwhelming as fifty of these types of albums may sound, Stevens originally only intended to do it once.
"It started as a gimmick," Stevens said. "When I finished Michigan, I thought it would be funny to propose a project for writing albums for all 50 states. It was really just a way to get people to review the album. But after a few months, people started taking it seriously. I started invoking this motivation to go through with it. A lot of concepts and ideas are clumsy and abstract things in our minds. But I started to think about what it means to be an American. It's such a mixed culture, especially on the East Coast."
The next few states that Stevens plans to work on are Illinois, Oregon and New Jersey, as they are all states in which the singer-songwriter has, at one point, called home. But in the future, Stevens said he hopes to collaborate with musicians from other states to try and finish the project.
"There could be some real experiments," Stevens said. "There's a lot to learn from other musicians. I'd love to collaborate with other people. A lot of songwriting is about observation, collecting data and using resources. You have to weigh more of that over personal ideas. Either that or I'll do a travelogue. But it's not so much about 50 states as it is about the human condition. There's more strength in the intricacies. Those things are more important than geography.
"I think if you put too much weight in a concept or theme, then the content is compromised. In listening to natural rhythms, it takes a lot of production experience and practice and songwriting and going back and editing and assessing and finding your stage after the fact. I'm so concept-driven that it can thwart a lot of interesting ideas I may have."
One of Stevens' most recent projects was also very concept-driven — the religious-themed Seven Swans. The songs on Swans run the gamut from the wistful, folky "The Dress Looks Nice on You" to the Flannery O'Connor inspired murder ballad "A Good Man is Hard to Find," to the peaceful "To Be Alone With You" and the larger-than-life title track. The album was produced by Danielson Famile leader Daniel Smith and released on his label, Sounds Familyre. But according to Stephens, some of the songs predate those on Greetings from Michigan, though both were recorded at the same time.
"They were simultaneous projects," Stevens said. "While I was doing Michigan, I had been recording some songs with Daniel Smith (of the Danielson Famile). It was his project. We completed it at his pace. I had written my songs before I conceived the Michigan idea. But we ended up recording them at the same time."
Seven Swans isn't the only collaboration between Smith and Stevens. Stevens actually plays banjo on Bro. Danielson's new album, Brother is to Son, and many members of the family sing backup on Michigan. The relationship between the two musicians goes back a few years, after Stevens left his old band, Marzuki, to pursue new endeavors in New York.
"When I moved to New York, a colleague of mine and I were interested in meeting musicians and finding out about scenes up here," Stevens said. "We had heard about Danielson, so we put together a festival and asked them to headline. Eventually we exchanged music and a year later, he contacted me and invited me to play banjo on his record. He's been an important friend and mentor to me over the years. The whole family is very fun to be around. It's nice to hang out with them."
One of Stevens' more recent endeavors is his transition from studio mastermind to live performer. Stevens has said before that many of the songs on Michigan would be difficult to play in a live setting, and therefore probably never would be. Nonetheless, Stevens has taken much of the material from both Michigan and Swans on the road to high acclaim. His performances often include backing musicians donning angel wings and an almost Storytellers amount of between-song banter. Just don't expect to hear "Detroit! Lift Up Your Weary Head!" while you're watching him.
"My inclination is to be a songwriter, and I'm pretty new to playing live," Stevens said. "It's been an interesting challenge to play a live show. Michigan was a project that involved a lot of sequencing and overdubbing. A lot of it I wrote on the spot. To do that live would require having jazz musicians rehearsing with me. Not everyone can naturally play a 5/4 or a 9/8. I can find it difficult to do as well."
Though some of the more complex songs may never make it to one of his setlists, "Flint (For the Unemployed and Underpaid)," "Romulus" and "The Upper Peninsula" are live staples. However, Stevens' favorite track to perform is "Sister," from Seven Swans, which he says is "very Zen." In addition, Stevens has incorporated a cover of The Innocence Mission's "Lakes of Canada" into his set, as it ties in with the geographic theme.
But before Stevens released Michigan, he ventured into a different direction with the all electronic Enjoy Your Rabbit, yet another concept album, based on the Chinese Zodiac. Though conceptually, it's easy to imagine Stevens having released both Rabbit and Seven Swans, listening to the experimental album would deceive the listener into believing it wasn't the product of the geographically-savyy songwriter. But it just goes to show how unconventional and innovative Sufjan Stevens truly is.
"I enjoy using acoustic instruments, but I find a release in sitting at a computer," Stevens said. "There's a certain artistry to that. When I was in college I was in a folk-rock band that was sort of Celtic sounding. I had done a collection of four-track songs. So when I did Enjoy Your Rabbit, I was going against all that. I was going against song structures. I had moved to New York City and my environment had changed. I think the album sort of reflects that transition.
"Right now, I'm just finding my voice, and once that gets tired, I'll go back to something different."
Catch Sufjan Stevens on tour:
07/23/04 San Diego, CA – The Casbah
07/24/04 West Hollywood, CA – The Troubadour
07/25/04 Sacramento, CA – Old Ironsides
07/28/04 Seattle, WA – Neumo's
07/29/04 Portland, OR – Dante's
07/31/04 San Francisco, CA – Great American Music Hall
08/19/04 New York, NY – Mercury Lounge
08/20/04 New York, NY – Mercury Lounge
Photo courtesy of Fanatic Promotion.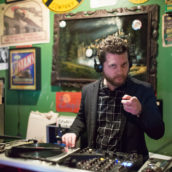 Jeff Terich
Jeff Terich is the founder and editor of Treble. He's been writing about music for 20 years and has been published at American Songwriter, Bandcamp Daily, Reverb, Spin, Stereogum, uDiscoverMusic, VinylMePlease and some others that he's forgetting right now. He's still not tired of it.