Headlights : Some Racing, Some Stopping
When I last visited Champaign, Ill. band Headlights, I couldn't help but draw a comparison between their album Kill Them With Kindness and the transition from summer to fall. Though still warm and carefree, the Midwestern trio's songs had a sense of impending chill, and a bittersweet melancholy beneath each bubbly melody. The group's second full-length captures a similar sort of nuanced, contrasting mood, but almost in reverse. Where Kill Them found autumn's brisk breeze gently pushing summer into the past, Some Racing is a slow delicate thaw of winter, trickling gently away to welcome in the burgeoning springtime warmth.
Far less driven by synths and fuzzy distortion, Some Racing, Some Stopping is a much prettier album than Kill Them With Kindness. Whereas that album's new wave provided an accessible and immediate kind of aural pleasure, this album's subdued pop approach provides a subtle atmosphere that reveals itself slowly and seductively, like an audible dance of the seven veils. This album isn't that naughty, of course, but just as the art of seduction can be made all the more tantalizing when leaving something to the imagination, Some Racing, Some Stopping similarly succeeds because Headlights leave each of their songs some breathing room, rather than brazenly striking the listener head-on.
Opening track "Get Your Head Around It" is epic, despite being little more than three minutes long, Tristan Wraight's gorgeous guitar being the adhesive that holds the delicate ballad together. Glockenspiels and keyboards build and stack on top of one another, intricately creating an elaborate yet still elegant arrangement, though it's still that beautiful guitar melody that makes the song such a misty-eyed highlight. "Cherry Tulips" is simpler and more immediate, with weeping surf guitar riffs juxtaposed against bouncy acoustic strums and Erin Fein's lovely refrain "I want the sea." Fittingly, the song's arrangement conjures up images of stargazing at the ocean on a chilly night.
With "Market Girl," it's easy to hear shades of Headlights' previous album, particularly in the driving bassline and upbeat shuffle of drums. Yet instead of putting heavier emphasis on synthesizers or guitars, Headlights tone both instruments down considerably for a much more graceful effect. Like Rilo Kiley, with whom the band has much in common musically, Headlights mix glossy indie rock with a touch of soulful, classic pop, which is most evident in the wonderful "On April 2." A rich Hammond organ provides a thick backdrop, while the song remains bathed in reverb and twinkling guitar riffs. "School Boys" begins with more reverb-heavy guitar and a late night ambience, sounding more like Beach House than anyone else, though the band can't help but pick up the pace a little as the song progresses, while the reverb still cascades down over each gentle note and violins dance a counter-rhythm around each riff.
Headlights still retain a melancholy chill, though their songs have become warmer and more expansive as they've displayed while this winter comes to a close. Some Racing, Some Stopping a much more refined work by a band who has spent the past two years touring endlessly, and allowing themselves to grow creatively in the process. It's a shame that spring will soon be taking over; Headlights are quite comely in their winter attire.
Similar Albums:
Death Cab For Cutie – Transatlanticism
Rilo Kiley – The Execution of All Things
Yo La Tengo – …And Then Nothing Turned Itself Inside Out
MP3: "Cherry Tulips"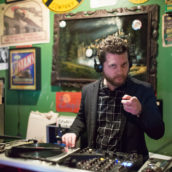 Jeff Terich
Jeff Terich is the founder and editor of Treble. He's been writing about music for 20 years and has been published at American Songwriter, Bandcamp Daily, Reverb, Spin, Stereogum, uDiscoverMusic, VinylMePlease and some others that he's forgetting right now. He's still not tired of it.