Blue Note: 25 Essential Albums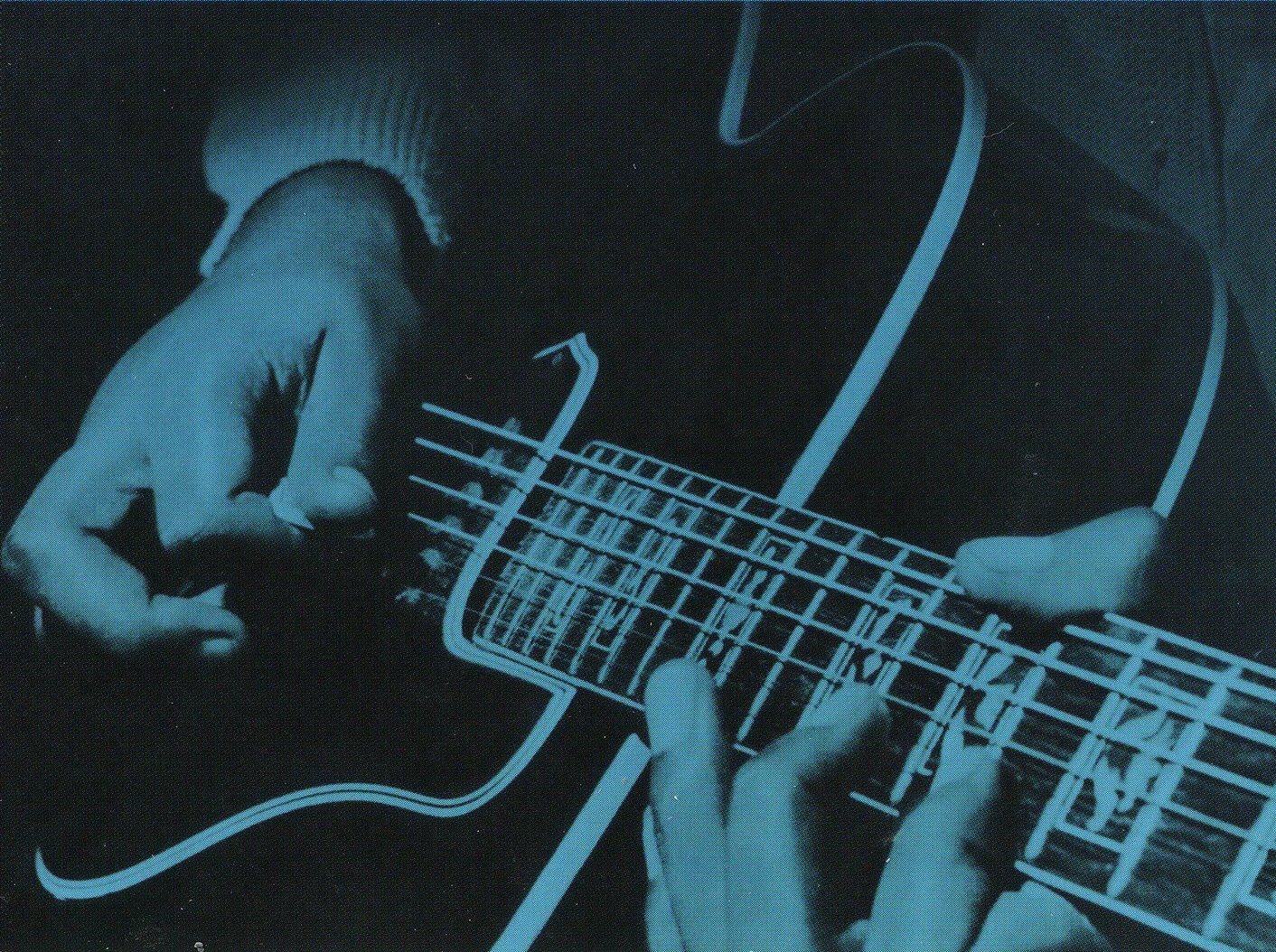 In the great discussion of the history of jazz, a handful of notable record labels will inevitably come up — Verve, Impulse, Atlantic, Columbia, and to a lesser extent, CTI and Riverside. But there's one label that's essentially synonymous with jazz: Blue Note.
Founded in 1939 by Alfred Lion and Max Margulis, Blue Note began as an imprint that specialized in pressing swing and boogie woogie records, and later began to build a reputation for releasing bold new sounds in jazz from hard bop to post-bop, and avant-garde and free jazz. (And let's give a hand to the incredible album art by Reid Miles.) It went through numerous phases, first releasing 78 RPM records, then expanding into cohesive full-lengths during the jazz Renaissance in the 1950s and '60s. In the '70s it still held its own, but went dormant in 1979 after some label restructuring occurred under the EMI umbrella. It relaunched in 1985 with both legacy acts and new performers on its roster, and since, it's expanded to include soul, hip-hop, pop and electronic acts alongside its roster of jazz performers.
On its 75th anniversary — for which the label has launched a new vinyl reissue initiative (!) — Treble is honoring the legendary label by selecting a list of 25 Blue Note essential albums. We could have made it a much longer list, of course. If you need to find 75 of the greatest Blue Note records, it's not that hard to find 'em. But we simplified this just a little. So take a trip back through jazz history with us as we drop the needle on our 25 favorites.
Cool Struttin'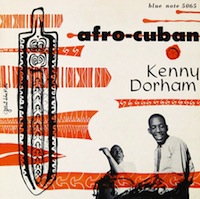 Kenny Dorham – Afro Cuban
(1955)
Trumpeter Kenny Dorham made an impressive enough debut with 1954's Kenny Dorham Quintet, but with his take on Afro-Cuban jazz, titled simply Afro-Cuban, he solidified his place in jazz's hall of fame. It's a rousing and lively set, both of its time (Latin jazz having gotten big in the '50s thanks to standards like Dizzy Gillespie's "Manteca") and unquestionably timeless. Dorham's eight-piece combo — which includes the likes of fellow Blue Note alums pianist Horace Silver, drummer Art Blakey and saxophonist Hank Mobley (!) — has a big-band feel, and the arrangements burst with energy and verve. It's a consistent and melodic set, the contents of which span from romantic balladry ("Lotus Flower") to percussion heavy Latin jam sessions ("Minor's Holiday"). Looking for a place to start with Afro-Cuban jazz? Pick up the one that's actually called Afro-Cuban. – JT
---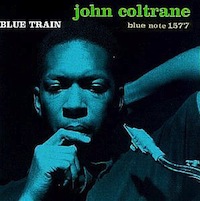 John Coltrane – Blue Train
(1958)
For being such a scion of jazz, it seems a little weird that this is 'Trane's only Blue Note album guided by his own hand from start to finish. Yet in honoring a verbal agreement with label founder Alfred Lion he ended up doing the right thing for Blue Note's reputation, for his own legacy, and for jazz history. There aren't too many albums with a flow that feels as natural as breathing; you know you have one here when, say, Paul Chambers' surprise bow pulls on his bass lead into Kenny Drew's piano line, then to ensemble work, and finally to Coltrane's own leadership on the way out of "Moment's Notice." Drummer Philly Joe Jones, trumpeter Lee Morgan, and Curtis Fuller on trombone give songs like "Locomotion" an undeniable pulse, almost as if Coltrane doesn't need to be there except to fill out sheet music and watch these boys shine on their own. And yet here he is, center stage on the title cut and fleshing out "Lazy Bird," making hard bop sound easy and raising blues up to the level of joy. – AB
---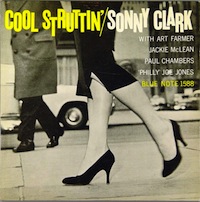 Sonny Clark – Cool Struttin'
(1958)
Lift those gams! If you don't know Sonny Clark's classic album Cool Struttin', you almost certainly know the cover, which depicts a pair of shapely legs, "struttin'" on the sidewalk. It's not exactly a true Vinyl Vixen cover — too little straight-up kitsch, and too much urban cool for that. But it's a strong enough indication that the album you're about to hear is stylish and sleek. Right on the cusp between hard bop and cool jazz, Cool Struttin' lives up to its name, never hitting so hard that the players ever sound like they're breaking a sweat. And yet, there's a lot more personality and character here than on a lot of the cool jazz records that came out before it. It swings and it grooves. It's bluesy and it's soulful. Cool Struttin' is one nifty number. – JT
---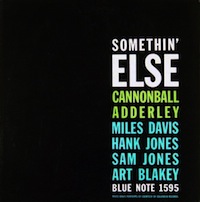 Cannonball Adderley – Somethin' Else
(1958)
Somethin' else, indeed: Despite the alto sax man's name at the top of the marquee this is a Miles Davis album by proxy, which is kind of a miracle since not only is this is one of the last albums to list Davis as a sideman, but it's part of a surprising short history he had with Blue Note. Adderley was a sidekick on either side of this release—part of Miles' sextet formed in 1957, and heard on his stone classic Columbia album Kind of Blue in 1959—and it sometimes even feels as such on this album, where Davis' solos and duets are prominent and early. But make no mistake, Adderley's quintet take this music out for leisurely strolls, not quite caring which man is actually in charge. Their version of Cole Porter's "Love for Sale" has a bit of unlikely pep, understated even in the drums of the normally dramatic Art Blakey, and the titular blues number manages to wander off in intriguing directions. It's the pensive "Dancing in the Dark," though, that drives home just what kind of secret weapon jazz had in Julian "Cannonball" Adderley. – AB
---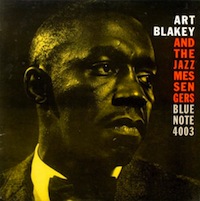 Art Blakey & The Jazz Messengers – Moanin'
(1959)
There are few well-informed drummers who wouldn't honor Art Blakey as a patron saint of sorts. His rhythm was spot on, his energy was at full volume, and his technique was engaging, creative and invigoratingly playful. On top of all that, he's one of the earliest drummers to take lead of a band (of any genre) from behind a trap set. Blakey and his band, The Jazz Messengers, brought us dynamic hard bop jazz for a 30-year run of rotating members. But one of their strongest cuts was Blue Note's own Moanin. Originally dubbed a self-titled album, the record quickly took the name of its popular leading track, and for good reason. It's a bluesy, soulful romp with a hard bop edge, full of aggressive horn leads, as well as satisfying, top-notch solos by Blakey himself. The other four arrangements follow suit, giving the listener a steady dose of blues-tinged jams. If you want rhythm-heavy jazz, it doesn't get much better than this.
– AK
---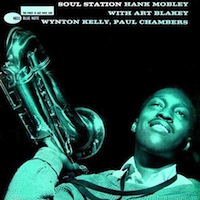 Hank Mobley – Soul Station
(1960)
Hop aboard the Blue Train and it's just a short ride on down to Soul Station. A testament to the prolific nature of jazz musicians of the 1950s and '60s, Soul Station is saxophonist Hank Mobley's 14th Blue Note recording since 1955 (!) and a pretty strong case for his best (with honorable mentions going to Roll Call and No Room For Squares). A brief sideman for Miles Davis, Mobley more than proved his strengths as a leader during the 1960s, and a great deal of that comes from his sheer listenability. Soul Station primarily finds Mobley & Co. sticking with a laid-back mood, leaning more on the mellower side of hard bop — not that a tendency toward the chill was ever a problem in jazz. Sandwiched between two standards, Mobley delivers four originals, the best of the bunch being "Dig Dis" and the title track, which showcase just how much soul this record carries. A hard-bop essential.  – JT
---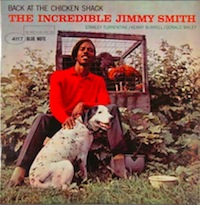 Jimmy Smith – Back at the Chicken Shack
(1963)
It's called soul-jazz for a reason: It grooves and shakes with all the rich sounds of blues and gospel, but arranged to the sound of jazz. And few players in the early '60s could make a jazz record sound as soulful as Jimmy Smith does. Younger generations most likely know Smith from his track "Root Down (And Get It)", which was famously sampled on the Beastie Boys' Ill Communication. But Smith had a prolific and consistent career that hit an early peak with Back at the Chicken Shack — a four-track collection of feel-good, laid-back soul-jazz that enlivens the limbs and soothes the soul. And for a set with two songs that extend well beyond 12 minutes, it's one of the most accessible records on this list, maintaining the improvisational approach of jazz without abandoning a melodic approachability. It'll leave you feeling as good as it sounds. – JT