Hotel California Dreamin': An interview with The Elected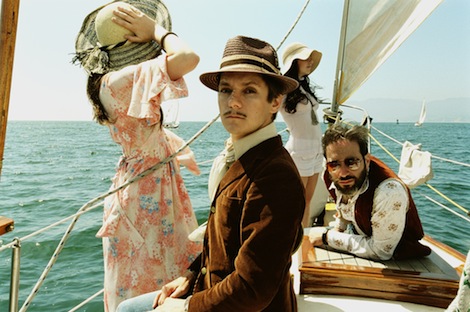 What's in a name? Ever since John Lennon claimed that he saw a vision of a man on a flaming pie who said, "You shall be Beatles with an 'A'," bands have been both creatively naming their groups and then fictionalizing the origins. California group Rilo Kiley have done the same, giving each reporter who asked a completely different made up answer. Reporters, interviewers and fans were told everything from stories about architects or Scottish athletes to dreams about sports almanacs and strange men telling Blake when Jenny Lewis was going to die. When venturing off on solo projects, singer / songwriter Jenny Lewis kept it simple, keeping her own name and adding the monikers of her support duo, the Watson Twins. Guitarist / songwriter Blake Sennett had a different idea, at first wanting to name their group, the Senate, a play on his last name. Unfortunately another group already had the name, and they opted for The Elected. Subconsciously, the name could also have something to do with the fact that this country's president is considered by some not to be elected, and California's governator was 'elected' after a controversial and messy recall election. When it came to naming their debut album on Sub Pop, the choice became Me First, both an assertion of Sennett's independence from Rilo and also somewhat of an election slogan. The Elected's sophomore release was another story. Sun, Sun, Sun is taken from one of the song titles included on the album, but is also an apt description of the California country harmonies also found in albums from the likes of Gram Parsons, the Flying Burrito Brothers, the Grateful Dead, Neil Young and the Eagles.
I spoke with Blake Sennett on the day of the release of Sun, Sun, Sun where the band played a record release party at Seattle's Crocodile Café. The Elected had just come from pre-release shows in their 'hometown' of Los Angeles and also in San Francisco before arriving at the home base of label Sub Pop. We sat at a table, I with my sheet of questions and tape recorder (Radio Shack, $20), and he with a menu, hoping for a Boca Burger and settling for a cup of veggie gumbo and spicy pinto bean patty. Before Blake and Jenny Lewis put out their respective solo albums, Rilo Kiley had just finished a long stretch of touring in both 2004 and 2005 with the overexposed band du jour, Coldplay.
I like to start my interviews in a natural fashion and let the questions flow as a segue appears, but Sennett was simply much too curious, grabbing my notes and tackling the first question as it was written, "What was it like to tour with Coldplay?" I didn't want to start with this question even though it was written first on the page (I put the questions in groups of 'Rilo Kiley,' 'Me First' and 'Sun, Sun, Sun') as it makes one come off thinking that Coldplay is somehow more important and that was furthest from my intention. I was so surprised by his answer, however, and the interview started so quickly, that I had forgotten to press 'record.'
"Shitty," he remarked before backing up, "Well, you're not allowed to go in their area, you have passes that say 'support,' which is fine, but it sends the message that there are certain lines you may not cross. I don't know if I'd say shitty, it was cool and they were nice to us, but we didn't ever see them. I'd say lonely, that's what I'd say. You're in a bus in the middle of nowhere on a compound somewhere and the Coldplay guys are never around and the crew guys don't like you, so it's lonely. You just see your people, the people in your band. There's no other interaction."
This was completely the opposite of what I had experienced in seeing the Elected play the first time around, as they toured with Texas band Eisley. There was such a sense of camaraderie that the members of the Elected purchased a tacky statue of a 'sea king' to match Eisley's song of the same title, presented it to them on stage, and proceeded to help them play the song, Sennett manning the drum kit. This, of course, led to the guest appearance of youngest Eisley member Stacy Dupree on "Clouds Parting" and "I'll Be Your Man." I suppose we shouldn't be expecting a Coldplay / Elected duet anytime soon.
Blake remembered the show and recalled that they had tried out a few of the songs from Sun, Sun, Sun including the `solo' opener "Beautiful Rainbow." "That one's weird," he said, "that's the kind of song people either really like a lot, or not at all. It's real unsentimental and unguarded. It feels somehow, after all this time of being clever, more of a risk to be that way than to be clever."
As I mentioned previously, the day of the interview was the same day as the release of Sun, Sun, Sun in stores. "I'm excited," Sennett remarked about the occasion, "but scared. It's a different thing. The first record was like a project. We just kind of made it, there were no stakes and we didn't care if anyone heard it. The second record we tried harder on, took more chances and worked harder ultimately, longer hours, more days." The record seems to take on extra meaning as I reveal to him that Sun, Sun, Sun is the first record release of Sub Pop's 20th anniversary year. "Wow! I didn't know that." But Sennett said there was really no pressure as "that label's so casual. You go into their offices and they're so chill. I mean, still professional, but mellow about everything." At this point Sennett is dismayed to learn that there is no Tabasco in the house. He is pointed to another brand of hot sauce, but it's just not the same.
The original signing had more meaning for Sennett due to the 'project' nature of the first record. "I sent it to Tony (Kiewel) 'cause he worked with Jenny in the Postal Service a bit. I just sent it to him because I thought, 'he has good taste, maybe he can help me make it better or give me a couple of pointers' and I really didn't know what was going to happen to the record, but I certainly didn't think Sub Pop was going to put it out. I love Sub Pop. I'm super honored to be a part of Sub Pop. It's the top; they have the sweetest history. It all sort of happened at once, the Shins, Postal, Iron & Wine."
Speaking of Jenny Lewis' original part-time side project, the Postal Service, I ask about the coinciding release dates of the two Rilo Kiley members' albums, Sun, Sun, Sun and Rabbit Fur Coat, and whether the dual assault was planned. "Kind of, yeah. It was mostly meant as kind of a fun thing, but it probably wasn't the smartest thing in the world." "Because it divides your listeners?" I asked. "I don't know," he answered with a long and pensive pause, "I don't know." Sennett faces yet another culinary disappointment as he learns there are no more spicy pinto bean patties and must settle for tofu. Yet as with every other minor disappointment during the interview, he handles it with aplomb and soldiers on.
"It seemed fun, we've always put out records together. It seemed that way we'd be on the same schedule to come back to Rilo Kiley. There was talk of putting her album out in September, but then that would put her on a schedule that would then have me coming in, we'd be on bad schedules and Rilo Kiley is still the mothership I suppose, from which we come in our little pods and put out other records."
The song "Fireflies in a Steel Mill," from the new album, particularly struck me as a song that could have fit easily onto a Rilo Kiley album. The album credits supported my argument as they reveal that Jenny Lewis contributed lyrics to the song, as she did with a few on Me First. "Yeah, I think she contributed, `And I've heard that we can be fulfilled,'" he replied, somewhat countering and confirming at the same time. "But she was there. I think when you write around someone else…"
While on that 'shitty,' scratch that, 'lonely' tour with Coldplay, Blake and lap steel player Mike Bloom brought along some essential recording equipment to lay down some initial song ideas for the Elected. "You can't really record on the bus because there's a generator always running. Well, one song was recorded solely on the bus; you can't really hear the generator. I think you can hear a couple cars outside at the end fade out of 'Desiree.'"
"I think writing is ultimately much easier at home. But writing on the bus added its own perspective to it. There's so much stimulus on the road that it's hard to internalize. For me, writing is a slower, more introspective thing."
Blake comments on the idea of missing some of the fun of touring, whitewater rafting and whatnot, while he and Mike Bloom were writing songs in the bus or hotel rooms. I ask him what it is about the lap steel that he loves. "It's kind of a raw sounding instrument. You can't do any chords on it that aren't…it's just an open G so it limits you. You've got to get a little…the movements have to be quicker. It's not quite as pretty as a pedal steel, not quite as lyrical and melodic, it's a little more raw and you can't control it quite as much. It's kind of romantic, it reminds me of country, and it kind of reminds me of a time when country was a little more simple. It always feels like depth to me. It makes me feel kind of sad, always."
"Those are the kind of records my parents used to spin. I distinctly remember the Eagles, Workingman's Dead, American Beauty, Jim Croce's `You Don't Mess Around With Jim,' things with a strong sense of melody and harmony. Things that had kind of a soft rock way that made me feel good as a kid, like I wanted to hear "Lyin' Eyes" over and over and over again and I didn't know how to work the record player. I wanted to connect with that regardless. I wanted to please that within myself. Those stacked harmonies sound warm and fulfilling. Some of Van Morrison's stuff, certain things I'm incapable of, so much about it is organic performance and that moment of stream-of-consciousness kind of thing he does. One thing that I always like about Van Morrison's stuff that seemed really planned out is the horn arrangements like with 'Into the Mystic.'" Blake then proceeds to voice-mimic the opening horn strains of the song. I mention the Motown sound of the horns on a song like "Did Me Good." "Yeah, I guess [Motown's] what Van was referencing with his white Irish small man rock."
One thing about Rilo Kiley that always seems to be mentioned in features and interviews is the child actor thing. Both Lewis and Sennett were child actors, the former appearing in The Wizard with Fred Savage, Troop Beverly Hills, the wacky kids comedy with Shelley Long, and as one of Reese Witherspoon's high school friends in Pleasantville. Blake appeared in the Nickelodeon original show Salute Your Shorts and as a regular on Boy Meets World with another Savage brother. Sennett also appeared in one episode of one of my all-time favorite shows, Buffy the Vampire Slayer. Of course, to be a television and film actor, one has to live in Southern California. Lewis was born in Las Vegas and moved, but Sennett always lived in SoCal, growing up mostly in La Jolla. I've posited in reviews previously, such as for Fleetwood Mac's Rumours, that location can affect an album greatly.
One of the many reasons that any band ends up with a `California' or `sunny' sound is due to the landscape that affects them every day. The Beach Boys had the sandy beaches, dragstrip streets and sunny strands of Hawthorne, California. The Eagles and the Flying Burrito Brothers had the flat and expansive San Fernando Valley, a melting pot of cultures and styles. But all had in common the complete range of scenery available to Southern California residents. Drive any direction for less than an hour and you'll reach varied terrain, snowy mountains, palm lined beachfront, vast deserts, lush greenery. But most of the time what you end up seeing is different shades of brown. There's something very mellow and soothing about tans, ecrus and siennas. One tends to think automatically of the sounds of '70s soft rock, of early country-rock, and of the twang of lap or pedal steel.
Oddly enough, there's another link to the Eagles in Blake Sennett's / Rilo Kiley's history. As legend goes, in hopes of creating a musical partnership with Sennett, Jenny Lewis played "Desperado" to him on the guitar as somewhat of an `audition.' "Desperado…the Eagles, man. People hate the Eagles. I think people started getting really vocal about hating the Eagles when Big Lebowski became a cult thing. Because he hates the Eagles in it, he has that scene where he says, `I hate the fucking Eagles, man.' People who were on the fence were like, `Man, I hate the fucking Eagles too.' One of These Nights is a great record though. And that cow head on the cover? That was really cool."
"So many of the bands I really love, Burrito Brothers, Mamas and the Papas, the Eagles have that sunny sound. I guess you write what you see and what you are. So many of the great poets came from the UK because it's so goddamn depressing over there. Seattle looks like the UK a bit and I think there's a lot of great introspective music coming out of here and the Northwest in general. But I don't think I could put my finger on [how California is evident in the music] at all."
So if not overtly Californian, what is Sun, Sun, Sun all about? "I don't know. Identity, and at least trying to grow up, having a love, losing a love and having a love again. Travel. That feeling. At least looking back on the record, that's what it says to me. I wasn't at all conscious of that on the first [the fact that the first record focuses mostly on memories of family] and then when it was pointed out to me I thought, `Oh, how embarrassing, I didn't mean for that to happen.' I'd love to make a concept record someday where we set out to make something like that, but with these it was all accidental and it was all just what was going on in that moment."
Blake is then served his tofu burger and the extremely polite sound technician for the venue also interrupts us. I let him know that he can excuse himself if need be, and he quickly dismisses the thought, grabbing my cheat sheet again and seeing if we skipped anything. The last question on the list is one in which I wonder, because of his guitar playing ability and history as an actor, whether he thinks of himself more as a musician or as a performer. "Musician," is his quick response, but he begins to hesitate, hemming and hawing. "I mean, I enjoy performing. It's a good question. I consider myself a little more of a musician, but I do enjoy performing. But performing still scares me, just doing a whole set is weird to me. I really like road trips. The only way to keep going on road trips is to put out records. I'd say maybe 60-40 musician over performer."
A mere two weeks later, Blake Sennett and the Elected were beginning a larger tour in support of the Canadian Arts & Crafts band Stars and played a much bigger venue in Seattle. With every show that goes by, Sennett becomes much more comfortable as the frontman of his own band rather than as the quiet guitar player / songwriter. Blake vamped on stage, pointing his finger up in the air at dramatic moments and played the overall showman role, proving that one of these nights, Blake Sennett will take the Elected to the limit, one more time.
*photo by Alex Prager; courtesy of Sub Pop