Hundred Waters : The Moon Rang Like a Bell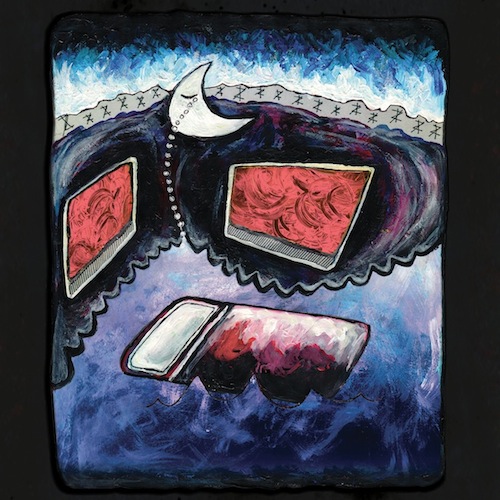 Imagine for a moment that there is this bell, or rather a series of bells — different sizes and shapes — that are made of crystal. Now, visualize trying to make music with these crystal bells. This might seems like performing a task out of a dream, but the sounds and noises that make up The Moon Rang Like a Bell, the second album by Hundred Waters, seem to be produced from such an operation. In reality, Hundred Waters makes music with electronics, keys, guitars, drums, and even some flute, but, when immersed in their music, it sounds magical. During "Out Alee," the crystalline piano is so stunning that it becomes utterly aquatic.
Another skill that Hundred Waters possesses is using silence to make their songs more powerful. The band used this technique on their excellent self-titled debut from 2012, but they've gotten better at it on The Moon Rang Like a Bell. At the 2:45 mark of "Out Alee," the song skitters out to a single bass throb and kick drum for 30 seconds until Hundred Waters drops that spectacular, twinkling piano beat again; it just seems louder. The early run of "Cavity," "Out Alee," and "Innocent" is the best stretch of songs on The Moon Rang; you may very well get lost in its progression of sounds. Hundred Waters will frequently build their song structures up to a kind of summit, only to drop back down to almost nothing before bringing it back to life. It's not an attempt to trick the listener, but rather a sign of impressive showmanship; given the quality of songs here, when an element is removed it's hard not to long for the return of that beat.
Hundred Waters can thrill and bang, but they also know a thing or two about ambiance. "Broken Blue" and "Chambers (Passing Train)" are a welcome mid-album comedown; the hypnosis of the two tracks, and smooth transition between both make it seem like one single passage floating through space. The lunar reference in the title is not a coincidence — Hundred Waters does a great job at exemplifying nocturnal and cosmic atmospherics. On "Down From the Rafters," a sad saw noise and Nicole Miglis' vivid voice pair up with swelling synths and what sounds like a music box. Next, "[Animal]" turns The Moon Rang into a dance party, and "Seven White Horses" goes from soothing to an all-out chaotic drum sequence — the biggest rave-up of the album. The hi-hat on "Xtalk" is downright crispy, and "No Sound" closes the album with clicking spoons eating bass out of the bowl.
Hundred Waters — who are signed to Skrillex's OWSLA label — have taken electronics to a new level. Amazing sounds are all over The Moon Rang Like a Bell, and you may likely wonder how, where, and when they were made. It's a fun guessing game to play; Hundred Waters are at their best when capturing the imagination.
Similar Albums:


Björk – Vespertine


Animal Collective – Feels


Dirty Projectors – Bitte Orca