Hurray For the Riff Raff – Life on Earth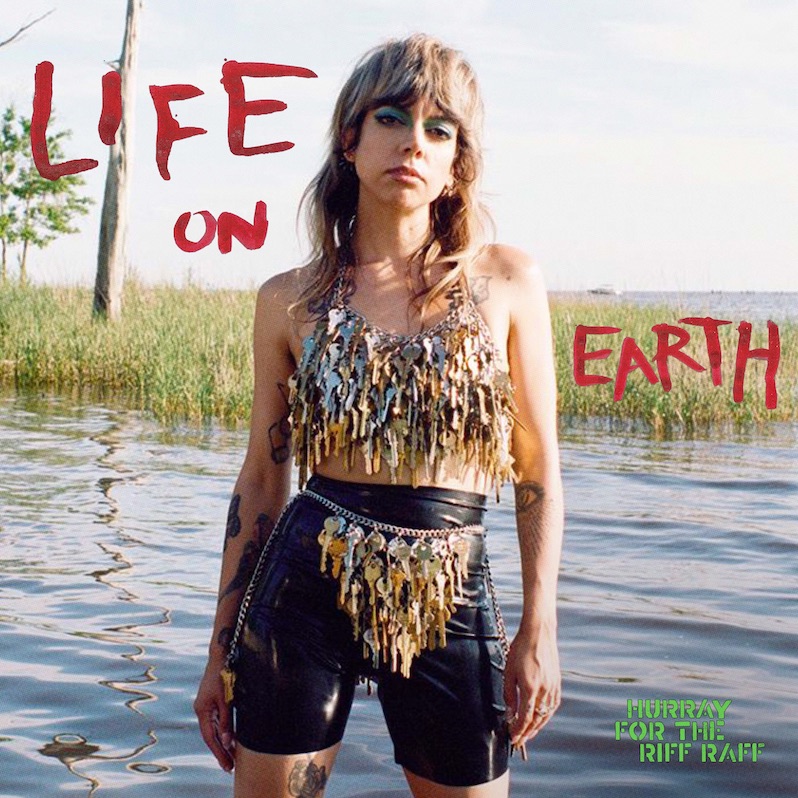 Since reckoning with their New York City roots on 2016's concept record The Navigator, Alynda Segarra has returned to their beloved New Orleans to search for meaning among the horrors of life on Earth. If The Navigator was akin to a dramatized biopic, then Hurray for the Riff Raff's Life on Earth would be a vlog series—a much more direct and intimate recording of Segarra's personal reflections. But it is no less potent or poetic. In fact, the topics are huge and seemingly diverse: climate catastrophe and border violence, but also repressed trauma and mortality itself. With a razor focus sharpened by isolation Segarra examines their own psyche as a part of the natural world, tracing the connections between us all.
There is a wealth of wisdom to unpack in just the first three songs alone. "Wolves" parallels Segarra's recent evacuation from the path of Hurricane Ida with their runaway childhood, comparing the flight responses they feel from a so-called natural disaster and from their childhood trauma. "You've got to run babe, you know how to run." It's a starting point that "Pierced Arrows" immediately follows with the lesson learned from heartbreak that you can't outrun trauma. Then on "Pointed Sun" they learn how to break old patterns and form a new sense of self like a mushroom punching through the soil: "a loaded gun pointed at the sun."
Segarra's many inspirations for the record start to form a sort of companion reading list: the poetry of Joy Harjo and Ocean Vuong (whose voice is featured on "nightqueen"), the documentary Jupiter's Dance, adrienne marie brown's Emergent Strategy. Even the more abstract inspirations still feel like recommended reading—the Singing Oak, a wind chime installation in New Orleans, featured on closing track "KiN" is now certainly on my bucket list.
Producer Brad Cook, whom Segarra sought out specifically after loving Hand Habits' placeholder and Waxahatchee's Saint Cloud and Kevin Morby's Sundowner, weaves together Segarra's lush instrumentation into tight, detailed tapestries. Everything is balanced: the humming synths and warm bells are compressed just enough, the woodwinds warble ever so delicately over soft brass. Mixed together as they are it feels like a total reinvention of the Hurray for the Riff Raff sound, but after digging in to distinguish an emotive tuba here and an unruly acoustic guitar there, the throughline becomes clear. 
Nestled in the center of the record is the stark title track, which Segarra calls "a psalm to all earthly beings." And while much of this record is shaped by Segarra's experience in quarantine lockdown, "Life on Earth" was written before the pandemic, providing a dreamy respite. In contrast, "Precious Cargo" is the perfect example of form following function in Segarra's new approach. A song relating the violence of the U.S. border demanded an entirely different structure and sound than the personal anthems and poems preceding it.
There are no easy answers here, but Segarra's willingness to lay out the questions so unflinchingly is inspiring enough. They point us towards not just survival but thriving, not just resilience but solidarity. Life on Earth is provocative and uplifting, a spiritually nourishing gift for us all in our apocalypse in progress.
---
Label: Nonesuch
Year: 2022
---
Similar Albums: