Interpol : The Other Side of Make-Believe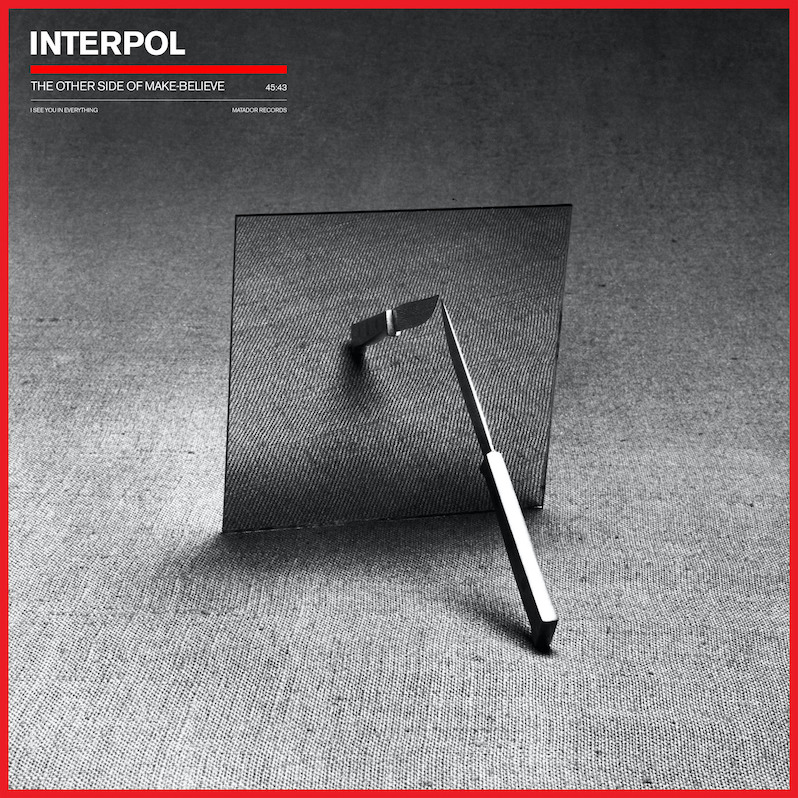 Interpol has worn the post-punk revival crown since the release of their now iconic 2002 debut Turn on the Bright Lights. Twenty years later, and it's hard to argue that the band's impact has been diminished. Between their 2004 follow up Antics and four more solid albums they've solidified their influential status. Outside of that legacy, however—as artists are often wont to do—there's a need to reinvent, to play, to reconceptualize and consider their efforts. Shying away from the mechanical gloom of their catalog is The Other Side of Make-Believe, neither a full tilt into whimsy and pop, nor a retreat from some of the finer aspects of both.
The once impeccable, eerie sheen of Interpol's earlier releases is almost completely removed here. Frontman Paul Banks' delivery and register, while still elegiac, also is significantly softer. Sam Fogarino's outstanding percussive work sounds closest to the thundering anxieties of math rock, with immense kick drum play and syncopated patterns. Most of the album sounds like Interpol opening up their sound to a width that a three piece would typically not be able to sustain. There's a richness on tracks like "Fables" that feels perfectly hollow while drowning the listener in an expanse of guitar work that teeters on the brink, while a rich bass offers a harmonious distinction. It's a fascinating mix, elevating the percussive suite to psychedelic droning, proving that at the heart of the album is still the band's signature post-punk DNA.
It's worth mentioning just how influential Flood and Alan Moulder's production efforts are here, with tracks like "Into the Night" conjuring a hushed specter of the band sonically, while allowing enough play between channels to allow the energy of the track to become something digestible. It's an exercise in propulsion and balance, nearly perfectly executed.
There's an occasional flirtation with grandiosity that's still anchored by a certain ruminative quality. "Mr. Credit" features a grinding instrumentation, with guttural bass opening a path for crystal clear guitar work and vocals alike. Yet, even when the album hits its bleaker strides, there's no stopping the menagerie of twinkly, contorted guitars that end up defining the aesthetic of the album. Compositions aside, the album never sounds inordinately complex either; there's something equally stripped down on this outing, with the band relying more on pure craft in terms of writing and an extraordinary production effort. It revels in loud/quiet/loud dynamics, embracing tried methodologies as if they were entirely new.
Standout "Passenger" builds into a careful escalation, the gentlest of deliveries from Banks spilling over twinkly guitar passages, its chorus a savior to its sadness, almost heroic in how it delivers the listener away from teetering melancholy. It's a good encapsulation of the album's entire aural procession—a coda from the band, rescuing the listener during the trying times we live in, choosing a fearless openness over receding into strife or darkness. It's admirable in execution, regardless of whether such optimism may or may not be entirely earned.
The Other Side of Make-Believe is a tonally discordant departure for a band that is well known for trading in chic gloom. Its departure proves arresting, playing with a broadness in their sound that perhaps as younger artists they weren't as tolerant of. With rhythms that surprise and a mix that belies expectations, the album offers some respite both from tradition and the wariness of a world in decline, despite its sense of wanderlust. Trading icy swagger and sonic familiarity for boundary dissolution is never an easy thing to do, let alone doing it so well. But beyond those boundaries is a balm of sorts, a desperately needed one.
---
Label: Matador
Year: 2022
Buy this album at Turntable Lab
---
Similar Albums: