Interview: Comets on Fire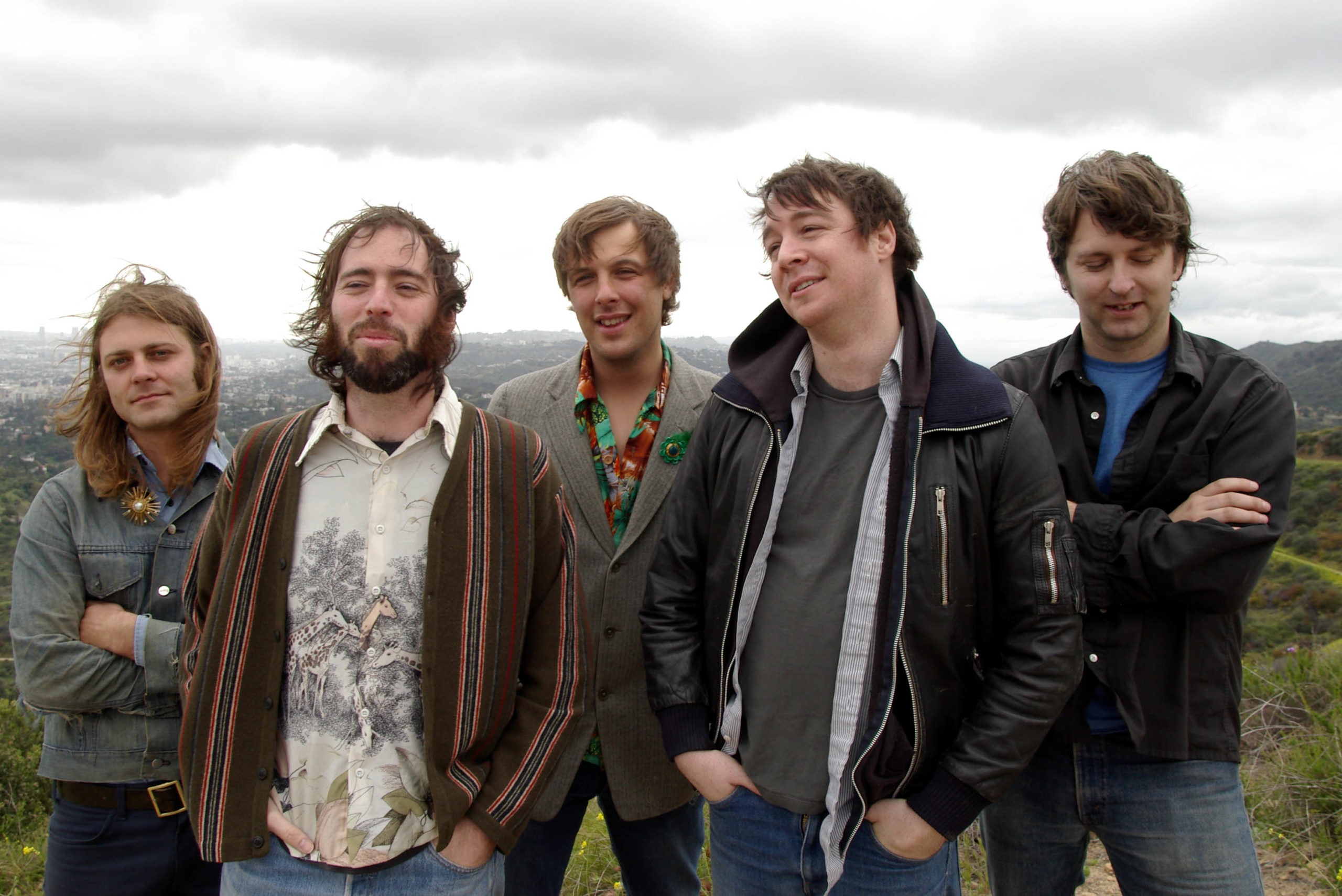 A hot August breeze blows through the open side doors of Neumo's Crystal Ball Reading Room. Having long passed its pinnacle, the sun yet bathes the land with a late summer heat. Comets On Fire haven't even started playing, but the sweat is already pouring. After a brutally long sound check from which more than a few technical difficulties arise, frontman Ethan Miller approaches me at the bar.
His grizzled beard and longish hair, settled over a Wolf Eyes t-shirt, both damp with sweat from the grueling sound check. My first impression coincides perfectly with the intensity of his band's latest effort, the excellent Avatar. But his welcoming eyes and amicable handshake are all the reassurance I need to stifle any nervousness that might have plagued me. After a brief introduction, we get right down to business. I ask him if the positive critical reviews for Avatar came as a surprise to him and his other band mates, guitarist Ben Chasny, drummer/pianist Utrillo Kushner, bassist Ben Flashman, and echoplex wizard Noel Harmonson.
"It's nice to know you're reaching someone," he says, and quickly adds, "But I've read a couple of bad ones."
He laughs.
Commercial success is something which Comets On Fire approach with caution, Miller says, and I can tell having just met him, with no shortage of humbleness.
"We've had a number of successes already," he says.
His statement most notably reflects being signed to Seattle independent label Sub Pop Records and constructing a loyal fan base in recent years. But what about that elusive platinum record?
"Success on that scale is a loaded gun," he warns, adding that largely successful artists' "lives change. Possibly for the worse. For us, what matters is making an album that will last over time."
I get the immediate feeling that Miller is a no-nonsense kind of guy, and uncompromising when it comes to artistic endeavors. But before I have a chance to ask him about the band's approach in assembling their compositions, he is called back to the stage for more sound checks. When he finishes up, again, the other members of the band head off to grab dinner while Miller leads me to the band's green room, deep within the heart of the club (i.e. the basement).
We station ourselves on worn couches, the brick walls that surround us bringing cool relief from the much warmer surface. Miller sips from his drink while he divulges some insight about the sound of Avatar, as compared to its predecessor, 2004's Blue Cathedral.
"In some ways from my end, for the vocals, I meant to make a clearer album. The fact that we had a little more money to record with helped," Miller explains. "I spent a little more time trying to get particular sounds out of my guitar."
The attention to detail is apparent upon first listen of Avatar. Although their newest kicks just as hard as the album that precedes it, Avatar offers a newfound soulful side to the band that hid beneath the distortion of previous releases.
"On Blue Cathedral, it was `plug in, yes, it's distorted. Alright, crazy, let's get going, let's try to bang it out, and that's fine. But it's complicated to listen to dissonance all the time, and distortion. To try to put it all together and make sonic sense of it all…Instead of forty seven different shades of white noise and distortion, there's forty-thousand different shades of micro-tones. Maybe that's why people say [Avatar] sounds toned-down, but in my eyes, it's toned-up. It was a lot more difficult making a record like this, I just don't don't think it's more difficult on people's ears. It's easier."
When it comes to the music-making process, Miller explains that he and guitarist Ben Chasny first develop the riffs. The other band members assemble to flesh out the rest of the song in the most organic way possible. While he and Chasny are responsible for the awesome riffage which comprises the core of each song, no opinion is disregarded during the infancy of each tune. Drummer/pianist Utrillo Kushner, whose piano ballads "Lucifer's Memory" and "Hatched Upon The Age" appear on the new album, for example, have helped to steer the band into an exciting new direction.
"Utrillo's songs were a little more developed," Miller says. "He brought in more formed songs."
I ask Miller about the mythical echoplex, because, well, I have to.
"It's been with us from the beginning," he explains.
One of the defining earmarks of the band's sounds, the screeching echoplex, operated ably by Noel Harmonson, will more than likely leave first time listener's asking "What the hell is that noise?"
"It's as age old a tool in rock n' roll as an electric guitar. It's the original delay, other than reverb. Someone figured out how to give a little presence and space to sounds on record," Miller explains. "Jimmy Page used it, Santana used it."
But never to the extent of the Comets full aural assault.
"I don't think it's ever been used quite as extremely as we've used it," Miller adds.
An understatement to say the least. The difference this time, Miller tells me, is the way in which the echoplex has been utilized to achieve clarity within each song. Rather than run the vocals through the device, they are recorded separately. Harmonson comes in later to add the echoplex flourishes, leaving the vocals intact and more discernable.
Speaking of vocals, Miller informs me that much of the inspiration for his lyrics arise from an interest in the elements.
"My lyrics have always been pretty elemental, and usually those elemental references are used as metaphor."
Songs like "Dogwood Rust" and "Jaybird" seem to incorporate this aesthetic superbly, and yet maintain an abstractness better left to individual interpretation. Yet Miller assures that the content is more basic than it may seem at first.
"[The songs are about] you know, the traditional stuff: doom or love."
A sense of doom certainly seems to pervade "Holy Teeth," a song which Miller tells me is specifically about a friend who's father was in Vietnam and is based on the stories he heard.
"Vietnam was a historical mis-path that was never corrected, it simply was swept under the table finally after a long enough time had passed. I don't think we're going to be that lucky this time," Miller says in reference to the current Iraq War.
Listening to the song, one certainly envisions a hellacious war scenario, Miller screaming over the rampant guitars and squealing echoplex like shells exploding nearby. When considered in conjunction with the current conflict in Iraq, Miller's lyrics seem that much more relevant.
"This is our time, I don't want to leave anything in a time capsule. I wanted to write about what's happening now, for better or worse."
Perhaps it's this very attention to social and global issues that has prompted other critics to label Comets On Fire as an "intelligent" heavy metal band.
"They're just ways of talking about music. It doesn't bother me at all," he says. "We describe ourselves in whatever way is most convenient for the people that are asking to hear."
As the Comets prepare to embark on a tour that includes stops in the U.K., parts of Europe, Australia, and the U.S., I ask Miller about his take on life on the road.
"We're not the Grateful Dead," he says, referring to the sporadic and spread-out nature of their tour. "We've got families waiting for us at home."
But that doesn't stop the Comets On Fire from having a great time, he admits.
"We act like a bunch of baboons," Miller says, adding, "When we're not sitting in the van for 10 hours."
In anticipation of the evening's performance, I can only hope he's telling the truth.
With a wistful look in his eye, Miller quietly reveals his favorite part of playing to fans in a packed venue.
"That we get to touch their lives for even an evening, and hopefully beyond, some of those moments are divine brotherhood."
*Photo by J. Bennett, courtesy of Sub Pop