Interview: The Detachment Kit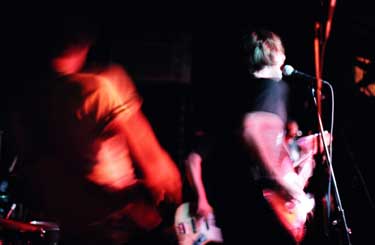 Sitting underneath a novelty light-up Last Supper in a booth of a dimly lit lounge, Ian Menard and Charlie Davis of The Detachment Kit look as if they're about to give me an offer I can't refuse. Clad in thrift store chic and hidden behind shaggy, unkempt hair, they don't exactly resemble Marlon Brando or Robert Duvall, but the red light above us provides a weird vibe all the same. But the only offer that this duo gave me was that of an interview and an entertaining rock show. And I can safely say they provided both.
Wrapping up their US tour, the trusty old van brought The Detachment Kit to San Diego tonight, as they ready themselves for the long trip home to New York. The Big Apple is where the raucous indie foursome currently call home, though they previously lived in Chicago and Tennessee before that. Nomadic musicians that they are, Menard and Davis rarely stay in one place too long.
"We've been in Chicago for a long time," Menard says. "And we have a lot of friends and our label and people we deal with on a day-to-day basis are there. So it's easier for us to just go over and talk to them than pay for phone bills.
"A lot of people think it was sort of a musical thing. But we don't really go to shows. We like to stay home and draw pictures. We're only part of the New York community, musically, only because we've played so many shows with all those bands. They're just kind of old friends."
Menard says that the move was motivated by convenience and the band felt as if they needed a change of pace.
"We don't cling to any particular region," Davis says. "Maybe Tennessee. But we don't want to live there either."
New York is also home to the band's label, Frenchkiss Records, on which they released their new indie rock opera, Of This Blood. The album ranges from quiet acoustic ballads to cranium-rattling punk rock. The distance between extremes is great, though the band manages to cover all the in-betweens as well.
A quick look at the lyric sheet instills curiosity, however. Characters like "Genevive the Countess" and "Ted the Electric" are abound, while songs like "Pill Cake" list off a slew of other people Davis and Menard have invented.
"Everything's character driven," Menard says. "We just make `em up. I think, personally, it's annoying to write love songs. You have to be a really great songwriter to pull off talking about yourself without making it sound indulgent. We really just like stories. I look at them like short stories. We have characters in certain situations and maybe they do certain things, maybe they don't. It kind of represents our world. Imaginary friends and stuff like that.
"It's provided endless amusement. We're always drawing pictures, so it's kind of natural.
Further investigation of the artwork, however, reveals an entire sub-plot to the album, involving a kidnapping by Queen Beaktapus and a board game with the objective of saving the "twins" from the aforementioned villainess.
Davis and Menard claim, however, that the artwork and Queen Beaktapus idea arose long after the album was recorded.
"We made all this artwork with pieces of construction paper with characters on them. The simpler, the better," Davis says. "We feel it's very relevant and now we're kind of obsessed with the characters,"
The imagery of the "twins" on the album, however, are meant to represent Ian and Charlie. And the title, Of This Blood, partially stems from their nigh fraternal connection.
"We had done this photo shoot with us strapped together," Davis says. "On the record there's this whole icon of the twins there."
Menard adds that they even made a suit meant to depict the duo as conjoined twins, a photo concept they used for their press photos.
"Charlie and I spend so much time together," Menard says. "We have the same birthday. We're both from Tennessee. It really kind of encapsulates what that record is. It's more of a time capsule than a record. It represents such a definite point in time in transition and re-adjustment and financial loss. Some really shitty times and some great times all wrapped up in one thing."
The good times and bad can all be easily heard in the songs on Of This Blood. "Skyscrapers" is a celebration captured in song. "Arena Rock" is a cathartic, loud scorcher. And in "Chronology," a more impassioned, pained aspect of Menard's voice can be heard. Though there are no biographical songs to speak of, the album isn't without it's share of emotion and comes from the heart as well as the imagination.
As I exit the bar, I come to a strange realization. Ian doesn't look so much like the Don, but a little bit like the light-up Jesus behind him. Maybe it's because he hasn't had a haircut in a while. Or maybe it's just the novelty picture going to my head. But man, it's weird.