Interview: Run the Jewels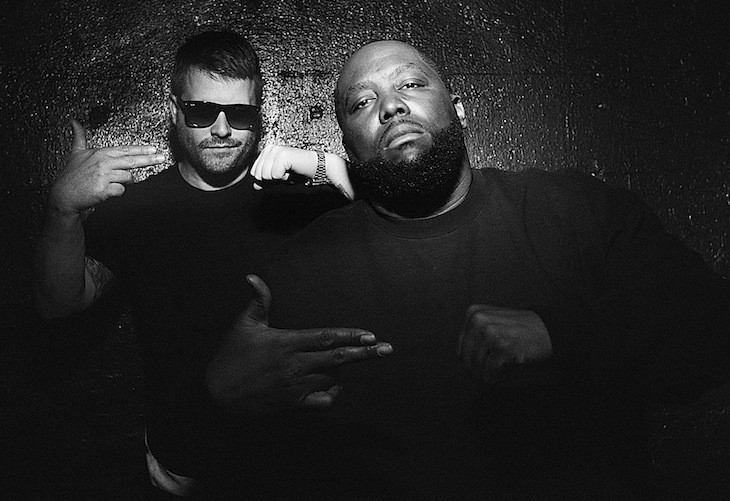 Run The Jewels was a monument in the making. After releasing two solid records in 2012 (R.A.P. Music and Cancer4Cure), it seemed only natural for El-P and Killer Mike to keep the momentum going. When the first Run The Jewels album arrived, it was merely the extension of a streak of creativity from two already impressive artists. Naturally, fans and critics pressed both artists on whether or not there would be a follow up. Just one year later, Run The Jewels 2 is here and it's even stronger than the first one.
Just hours after this interview took place, El-P dropped the album via his Instagram page with a direct link to combat a leak that happened a few days earlier. Killer Mike calls me from the road after having just woke up and played a show. He is polite and apologizes for being late to the interview; I mention it's no problem. Even a few times, his call drops, and he's kind enough to allow our interview to keep going. I had been told beforehand that El-P's throat was shot (Mike says that he's sick) and was bummed out he couldn't engage in our chat. Despite that, Killer Mike had plenty to say for the both of them, from the hype surrounding their cat remix album Meow The Jewels, the recording process, the organic relationship between him and El-P, the diverse set of guests on the album, the current political state of affairs in America, and what he hopes fans will take away from Run the Jewels 2.
Treble: Let's talk about Meow The Jewels. What seemed like a funny joke is actually happening. What feelings are running through both your heads? Have you guys reached out to Lil Bub and Grumpy Cat?
Killer Mike: [Laughs] We have not! I think the feeling at first was, "Ah man! What a great fucking joke!" El was doing a great thing. And the next feeling was, "Ah man…. These kids actually started a Kickstarter. Look at this shit! This is stupid." Then, it got to $13,000 and we're like, "Oh fuck, what if this really happens?" "Nah, it ain't going to happen! But c'mon man, let's show some support. We'll retweet. Yeah!" Then it got to $20,000, and got to be, "Yo, what if we really got to make this album?" [Laughs]. Then it got to $30,000 and it was like, "Oh shit, we're going to have to make this album!" Then, Just Blaze was trying to get in on it and all those other producers [were] trying get in with Jaime like, "We got you on the track too" and kids went even crazier and it was like, "Oh shit, this is happening, this is serious." And I am naturally a dog person. I had no idea of the fever around cats, the overwhelming wider eye for cats. So, I now know that it is a different world and it is definitely not a world of canines.
Treble: Cats are tough. When you buy a cat, the cat owns you. That's how it works.
KM: [Laughs] That's what Jaime tells me too! God Bless the dead, he had a wonderful cat that lived to be 18 years old and was a part of the rap music process. She died last year, which was just a part of [the first] Run The Jewels. She was just a beautiful soul. She was deaf as shit! She would be in a room, where El and I would be working, and she would just start meowing at El. El would be talking to her like, "What? What the fuck do you want?!" She'd meow, he'd pick her up, she instantly just shut up during this rap. And that's when I really got it…Cats own you! You don't own the cat.
Next: Politics, collaborations and Run the Jewels 2