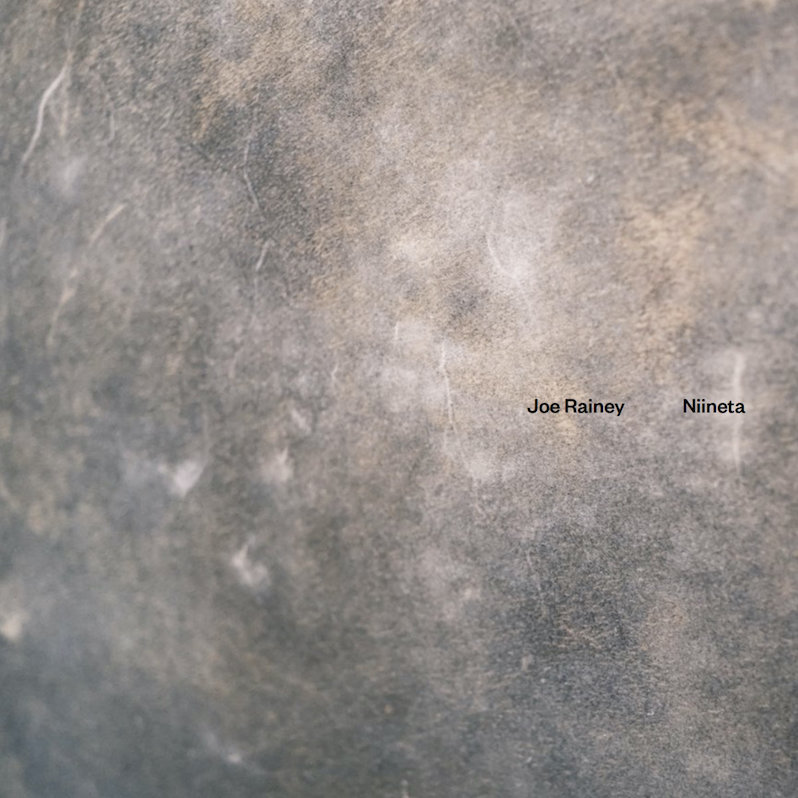 Joe Rainey's music proudly lives in the in-between: exploring long-practiced Indigenous traditions, yet making music that's completely attuned to the current moment. A singer of Red Lake Ojibwe heritage raised in Minneapolis, Rainey has immersed himself in the particulars of pow wow singing since he was five—performing and, vitally, recording countless other fellow pow wow drummers, singers and community members all along the way. His omnivorous approach has afforded him many in-roads to the tradition, both its past and its robust present-day practice. He's been involved with a number of legendary Minneapolis drum groups like Iron Boy and Midnight Express, collected hundreds of tapes as a kind of self-directed archivist, and explored different strains of Indigenous singing on his own time. In spite of growing up far-removed from a significant contingent of the Ojibwe population—Red Lake is a sovereign state all its own in northern Minnesota—Rainey recounts that his bonds to musical tradition have always felt deep-seated, imbued with a singular twistedness that resulted from specifically being in the midst of the Twin Cities. "Growing up, knowing that you weren't from the Rez, but you were repping them, was kind of weird," Rainey describes in a statement that accompanies his profound and electrifying debut album, Niineta. "But I liked that."
Beyond his immediate musical community in Minnesota, Rainey is releasing Niineta via a Midwestern cultural collective of a different sort. Niineta is the latest release from 37d03d, the bespoke label of Bon Iver's Justin Vernon and Aaron and Bryce Dessner of The National. Collecting song performances might appear on paper to be a delicate kind of exercise: curated at a remove, possibly stiff in its academic approach. Thankfully, no such pretensions nor rigid frameworks inhibit the sheer creative force of Rainey's work here. (Vernon, in particular, seems keen to let Rainey fully do his thing: "[His performance at Eaux Claires in 2016 was] one of the hardest times I've ever wept from pure beauty and expression," Vernon told Pitchfork in a recent feature on Rainey.)
Collaborating with Minneapolis-based producer Andrew Broder, Rainey takes the power into his own hands by placing pow wow singing in a sonic context that's the complete opposite of traditional, curatorially distant and archival. The album sounds resultantly raw and immediate; after all, it's been Rainey himself in the thick of things with the field recorder all this time. Niineta heightens pow wow music by thrashing the tradition around in new, abstract musical contexts: blistering drums, discordant acoustic piano and strings, smashed vocals. It's a fitting sonic landscape in which to let loose, matching the tradition's innate intensity. (Though Niineta eschews most direct musical comparisons, it's perhaps useful for context to mention that, at least within the 37d03d oeuvre, the record has more in common with Bon Iver's recent avant-garde strains—jittery, industrial, chaotic—than with The Dessner's orchestral rock.)
The inherent thrill of pow wow music usually comes from encountering it in live performance—mundane settings becoming sites of intense feeling, often startlingly so. On record, Niineta translates this energy and its trajectory brilliantly, particularly in the album's first two-song sequence. Album opener "jammer from the slammer" offers a kind of cool a cappella prelude, performed through the tinny confines of a landline. The track is an actual recorded phone call with Joe's cousin, Mike Rainey, from within Jackson Correctional Institution; his performance is preceded by automated hotline voice; filled with nagging clicks and beeps; and, most inane of all, a time limit that seems to choke the song at its peak. "slammer"'s deliberate constrictions seem to allude to plenty of larger obstacles that are not overtly named. But Rainey is higher of mind, freeing himself straight away into more-limitless plains on the twin number that follows, "b.e. son" (short for Black Elk's Son). Set to a massive beat that sweeps like dicing knives—and feels as earth-shaking as a sonic boom, at least on headphones—Rainey claims a new kind of sonic space here, both experimental and deeply-rooted. Taken together, the sequence feels triumphant: a perfect mingling of Rainey's personally-authored take on the pow wow tradition and its capacity to jolt, to transcend.
In Niineta's back half, another epic pair of songs chart a similar course, albeit in reverse. Amid a backdrop of churning fuzz and sonorous strings, "turned engine" pulls in guest vocalist Allie Bearhead to take the record to its most ascendant heights. Excerpts of Rainey's field recordings of neighbors and fellow performers appear throughout Niineta, but "turned engine" is the track where Rainey most powerfully aligns the full weight of pow wow culture and the voices of his community behind him. It's a ferocious storm, but Rainey is smart to give it the counterbalance of "ch 1222," Niineta's penultimate track. The song is pared back to Rainey's single voice—gentle, reedy, earth-bound—and a drum machine that throbs like a heartbeat. With Rainey singing in the tone and spirit of a lullaby, the track verges on complete stillness, but it's no less powerful than the peaks that precede it.
The whole record thrives on these drastic see-sawing arcs: Red Lake marshland squelches alongside stretches of white noise; massive cries butting up against peaceful prayers. But, Joe Rainey keeps tradition at the core of his work, even amid the din. It's precisely this quality—the music's resilience, in spite of it all—that allows Rainey's musical vantage on Niineta to feel so radical and indomitable.
---
Label: 37d03d
Year: 2022
---
Similar Albums:
Ben Easton
Ben Easton is a writer and musician based in Brooklyn, NY. He's a member/producer of the rock quartet The Academy Blues Project, with whom he has made six records, and plays Live Piano Karaoke in-residence at Sid Gold's Request Room, New York City's flagship modern piano bar. Beyond Treble, Easton is a staff writer at Cover Me Songs, the web publication devoted to cover music of all genres.