Julien Baker – Little Oblivions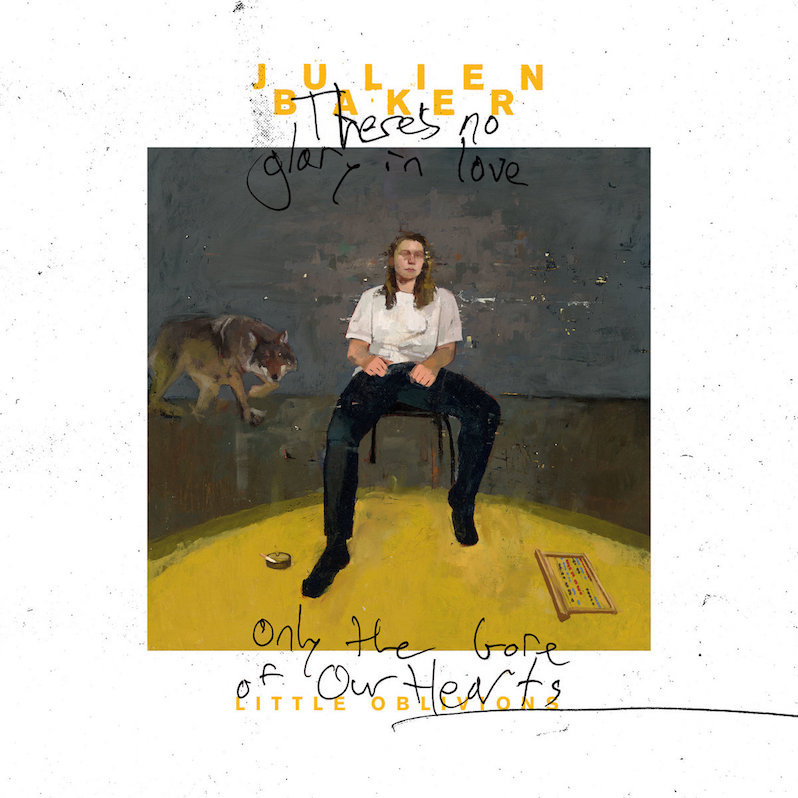 Julien Baker is through with torturing herself, but it's not because she's finally found the answer she's been looking for. If anything, she's accepted the uncertainty along the way. Speaking to KEXP recently, Baker explained that she's been thinking about "how desperate at every point in my life I have been for somebody to rub oil on my forehead and tell me this is what I need to be doing…and how that doesn't really exist and how it's sad to mourn that kind of mythos but at the same time it's really liberating." There is no one way to live, maybe not even any particularly feasible ways. Belief is rarely a yes-or-no kind of question; as she sings, "it's not so cut and dry / oh it isn't black and white." Her third studio album, Little Oblivions, is about vice and conviction and the space in between.
Despite the four-year gap since her last studio album and her sudden departure from touring, the Nashville singer-songwriter never took a real sabbatical from music. She was in and out of the studio through 2019, recording with her friends and bandmates in boygenius, Phoebe Bridgers and Lucy Dacus, for Bridgers' Punisher. Even while she went back to school to finish her degree, the trio recorded supporting vocals for Hayley Williams' solo debut. Little Oblivions was written and recorded piecemeal over the course of a year and some change while she was finishing her degree.
There is an affirming buoyancy throughout Baker's new album, which may be the greatest departure from her previous work. The level up in her production and arrangements is not simply an experimentation or newly acquired option, these new heights are aligned in parallel with the next stage of her songwriting journey. Lead track "Hardline" is a statement, opening with bold and distorted synth strings, reaffirming not only Baker's sure-footed self-produced independence, but declaring the thesis of the album. "Say my own name in the mirror / and when nobody appears / say it's not so cut and dry / oh it isn't black and white / what if it's all black, baby, all the time." That rumination runs through the length of the album. She dwells on unanswerable questions, singing on "Favor" (with her friends no less), "how long do I have until I've spent up everyone's good will?" Intense vocal distortion on "Repeat" emphasizes the Sisyphean. Baker brings us into her head to watch, struggling to accept the inevitability of loss and failure: "While every night I reenact the same recurring dream / now I'm stuck inside a vision that repeats."
Her previous album, 2017's Turn Out the Lights, found Baker cranking up her emotive songwriting to new levels of catharsis. There were sharper hooks and her lyrics were all the more incisive, but in many ways Turn Out the Lights simply enhanced the work that was already underway in the nearly ambient Sprained Ankle, like the faithful big screen biopic adaptation of an intimate memoir. Little Oblivions is an entirely different saga, on an altogether more expansive scale. The dramatic percussion and keyboard-pounding rhythms cascade. Layers of production become innumerable, as the lush arrangements ebb and flow. Baker's enormous vocal presence is undiminished, yet confidently reined in, shining through as one key component of intricate full-band songs rather than the sole focus.
A full band, yes, but not by any means a straightforward rock approach. Baker's self-production shines through above all else in an album of contrasts, between huge arrangements and simple melodies, between driving beats and rueful lyricism. Songwriting that demands artistic stage lighting one way or another, whether epic or intimate. Hard-strummed acoustic guitar warmly complements skittering percussion on "Highlight Reel," which makes an even more charming impact when everything falls away to intimately picked guitar, like the microphone is just a hair away from Baker's hands. Echoing drums on "Bloodshot" recall Arcade Fire, and uncharacteristically exact rhyming and straightforward phrasing round out the late '00s indie pop vibe. But then it all falls away to sparse piano before picking back up again. Even the softest moments, like "Crying Wolf," still feel elevated to a whole new playing field. Soft synth keys that blossom into crystal clear piano sound more like the prima-donna somber-pop of Lorde or Adele than any indie rock contemporary. But instead of taking her vocals over the top, Baker comes in with her classic reverb-drenched guitar, maintaining a sound all her own.
The stunning final track "Ziptie" sends us off with a lonely and dreamy guitar—each note hangs in the air above a sparse arrangement. The sparse beat sounds like a ticking clock, somewhere between menacing and reassuring in its inevitability, as she both mourns and accepts our collective dysfunction: "I was disappointed to find out how much everybody looks like me." Listening to this album requires as rigorous a self-examination, and hopefully self-acceptance, on our part as Baker does in writing it. We do look just like her, beautiful in all our imperfection.
---
Label: Matador
Year: 2021
---
Similar Albums: