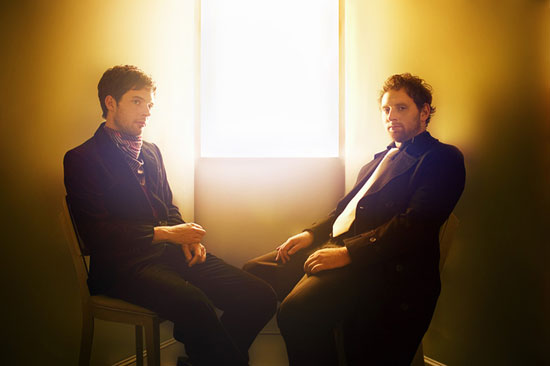 I could spend our time on the Junior Boys show talking about Tina Fey's emergence as a fashion icon, which fact was reiterated to me at said show and which fact would doubtless fill Tina Fey with dread. But I won't. I could hawk a five-hundred-word loogie at the celebrated stupid lower-case element invariably admitted to these things, the soporific saps who get summarily wasted, sweat buckets and congratulate themselves on their favorite song being played before proceeding to butcher the lyrics. I won't do that, either, because I like Junior Boys, and I like you. Are we cool? Ok.
At San Francisco's shabbily-hip, hangar-like Mezzanine on April 25, Junior Boys delivered a slender, chilling set of their elusive, erotic electro, beloved by acolytes as a wasted, ravishing, ol' blue-eyed imaginative reality. Concerning J.Boys honcho Jeremy Greenspan and his affinity for hungover noir, for loosened ties and sordid lounges, much has been bandied about, perhaps no assessment more telling than a review I read once which compared Greenspan to Cole Porter. To perhaps less effect, another piece claimed the band sounds like a Timbaland/Hall&Oates mashup. I'm sure none of this matters to Greenspan, who on 'Count Souvenirs' alludes to 'some old reviews/that you kicked behind the door', which might mean he'd reject this piece on general principle–if he's that much of a literalist, which I doubt. Junior Boys concern themselves chiefly with lies, the truth not so much.
In any case Greenspan and his cohort Matt Didemus sonically shouted out everyone from Barry White to Bryan Ferry during their hour-long appearance, starting with 'Count Souvenirs', their Roxiest music. Third up was 'Teach Me How To Fight' from the band's 'Last Exit' debut–it's maybe their finest song, enclosing tremors of heartsickness in rills of gorgeous synth drama, so playing it early surprised some people who, like me, half-heartedly questioned the bar being set so high so fast. Then Didemus, hunched over his machinery, cut to 'Like A Child's skittering crack-socky intro and the place blew up–I'm including in this a huddle of squealing gayboys near me who stopped making out with each other long enough to spout, roughly, 'this is my song!!' in several different configurations.
Greenspan alternated bass with guitar throughout, leaving Didemus to fiddle with his console and from time to time address a keyboard. For songs like these live drums are a luxury, mostly, but the drummer acquitted himself nicely on the slightly more rock-driven tracks like 'More Than Real'. Being sort of a drum geek, I was glad he was there, at least. Greenspan, for his part, played the avuncular host–I think he was the only gent of us there who weighed more than a buck fifty, not to mention the only one in a polo shirt, which contrasted well with Didemus' slightly nattier schoolboy vest. Greenspan took multiple timeouts to make sure everyone was doing ok, which courtesy irritates some people. Not me, I like to be consulted about a show while it's going on. 'Wednesday', he noted near the end, 'is the new Saturday I guess' which may or may not have been a toss at Mezzanine for having these things mid-week (it wasn't so bad, we were out of there by 12:30). Introducing 'Birthday' as the first song Junior Boys ever released, Greenspan dedicated it to the women in their lives. After returning for the encore, he cautioned the crowd that 'we're going to play this one real loud for you.' It was the steel-toed, thrumming 'Under The Sun', which very quickly spiraled into a rave-up. To this point, I'd been doing what I normally do at shows, which is moodily sip a drink while i try to figure out the snare drum. But, throwing appearances to the wind, I now plunged happily into the scrum, locating myself next to a wonderful-smelling Asian girl: for roughly eight minutes my brain slowed to a crawl and I didn't think about Tina Fey, stupid pseudofans, my illegally parked car, or even Sinatra. That's all the time we have, good night.