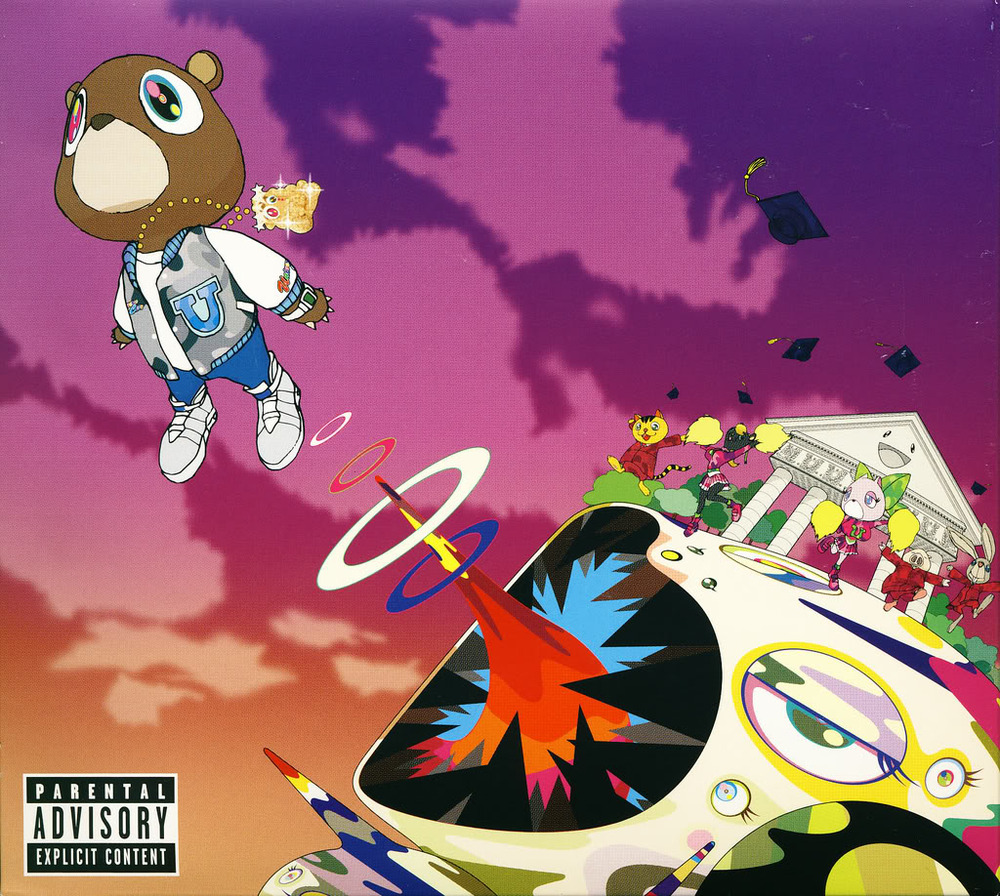 Kanye West is not what you could call humble. In fact, his ego has become his most marked characteristic and something that he has been criticized over. Yet is this trait so unusual in the music industry? Justin Timberlake wants to be considered an R&B/soul singer when at the end of they day, he's a pop singer (a very good one, no less). The difference between Kanye and his peers is that Kanye is not afraid to show how much work he puts into everything he does. Compare this to Jay-Z who works under the sheen of the unflappable businessman.
While Kanye's openness about his work ethic is refreshing, it's not always totally backed-up. As a producer, West is one of the best working today, just listen to Common's new record. But as an MC, Kanye is a little uneven. He is a remarkably witty vocalist but he doesn't have the consistent flow of his mentor, Jay-Z. His delivery can sometimes be self-conscious and his rhymes a little forced. His previous two albums, The College Dropout and Late Registration, were plagued with the disease that ravages many hip-hop albums: overuse of the skit. Additionally, Kanye's verses would sometimes take a backseat to his ornate productions.
Thankfully, Graduation is a much more streamlined album with only thirteen songs and fewer skits. Kanye's beats are sleeker as he includes vastly different sounds into his repertoire. Take the single "Stronger" which sounds wildly different from his previous work. Built around a sample from Daft Punk's "Harder, Better, Faster, Stronger," the song is more aggressive and has a cooler edge to it than previous Kanye songs. Production-wise, the song is tighter and crisper and his Six Million Dollar Man-style lyrics only benefit from the Daft Punk sample. In fact, Kanye couldn't have picked a better song to sample for this defiant tune.
One of the standout songs is the first single, "Can't Tell Me Nothing." An exquisite hook sung by Connie Mitchell loops over sexy, atmospheric strings. Like much of Graduation, the song benefits from repeated listens as the subtle touches sink in. "Barry Bonds" is like a classic mix-tape song as he plays on his egotism: "I'm doing pretty good as far as geniuses go." The song also has a killer trip-hop groove that recalls Massive Attack's work in Mezzanine and some excellent guest vocals by Li'l Wayne.
"Drunk and Hot Girls" however is one of the album's weaker moments. It's a little disappointing to hear such a gifted MC like Mos Def wasted on such a droning song. It's an admirable notion to use a sample from Can's "Sing Swan Song," but here it falls flat and becomes mind-numbingly repetitive. Yet the album picks itself up and rebounds with the disco sheen of "Flashing Lights." The synth-heavy beats sound like they were plucked straight out of a Giorgio Moroder song, as the song has a carefree ease to it, and its coolness is practically effortless.
By far my favorite song is the gorgeous "Everything I Am." The song is essentially Kanye's ballad and he smartly builds it around a skewed piano riff and sublime samples from Prince Phillip Mitchell's "If We Can't Be Lovers." If that wasn't good enough, he also enlists the legendary DJ Premier for some scratches, which break up the song in a wonderfully unexpected way. West once mentioned that originally offered this instrumental to Common. Thank God he didn't take it.
Kanye is not one to shy away from more unusual pairings, already sampling Daft Punk, inviting Adam Levine of Maroon 5 to sing a hook, and collaborating with John Mayer. Here he works with Coldplay's Chris Martin in "Homecoming" which is much better than expected. Here Martin's nasally vocals are served well in an incredibly catchy hook and his piano playing is reminiscent of Elton John. It's a nice little pop song that leads into Kanye's most earnest moment. In "Big Brother" he takes a somber look his strained relationship with mentor Jay-Z. It's a revealing song as he becomes self-critical and it shows a lot of growth for West as a lyricist.
While Kanye West is still not the best lyricist in hip-hop, he has made great improvements and if he keeps it up, he could definitely achieve such a title. Graduation is by far his most streamlined album and it truly benefits. The songs are much tighter and, apart from "Drunk and Hot Girls," the instrumentals are all incredibly interesting and creative. His ear as a producer has never been better but it sounds like his focus has a tighter rein. The results are songs that reach out further creatively but still have great pop hooks. Considering the bland work churned out by so many mainstream hip-hop artists, it's refreshing to hear Kanye branch out and embrace his most creative impulses.
Similar Albums:
Common – Finding Forever
J-Dilla – Ruff Draft
Aesop Rock – None Shall Pass