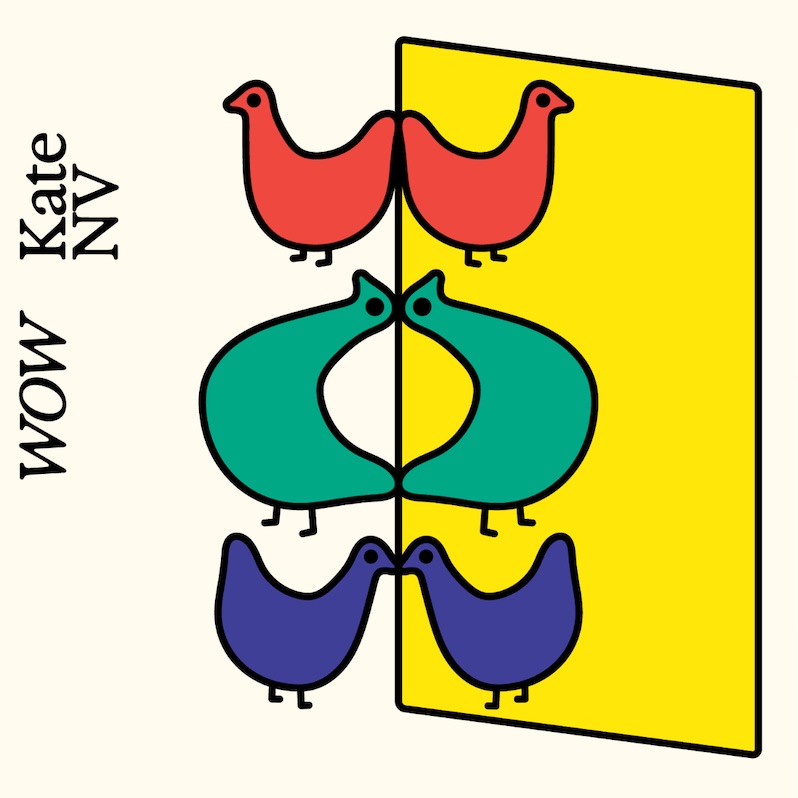 Every album Ekaterina Shilonosova has released under the Kate NV moniker over the past seven years has been a distinctly-flavored snack that challenges our definition of tasty. She approaches her craft with wide eyes and a studied hand. As she said to Crack Magazine recently, her approach is "not careless, but carefree." Her merriment pervades her work which loosely fit the term art pop even when it's neither artful nor poppy. However, that same merriment projects only as much Ekaterina Shilonosova as Kate NV allows, which usually isn't much. Her focus instead is on characters, time periods, and scenarios. It's hard to blame her though. After all, who else could make "oni (they)," a track about fruits rolling down the side of the road for attraction's sake, feel so surreal?
WOW, her fourth LP, continues NV's lack of personal confession while moving away from its predecessor. The multi-lingual singer takes away Room for the Moon's defining traits—off-kilter interpolations of '80s Japanese and Soviet pop—for mostly wordless, analog soundscapes. The term "soundscapes" here refers to the overloading of flutes, saxophones, percussive instruments, loops, and vocal bloops. Rather than using these tools to revisit ambient pastures from 2018's для FOR, NV plunges into an unexplored polygonal realm.
This space is instrumental to WOW as, instead of sounding like a journey, the record plays as an established score for an alternate plain. That's to say that the tracks are in motion but not necessarily propulsive. Oftentimes, they have only the barest of structures, though NV understands how a song should work well enough that even "slon (elephant)," which sounds like it features an uncredited K.K. Slider, glistens despite going nowhere in particular. It bears similarities to Yasuragi Land, a recent album from one of WOW's collaborators, Foodman. The Nagoya-based footwork DJ penned the lyrics for "oni (they)," and while that may be his only contribution to WOW, his influence is clear. Yasuragi Land and WOW share a certain flatness and clunkiness. Normally these characteristics would be insults, but both albums strive for them. The difference is that Yasuragi Land was inspired yet aimless whereas WOW avoids such a fate. Its aim is only to be tasteful.
That much is evident on centerpiece "mi (we)." It's a miasma of sounds and, admittedly, there's an armchair reflex to decry WOW as a whole for being nothing more than this. Yet, "mi (we)" is a microcosm for why that would be erroneous. The track contains a basic structure consisting of an intro, an understated build towards its meaty midsection, and an outro. This may sound superfluous but it's necessary when discussing WOW. NV isn't just making balderdash. In a sense, she's speaking gibberish but her delivery is based on tones and facial expressions. Even if her spoken content is nonsense, her message is considered.
Other tracks assert NV's intentions more than "mi (we)." She wraps "d d don't" around a single vocal line's promise. The chorus, if one were to call it that, is the track's anchor. It's a gleeful abandonment of taste and sensibility. NV rolls around a ball pit filled with geometric shapes, oblong patterns, and kaleidoscopes before returning to state "I don't care." It is, thankfully, delivered without irony. In fact, WOW doesn't touch irony or even acknowledge it. WOW is sentimental, speaking in bright, flat, shapes. Historically, NV's teetered between absurdity, ambiance and pop. While she retains that balance here, she's put the majority of her eggs into the absurdity basket.
That's the heart behind WOW. It is joy in the purest form. NV sounds elated that there are no rules. She surges with curiosity to the point that you forget WOW is trying to be something because, ultimately, it's not. Considering NV's vocal presence on Room for the Moon, it's impressive she can conjure this feeling without her voice, for the most part. She's finding joy by releasing all restrictions. That's also why WOW is so easy on the ears. By focusing on large emotions and sounds, she can pair them together like a jigsaw puzzle. She assembles backbones, like that on "nochoi zvonok (night call)" through skitters, millisecond-long vocal clips, and other nouns that one normally wouldn't assign to music. Taken in solitude, they would be that, objects in a panorama. What NV does is put them into a playroom and allows them to communicate, building worlds of interaction and symbiosis.
---
Label: RVNG Intl
Year: 2023
---
Similar Albums:
Colin Dempsey
Colin Dempsey is a Toronto-based writer with publications at Consequence, Invisible Oranges, Spectrum Culture, and more. There will always be more to write about, and he wants to cover it all.