Kendrick Lamar : Mr. Morale and the Big Steppers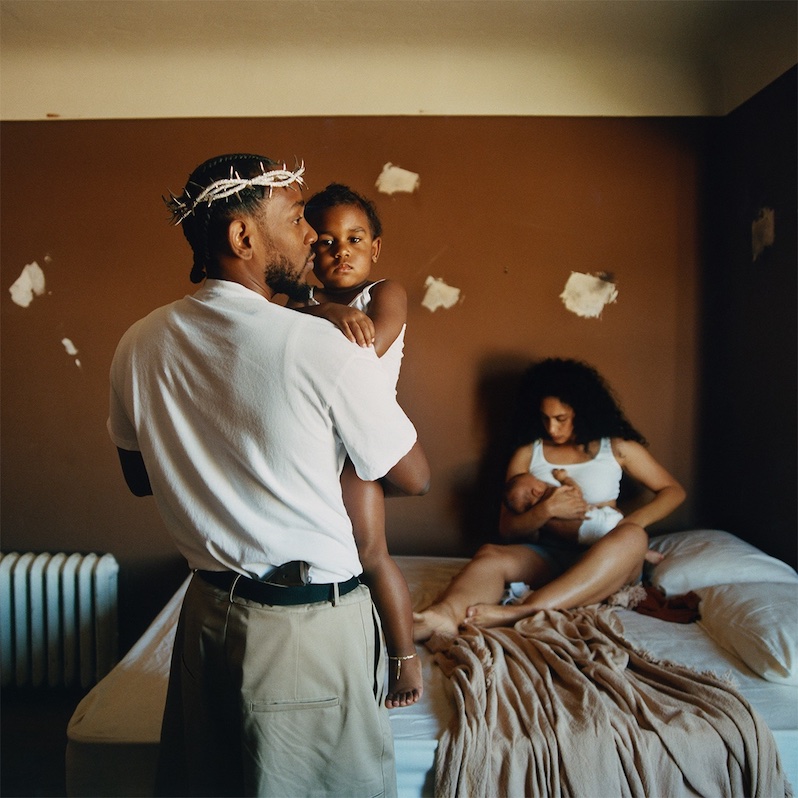 We are confronted with questions. What is a new Kendrick Lamar record? What is it we are looking for? His first three major projects after his brief mixtape era (Section.80, good kid mAAd city, To Pimp A Butterfly) were increasingly grandiose and involved conceptual pieces while the next two (untitled. unmastered., DAMN.) were first more abstract and second more closely adhering to a traditional rap record, albeit with avant-garde and arthouse bona fides. His most recent project, the Black Panther companion album, was his most traditional and mainstream work to date, taking the kind of approaches his guest verses normally adhered to, dropping the high literary acumen that marked the greatest of his personal works and instead bending to create livable, human rap verses with collaborators. The weight of expectations is normally something a good critic has to look past; a new work is indebted as much to the past as it is to itself and the present moment, and overly fixating on that previous relation more often serves to mutilate the latter than enhance it if done incorrectly. (For those at home, this is one of the foundational tensions New Criticism, a form of literary criticism founded in the early 20th century, was predicated on resolving by focusing on the text alone.)
This issue has plagued Kendrick in the past. DAMN., a remarkable rap record by any metric, is considered by many to be the weakest of his larger solo projects more or less for failing to capitalize on his grandiose conceptual arc he had developed. This was, in fact, a historical point of concern for him as well: In the wake of To Pimp A Butterfly, correctly considered one of the best records of the brief century and hip-hop as a whole, how do you follow it up in a way that doesn't feel diminishing in comparison? DAMN. was, in many ways, Kendrick's own Yeezus, a record which responded to a similar question by blowing the whole thing up in jagged avant-garde noise. Kendrick however, in a sense that has become sadly less shocking over time, managed this process substantially better than Kanye, as proved by the works that came after. While Kanye would embark on a scattershot career post-Yeezus that saw both glinting return to his conceptual prowess and aesthetic acumen in records like Donda and the undersung Sunday Service Choir, he would simultaneously become more and more singularly obsessed with both stalking his ex-wife and transforming from goofily antagonistic to legitimately concerning. Kendrick, meanwhile, remained intent on the overall goal of a project like DAMN.; to lower the weight of expectation of specific formal motives for each new project without sacrificing the care, quality and literary acumen deployed in them.
Which brings us to Mr. Morale. It's touted in some circles as his first double album, but that's not quite true, at least as far as length is concerned, landing in similar territory to previous records and falling short of To Pimp A Butterfly's total runtime. The difference here is more in terms of structural conceit, splitting the album into two distinct lobes plus coda. Each section is preluded by a Greek chorus-like commentating sung part, enjoined by Kanye-inspired harmonized vocoder to give weight and space to the lines. The meat of the record feels less like a mainstream rap record, with scattered but similar images of excess and pain, and more like pages of a collection of poetry or portraits in a gallery. The topics remain the standard for Kendrick: Black trauma and the Black maladaptive responses, the way these efforts to cope get mutilated by observation, his own tensions and critiques of the cultures he was born into as well as his defense of them at least as deserving to exist.
There is a focus here on reachieving the human within his image, something artists have struggled with for years. To return briefly to the topic of Kanye, a figure frustratingly consistently relevant in the world of hip-hop, it is precisely his inability to present himself as fully human, a figure with flaws intermingled with virtues, someone who can own mistakes and frustrations as much as earned braggadocio, that makes him over time so indefensible. Notably, on the song "Savior," during a section where Kendrick lists a number of fellow admired rappers and how their assistance in understanding the shapes of our lives doesn't make them our saviors, Kanye's name is omitted, only mentioned once on the record in a line pertaining to Kendrick's confusion at Ye settling his beef with Drake. This is not the only time on the record Kendrick offers relation to greats in complex shades, however. In several tracks, he delivers a Jay-Z-inspired flow in a manner that feels more observational and relational than stolen, a relation especially earned given how closely Kendrick's role in hip-hop now mirrors Jay's own in the late '90s to early 2000s. Likewise Kendrick seemingly recapitulates Eminem's "Kim" in "We Cry Together" but here edited to in form to more clearly display in its dialogue both the paucity and misogyny of the male argument as well as shifting its focus to more how the complexity of hurt and desire form a complicated core within love rather than the macabre horrorcore of Eminem.
These relations feel earned now in the wake of To Pimp A Butterfly. That record, masterpiece though it is, is still marred in part by how obvious and pleading the relation to Tupac was. Given their similar roles as ghetto conscience (not to mention the later disavowal of this weighty role by both), the comparison felt obvious but one that was perhaps gauche for Kendrick to make himself. Here, when he says Tupac is gone, it feels like he understands this better, that his relation is best established not by drawing the lines for us himself but by simply being himself and embodying those influences. His body of work already places himself among the greats, a fact he seems well aware of but humbly ignores here, which likewise lets those positions feel more earned. Which plays into the next point: It is unclear on Mr. Morale whether Kendrick wants to be a part of contemporary mainstream hip-hop or not. The aesthetic shape of this record bears little to no relation to the Polo Gs and Megan thee Stallions of the world and despite a brief moment where Kendrick seems to approximate the voice of Playboi Carti, he likewise avoids any clear sonic relation to those spaces himself. The best we get are a few beats from producers like Boi-1da that feel, fittingly, like they would belong on a Drake record, albeit mostly of the Nothing Was The Same or More Life eras. This is neither a critique nor a praising; it is curious to witness a figure so large make a record so agnostic to the rap world around it, but when you are achieving Jay-Z levels of greatness before everyone's eyes (and when your last record was predicated on mainstream hip-hop collabs), certain things are allowed.
The texture of the record relies heavily on piano, which recurs in a number of tracks almost as scene transitions. The Greek chorus motif of the sung sections relays the first piece of this sonic puzzle where the presence of jazz and its spare instrumentation feels as close to a narrator pausing between short stories to let the moral sink in for the audience before ushering in the newest tale. This sense, that of short stories and poetry and literary figure, is one that has played itself across his body of work before and was a large part of his acknowledgement by the Pulitzer committee but seemingly has been misunderstood in critiques of this record. Tracks such as "Auntie Diaries," a song which focuses on the transphobia and homophobia of his communities and past as well as love and defense of trans and gay people, has been rightly criticized by well-intentioned but misled usages of the F-slur as well as misgendering of its figures as well as deadnaming Caitlyn Jenner. However, read as portraiture rather than moral prescription, these moves make more sense; like a keen poet or short story writer looking to place you into an uncomfortable situation, rife with tensions and anxiety, the intent is less to tell you in the language best suited to now the message of today and more to let you live within an experience, in this case Kendrick's own lifetime of learning to accept and understand the queer world. It is problematic, certainly, but problematic in the classic literary sense, such as Huckleberry Finn's usage of the N-word is meant to provide an outer layer of dismissal and violence to the figure of Jim while the course of the novel is Finn's own increasing witness of his rich personhood. This is not to say, of course, that either instance becomes perfect or beyond critique, but its functional usage as reflective of Kendrick's own lack of understanding of the language of these issues which deepens and evolves over the course of the song before fully correct language is used in the end indicates at least an attempt at a literary developmental approach which is altogether different from a bigoted one.
It is the final two songs which thread the needle for the album. "Mother I Sober" becomes the recapitulation of the album, funneling down all of the experiences, portraits and self-portraits of Kendrick's psychic world inside and outside of his private life, fictional and nonfictional developments into the heart of the matter, the nexus of familial and generation grief and trauma that predicates it all. This is presented as an instance and understanding of Black trauma, one he gently but lovingly scolds us for wanting to witness, but functions in a broader sense; our world, all of our worlds, is made up of maladaptive trauma responses from people hurting and often unintentionally passing down that hurt. When we feel betrayed by heroes or wounded by friends, it is rarely with a deep sense of malice but instead the deeper confusion in our hearts from navigating the rigidities of these scar tissues. For Kendrick, this is a Black trauma, one that ties him to parallel traumas of millions, and there is great truth in this, but it is a universal mechanic as well, albeit it with differentiating characteristics depending on cultural and historical angles. The album opened with the chorus lines "I hope you find some piece of mind in this lifetime"; "Mother I Sober" ends with them singing "I bear my soul and now am free", a follow-on from the voice of seemingly Kendrick's own daughter thanking him for breaking the cycle of generational trauma.
The closing track "Mirrors" is a painfully sincere image of Kendrick, not a public image of him or a grandiose one but the Kendrick who loves, dates, has family, struggles, is human. Mr. Morale is a masterclass in threading the needle between expectation and humanity, of dialing down the increasingly impossible expectations while still delivering the sharpest set of lyrics and flows over the richest set of beats in the genre today. The only thing it failed to do is deliver Kendrick from his position as the greatest rapper going. Maybe nothing will.
---
Label: Top Dawg Entertainment
Year: 2022
Buy this album at Turntable Lab
---
Similar Albums:
Langdon Hickman
Langdon Hickman is listening to progressive rock and death metal. He currently resides in Virginia with his partner and their two pets.