Kiefer : When There's Love Around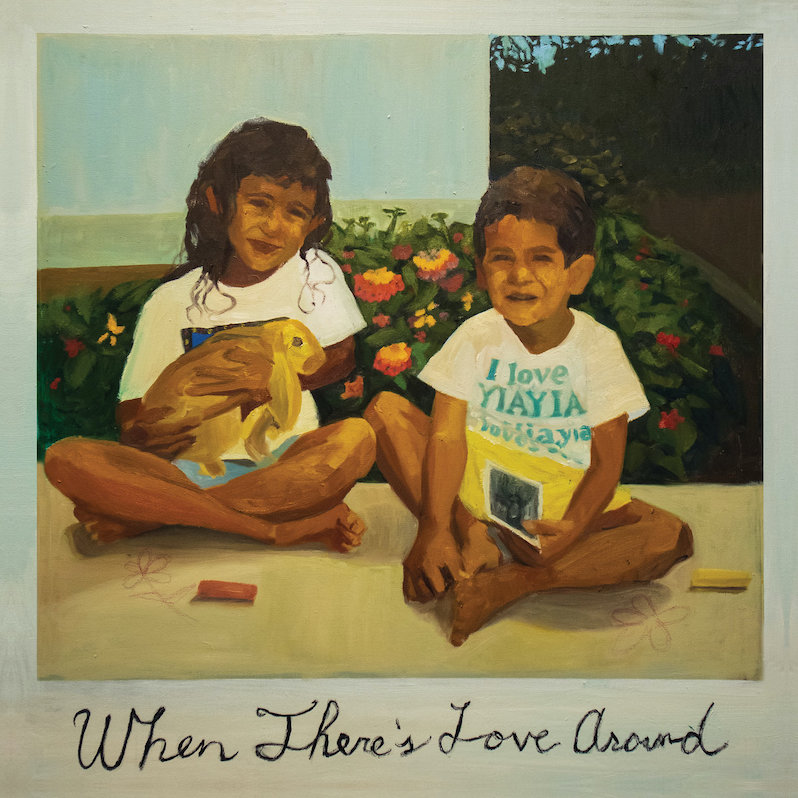 Keifer Shackelford's second release this year, When There's Love Around, follows his recent Between Days EP and bolsters the artistic lean-in for at-ease, informal jazz arrangements that seem to be in vogue these days at groundbreaking L.A.-based Stones Throw. Labelmate Mndsgn's Rare Pleasure from this past summer curated soft grooves, psychedelic accents, and sexy R&B library music to cool out our blood pressure. It's still a rough ride here in America these days, ya know? Kiefer, born and raised in San Diego and immersed in jazz by his father, added his "cooking real cool" touch to that special project. It was an act of foreshadowing. When LeBron James is hawking a Calm app for sleep and meditation, then stress reduction has made its way into the culture with major priority.
Stones Throw, since 1996, are known for stretching the parameters of hip-hop, modern funk, R&B, electronic music and post-punk—and that's just off the top of my head. The label, which made their bones and street cred for odd-duck progressionist intensity, released the Mndsgn project three months previous to Shackleford's melodic bump, an ode to being human. It's a label calculation, and a smart one. Consisting of 12 tracks, ingrained and built around Kiefer's unhurried, personal, hand-sewn style on the keyboard, it plays like a bookend to the Mndsgn record. In the grandest way.
Partially recorded at DJ Jazzy Jeff's home studio, it's split into several segments, presenting all the colors of optimism. Shackelford arranges with a cohesive, yin-yang sentiment, full of hesitancy and self-examination, that somehow, always draws blue skies. From the rootsy type funk of Joe Sample (of The Crusaders) to the cosmic trip the light fantastic acumen of George Duke, it's with the all-star L.A.-based collective of serious hitters aka his fave musicians: DJ Harrison, Andy McCauley, Josh Johnson, Will Logan, and Sam Wilkes that comprise the base.
Collectively they present a jazz fusion archetype that moves somewhat regal, with boom-bap swag. When Kiefer gets to the run points, as the solo in "i remember this picture"—a reference to a painting of a photo of him and his sister featured on the cover artwork—he splashes and flourishes with internal pacing. You feel the rush as a calm breeze, all soulful, honeyed. Polite. It ticks up at the right second and then returns to the pattern of tiny little gusts. But don't take that as his method being soft or ill-equipped. That would be an out-of-pocket calculation.

His perspective is a zag that's still rooted in the jazz tradition, while everyone else is zigging out real loud and bolting. "A Wish For You" provides a transparent rendering, which feels like an ambient clock ticking, that allows us to see and hear the sentiments experienced while grieving. It's a brief cut, but it lingers on the memory like Japanese Environmental New Age music. It's peaceful introspection.
Much like Thelonious Monk, Keifer—who won a Grammy for Best R&B Album for his production work on Anderson .Paak's Ventura last year—prefers the first or second take of a song for a record. Monk stood by that fresh reading no matter how intricate the charts were that he wielded out to his loyal band members. Even if they messed up, and the take was still good, Monk just informed the player that they'd have to hear that mistake for the rest of their lives. With Keifer, the action is the same, but the perspective is one of connection. Several songs were recorded in the first or second take, with the mistakes left in. What some perceive as an error bears the human touch. A gift. Showcasing a portal to uncharted territory, spontaneous and from the heart.
His personalized version of The Crusaders' deep crate nugget and the title of his album "When There's Love Around" keeps the tempo at a simmer, so his solo rides in flush, Kodachrome with slight peaks and rolling stretches that never get out ahead of the melody. Sections steam about without a kettle whistle, but we know there is still more. That subtle inference is all the weight needed.
---
Label: Stones Throw
Year: 2021
---
Similar Albums:
John-Paul Shiver
John-Paul Shiver has been contributing to Treble since 2018. His work as an experienced music journalist and pop culture commentator has appeared in The Wire, 48 Hills, Resident Advisor, SF Weekly, Bandcamp Daily, PulpLab, AFROPUNK and Drowned In Sound.