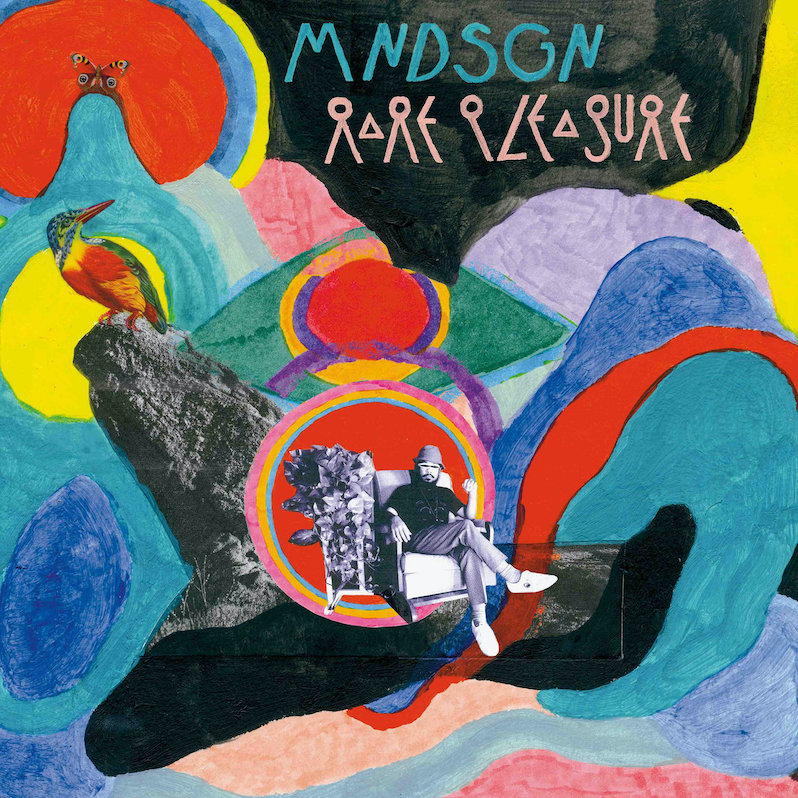 When Ringgo Ancheta, better known as musician and beatmaker Mndsgn, announced he was releasing two raw mixtape type albums—Snax in 2018 and Snaxx in 2019—as holdovers until his new anticipated record was complete, eager aficionados were vexed. Snaxx, according to the San Diego-born, New Jersey raised and L.A.-based Ancheta, were tracks saved from an old hard drive on his computer that he transformed into a hazy terrestrial radio transmission where distorted grooves melded with quiet storm frequencies. Creating an oasis in time, the release, fans realized, was actually an instant classic.
Rare Pleasure, his new project—the record he started in 2018—is heavily influenced by soft jazz, wavy library music, and most definitely more slo-mo than uptempo. It's a well-tended garden of warm grooves that could be his finest yet. Composed of R&B, soundtrack music, psychedelia, and jazz—the crux of his ever-innovative sound since the beginning—has the producer in the throes of sound evolution, one that whispers, not slaps. Mndsgn is back with the grandiose, overflowing with movements that step in as an emotional support animal at times when they're most needed. Almost as if he's checking in on America. (It's been a hectic couple of years, to say the least.)
Rare Pleasure has scoring draped in the cool, calming tones of easy-going, bordering on '70s-style schmaltz, just a bit. Much like his good-natured single with self-directed visual, "Hope, You're Doin' Better"—written while processing a loved one's struggle with mental illness—Mndsgn is out here providing sensory restoration.
Ensuring that he pulls off the 37 minutes of good-feeling, wide-stretching vibes to fortify the mind, body, and soul, Ancheta has assembled top-notch LA music talent: Stones Throw labelmate Kiefer Shackelford on piano, Swarvy on guitar and bass, Will Logan on drums, Carlos Niño on percussion, Fousheé, Devin Morrison and Anna Wise on vocals, and maestro arranger Miguel Atwood Ferguson on strings. The references are arranged, not sampled, and this new orchestration extends to him being a featured vocalist at times. Drawing inspiration from his personal life, that inner discord he's chosen to express with his superpowers, floodlights the vulnerability—a sincere feeling we take at face value when Ancheta chooses to intone.
"Hope You're Doin Better" serves as the centerpiece, with encouraging lyrics about friends and resources available at the touch of a phone call or text. With a firm low-end sub-bass structure, the fantasia arrangement builds alongside the open-ended string arrangements, featuring lightly sparse piano stretches, and a relaxed tempo. Instead of aiming for something that all-out bumps, like his nascent days performing at the now-defunct and famous Low End Theory night, the producer opts for solace by way of restraint. Slowdance," a full peacock of vulnerable colors on display—this time for intimacy—does indeed feel like a quiet storm or sentimental contemporary jazz break that fits the mood without mawkish irony. All these sensitive motifs get filtered among five different versions of the recurring keynote. Whether it's the 1970s Quincy Jones-tinged "Rare Pleasure II," thicc bump-and-roll of "Rare Pleasure III," or the bossa nova hustle of "Rare Pleasure IV," these are storytelling moments executed to the fullest without the use of locution. By caring for a loved one's mental health, Mndsgn has transformed his skills as a beatmaker producer into something far more exceptional while bestowing our first slow-burner album of the summer.
---
Label: Stones Throw
Year: 2021
Buy this album at Turntable Lab
---
Similar Albums:
John-Paul Shiver
John-Paul Shiver has been contributing to Treble since 2018. His work as an experienced music journalist and pop culture commentator has appeared in The Wire, 48 Hills, Resident Advisor, SF Weekly, Bandcamp Daily, PulpLab, AFROPUNK and Drowned In Sound.