King Tubby: A Beginner's Guide to the prolific dub innovator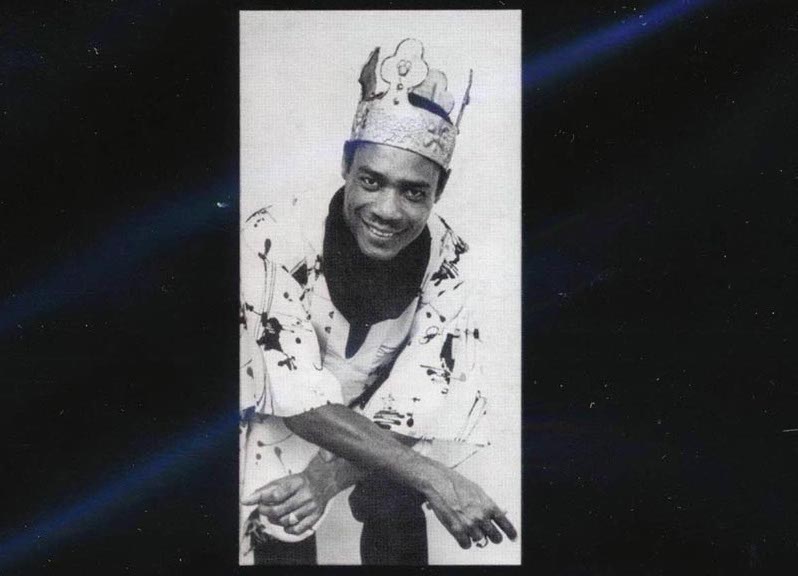 Dub has many great engineers and mixers, but only one King. Osbourne Ruddick's regal title appears on hundreds of releases throughout the canon of reggae music, some of it in the role of a producer, but most of it as an engineer whose dubs of roots reggae and rocksteady A-sides radically transformed the sound of Jamaican music. Along with peers such as Lee "Scratch" Perry, his impact on popular music is immeasurable, having helped pioneer the remix as well as using the studio as an instrument unto itself, reshaping and restructuring the sound of existing recordings into something radically different and unique. Reggae was his foundation, but the music he made had ripples throughout popular music—hip-hop, electronic, pop and post-punk, to name a few.
Ruddick took his name from his mother's last name, Tubman, and began his career repairing audio equipment, along with providing transformers to island businesses. Eventually he started his own pirate radio station, where he played ska and R&B tracks, and eventually began to work in Duke Reid's studio, maintaining the equipment and eventually experimenting behind the boards. Once he obtained a mixing desk of his own, he opened his own Waterhouse Studio, which became a venue for recording tracks as well as mixing dub versions, of which he became one of the most prolific engineers in reggae.
Mikey Dread said of Tubby's expertise, "King Tubby truly understood sound in a scientific sense. He knew how the circuits worked and what the electrons did. That's why he could do what he did." That scientific approach ultimately resulted in a vast catalog of mixes and productions ranging from artists like Lee Perry and the Upsetters to Augustus Pablo, Keith Hudson and Yabby You. During his lifetime, he released around 30 of his own albums as well as his mixes appearing on countless other releases. Tragically, in 1989, he was shot outside of his own home during a robbery, cutting short his innovative and prolific career and marking a devastating loss for both reggae music and pop music on the whole.
This year, Tubby would have turned 80, and to commemorate one of the foremost innovators of dub, and one of the greatest Jamaican artists of all time, we present a roadmap to some of his most iconic works. Five of King Tubby's best albums, plus next steps and advanced listening.
---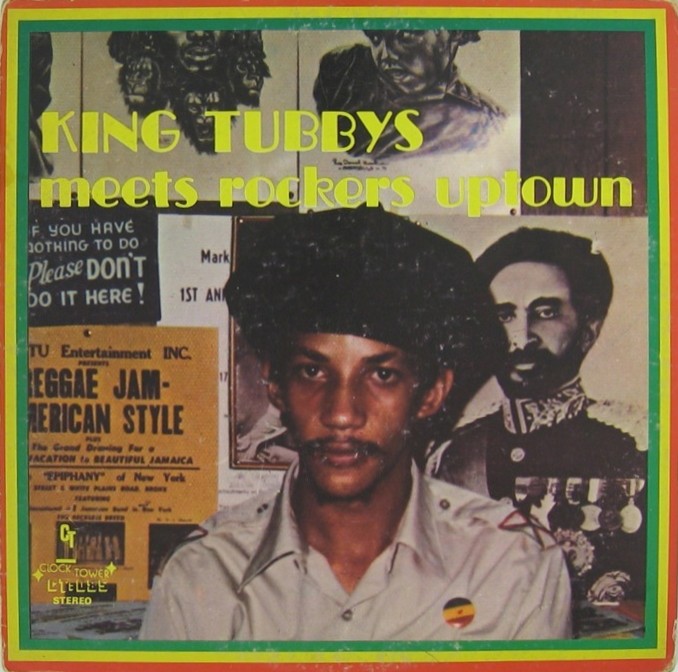 King Tubbys Meets Rockers Uptown (1976)
"King Tubbys Meets Rockers Uptown" is regarded not just as one of King Tubby's finest moments, but likewise one of the greatest dubs ever recorded. A mix of Jacob Miller's "Baby I Love You So," produced by fellow dub/reggae impresario Augustus Pablo, it's equal parts tension and density, Miller's vocals reduced to a haunting specter, while Carlton Barrett's drums stack and stagger over each other like some kind of otherworldly staircase. It's the track you queue up when you want to introduce someone to dub. Might as well do the entire album while you're at it—which is technically credited to Pablo, but named after Tubby's landmark track (which is named after him), as it features some of Tubby's finest dubs. Toward the end of "Young Generation Dub," he twists and turns Barrett's drums through a strange sonic vortex, while he applies a subtle touch to "555 Dub Street," wherein the bubbling in of piano and guitar feels almost supernatural. Not to mention the desolate weirdness of "Corner Crew Dub" or the headphone oddities of "Satta Dub." Pablo and the crew of players that made this studio creation deserve much of the credit for this masterpiece, but once it's in Tubby's hands, it transcends.
---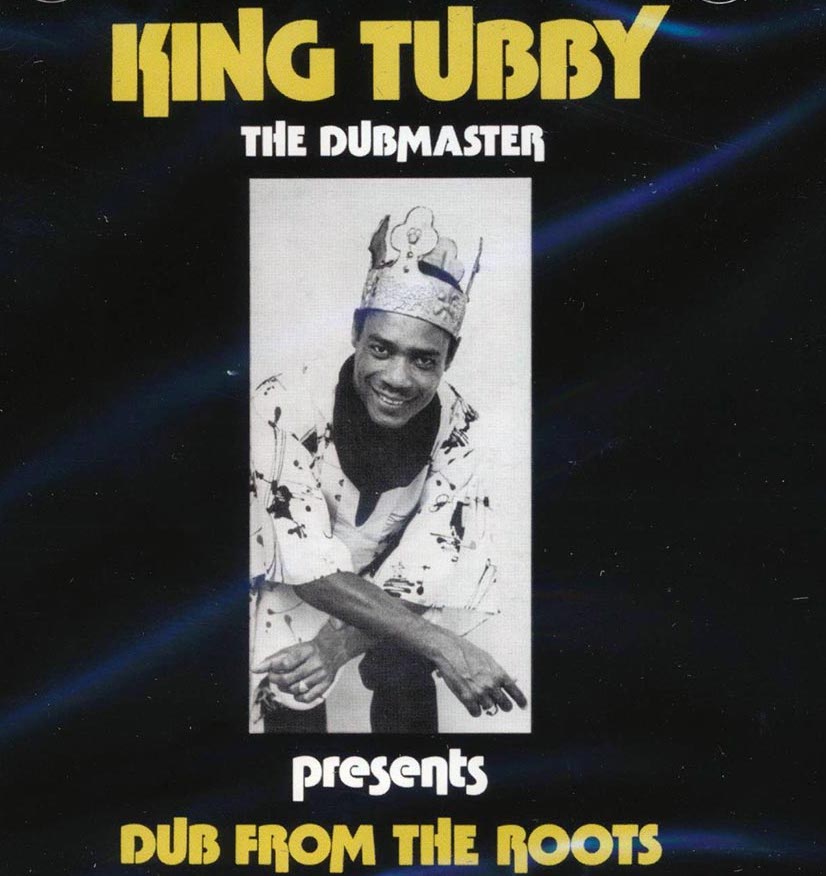 Dub from the Roots (1975)
King Tubby is one of the most important figures in crafting the sound of dub, but beyond that, he also helped to translate it into an album format. While Lee "Scratch" Perry and the Upsetters might have beaten Tubby to the punch in strict chronology, Tubby wasn't far behind, and by 1975, he was expanding his catalog of LPs at a rapid clip, offering up an early set of dubs that delivered more than brilliant innovations in production and mixing, but likewise created a sequence with highs and lows, moments of tension and surprise. Composed heavily of riddims from Johnny Clarke tracks, Dub from the Roots isn't a prototype for the modern remix album necessarily, but an album proper that flows seamlessly and with proper punctuations. The space-age sirens and sound effects on the title track and "Invaders" find Tubby in a playful mood, lending some sci-fi elements to their laid-back grooves, while his avalanche of drum delay creates a slow-burn intensity on tracks such as "African Roots" and "Declaration of Dub"—the latter offering a chill-inducing moment when the melody drops out to leave just a haunting set of backing vocals. The source material for Dub from the Roots would make a great mixtape regardless, but Tubby reshapes it into a seamless and intoxicating set all its own.
---
Harry Mudie Meet King Tubby's in Dub Conference Vol. 1 (1976)
The nature of Tubby's work as a dubmaster meant he thrived on collaboration. As an engineer and producer, his credit can be found on dozens of reggae records, and as a mixer, he radically changed the sound of a lot of them. But the trio of Dub Conference albums that Tubby released with fellow producer Harry Mudie provided a different sort of collaborative effort, a meeting of the dub minds that brought together Tubby's engineering innovations with Mudie's stunning and unique arrangements. On the first of these, the character of Mudie's lush approach toward reggae production—just listen to the strings on "Dub With a Difference"!—pairs stunningly with Tubby's suspenseful and head-spinning mixes. An already rich sonic atmosphere grows all the more psychedelic, as thick organs and funk guitar echo down cavernous hallways and down smoky vortices. There's no other record in Tubby's discography that sounds quite like this one, simply because there's so much going on—which is precisely why it's so much fun to listen to.
---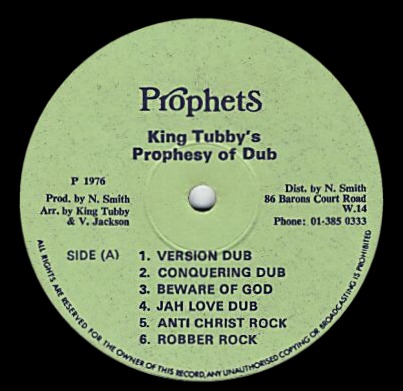 King Tubby's Prophesy of Dub (1976)
Among the many contributions that King Tubby has given music is Vivian Jackson's pseudonym. The reggae singer would ad-lib the phrase "yabby-yabby-you" (listen to his great album Conquering Lion and you'll hear it) and thus King Tubby dubbed him Yabby You, officially. Tubby also offered up a dub version of the album a year after it was released. Kind of. King Tubby's Prophesy of Dub isn't technically a song-for-song dub counterpart to Lion, but sort of a mixtape combining dubs of those songs, some of a handful of other Yabby You tracks released in other forms, as well as dubs of a handful of songs from Wayne Wade's Black Is Our Color. A recent reissue of Conquering Lion on Pressure Sounds includes as close a proper cause-and-effect version of the dub counterpart as possible, removing tracks such as "Love and Peace," whose riddim is from a Wade track rather than Yabby's (and has a funky, soulful sound at that). That reissue is worth getting, especially considering it's a 2xLP expansion, though the original is a bit more diverse and unpredictable in its complete product. Still, its the individual moments—like the jazzy, proto-junglist layering of hi-hat on "Hungering Dub," the echoing brass and hypnotic organ of "Conquering Dub" or the psychedelic guitar waves of "Version Dub"—are what make this a standout moment in the Tubby oeuvre.
---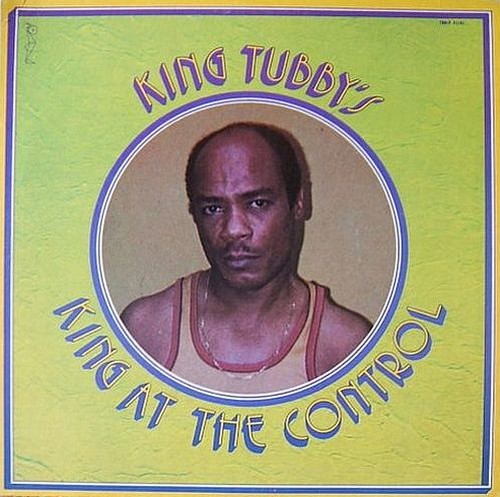 King at the Control (1981)
Somewhere around the 18th studio record to bear his name in some form, King at the Control finds the King pushing his faders as far as they'll go. There's a starkness and minimalism to much of the record that allows his mixing stunts to stand out in stark contrast to the simplicity of the riddims. "Ranimo Dub" is a nice enough groove on its own, but Tubby's layers of oddball effects and literal bells and whistles make it a headphone head trip. The bassline of "King Tubby's Special" is the definition of badassery, but Tubby's fade-ins of horns, guitar and other elements feels sharply aggressive in ways that dub often isn't. And then there's the psychedelic fuckery of "Dread Dub," a track that feels submerged for most of its three-minute running time, only occasionally rising up for air. These are some of his weirdest mixes, and King at the Control is all the more memorable as a result.
---
Also Recommended: I didn't include The Skatalites' Herb Dub – Collie Dub in the First Five here in large part because King Tubby only mixed three of the tracks—though it's worth noting that those three tracks are ones with the most distinctive character and most interesting atmosphere throughout, from the heady and hypnotic sounds of "African Dub" to the almost breakbeat-like edits of "Sealing Dub." And for another sheer, solid work of instrumental dub, Bunny Lee's King of Dub features some choice mixing from Tubby.
---
Advanced Listening: The next step from here is a harder question to answer, simply because King Tubby's name is on a lot of records, and he didn't necessarily mix or engineer all of them—some of them were simply mixed in his studio. Trying to wade through everything can be a little confusing, especially on streaming services, which can be a bit chaotic—not to mention the fiasco of completely different cover art in many cases. But First, Second and Third Generation of Dub—featuring Scientist and Prince Jammy—is a fun showcase for three titans. And The Roots of Dub (not to be confused with Dub from the Roots—see? It gets a little tricky) is another early full-length that settles into a warm and spacious mood, plus it features a cool cover design that The Beta Band later borrowed.
---
Support our Site—Subscribe to Our Patreon: Become one of our monthly patrons and help support an independent media resource while gaining access to exclusive content, shirts, playlists, mixtapes and more.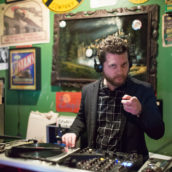 Jeff Terich
Jeff Terich is the founder and editor of Treble. He's been writing about music for 20 years and has been published at American Songwriter, Bandcamp Daily, Reverb, Spin, Stereogum, uDiscoverMusic, VinylMePlease and some others that he's forgetting right now. He's still not tired of it.