Laura Marling : Once I Was An Eagle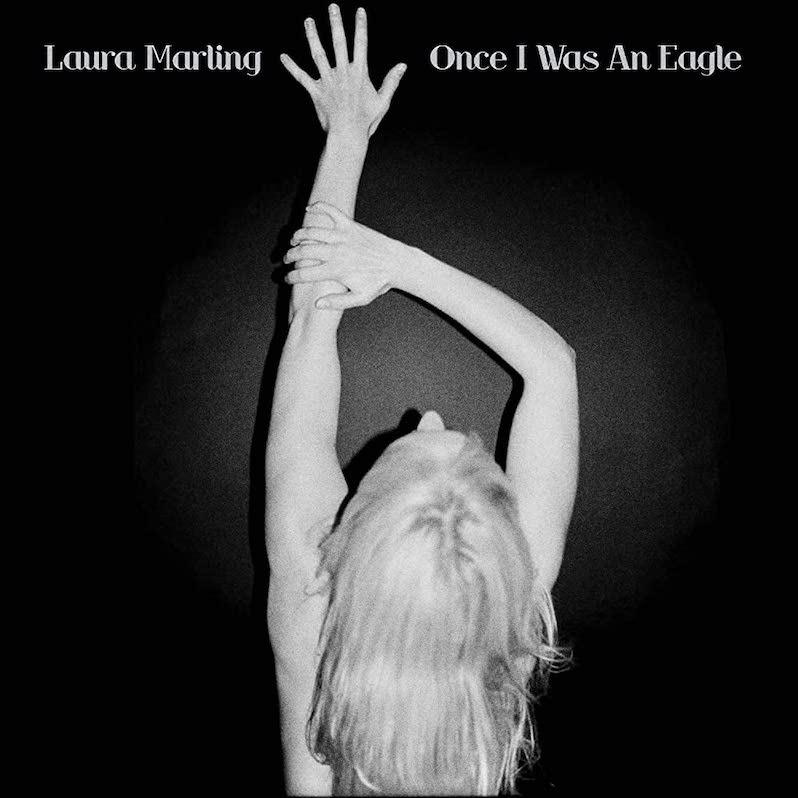 "When we were in love, if we were/ When we were in love, I was an eagle and you were a dove," Laura Marling sings on the title track of her new album, Once I Was An Eagle. Seldom does an interjected fragment mean as much as the phrase it invades. It's as if she's correcting a Freudian slip which she bothers to repeat. "Well, if we were in love – oh, all right, I guess we were in love." But the payoff overrides whether this question even matters or not: Whatever the arrangement was, you came to play, but she came to prey. She may question the variables and consequences, but only because as a human, she has to.
The line comes near the midpoint of the suite that opens Once I Was An Eagle, the fourth album from the Hampshire, UK folk artist. Rolling through four songs with steady acoustic guitar and Eastern influences, Marling channels a character with no memory of, or patience for, the slightest gullibility. She's a fatigued seductress in "Take The Night Off" ("and be bad for me"), then self-protective in "I Was An Eagle" ("I will not be a victim of romance"). She dismisses "empty-footed" hippies blithely trashing real truth in "You Know," then slips out the bedroom in "Breathe" after the fighting's over. The only thing Marling and her companion can do is part ways and reset.
That's just the first quarter of the album, and Marling uses the suite to set up an album-length morality play that never wavers in tension or truth. Working with the spare but versatile team of producer/instrumentalist Ethan Johns, cellist Ruth de Turberville and occasional bassist Rex Horan, Marling makes an album with a character flow worthy of Salinger and consistently satisfying musical payoffs.The most piercing instrument is Marling's transformed alto voice. There are moments she uses it as liltingly as on her earlier work, but there are others when it descends into a caustic, sarcastic groan. She roughs up one of her peers in "Master Hunter," calling her out on her emotional pretensions ("You're not sad, you live for the blues") as Johns beats out a frantic pace on trap set and cowbell. She mourns the fate of her paramour on "Little Love Caster" in gentle vibrato, even as she sings the album's best joke: "I saw a lady dance yesterday/She was easily swayed." Nothing gets past this character.
The second half, coming after a cinematic interlude by Johns, drives Marling through a series of moral inquiries. They're as honest to herself as the first half is to others. She seeks to restore her innocence from a mythic water nymph in "Undine," but can't get past her stoicism to jump in the deep end. She admits to loneliness in "Where Can I Go?" as an Al Kooper-style organ urges her to accept the gift, and in a hopeful moment the music crescendos into her near-acceptance – then decays when no answer is given.
By album's end she's tempted to give in, but can't or won't escape her nature, even if it means she's on the devil's side. She acknowledges what has to happen on "Love Be Brave" ("I am brave and love is sweet, and silence speaks for him and me"). The album's denouement, "Saved These Words," manages some sweetness and hope for the partner in her doomed relationship, but doesn't undermine her defiance. "Thank you naivety for failing me again," she acerbically speaks, "you were my next verse." The album ends with its most exuberant musical clip, as Marling lets go with determination and irresolution while electric guitar and drums chime away. Nothing's been solved, but plenty's been learned.
Marling's past work was frequently compared to Joni Mitchell's early albums, which sets up an interesting contrast. This is Marling's fourth album. Mitchell's fourth album was Blue, the shattering confessional piece where she went for broke, exposing all her vulnerabilities, raw nerves and unrest. Once I Was An Eagle contains all the force of Blue, but goes a different route. The first half contains some of the toughest, least lenient lyrics known to folk music, with Marling shoring up her immunity from naiveté, aware of the cost but more resolved against the pitfalls. The second half questions, grieves and finally comes to terms with her willing sequestration and her world-weary, knowing voice. It resists sympathy, but it's authentic about how things play out in this world. In turn, the voice garners respect and a unique empathy. Unlike sympathy, empathy doesn't come cheap.
That honesty is one thing Once I Was An Eagle has in common with Blue; the other is that it's a thrilling, revelatory, superb work.
---
Label: Ribbon Music
Year: 2013
---
Similar Albums:
Paul Pearson
Paul Pearson is a writer, journalist, and interviewer who has written for Treble since 2013. His music writing has also appeared in The Seattle Times, The Stranger, The Olympian, and MSN Music.