Life on Shuffle: Extended Play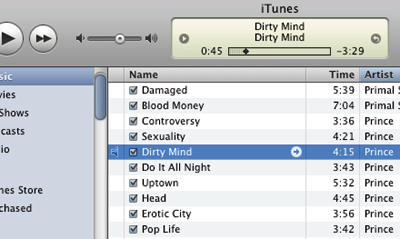 Just a few weeks ago, I explained to my brothers my need to get away from indie rock. When I say `get away,' I don't mean abandon, but rather seek horizons beyond its narrow constraints. When Treble began, it happened primarily because of an intense interest in, what else, indie music. And that hasn't changed. Yet, in the past five years, indie rock became less, well, indie. There was once a time when no commercial radio station in the country would play a Spoon song. Now, that Austin band (still the best in the land) is in regular rotation.
Yet while I continue to hold bands like Spoon and The Arcade Fire to high esteem, I've found myself more than a little disappointed by a great number of bands that, by most accounts, I'm supposed to like. I got burned by Islands album, which was essentially a nine-minute masterpiece, a handful of good singles, and 30 minutes of half-assed studio goofs. Then there was that disappointing Shins album. And the disappointing Interpol album. And the disappointing Rilo Kiley album. And the bitter realization that Stephen Malkmus will never make anything as good as he did with Pavement.
I probably sound grumpier than I should, but it's because of this negative outlook that made me gasp for a breath of fresh air, not in order to escape from indie rock, but to better appreciate it. While the albums mentioned in the prior paragraph were, in fact, major disappointments to me, my own suffocation by scruffy lo-fi pop songs compelled me to speak ill of bands like Tapes `n' Tapes and Clap Your Hands Say Yeah—and I like those bands.
So, as I was discussing this need for musical expansions, my brethren understood right away my need to delve into hip-hop, metal and experimental sounds on a semi-regular basis—I need a palate cleanser. With that in mind, I wanted to make an entire palate cleansing course, 8 ounces of prime iPod randomness, rapidly stimulating my brain cells in an attempt to better adjust my ears to any new sound that comes their way.
I'm doing this for the better of my relationship with albums I like. Consider this a therapeutic retreat—a continuous flow of 25 songs, designed to cleanse my palate, my aura and leave me feeling better about myself, and my music, in the end. Perhaps I'll learn something about myself in the process.
A Place to Bury Strangers – "I Know I'll See You"
I see no better place for my open-ended playlist to take me than to a band fresh in my mind from a recent live performance. A Place to Bury Strangers is an intense band, dark and moody, but, and I'm sure you've all learned this by now, really loud. This song in particular is a favorite because, rather than sounding like The Jesus And Mary Chain (to whom the band is compared ad nauseum), it reminds me of The Cure, who are way too underrated in hipster circles. Any band that can write something in the same league as Pornography is okay in my book, and APTBS is certainly on the right track.
Download at
The Delays – "Stay Where You Are"
One of the things I love about `Life on Shuffle' is how it can bring me back to a band or song that I had completely forgotten about. The Delays are a perfect example, a band I haven't listened to in a few years, most likely, though Faded Seaside Glamour was one of my favorite albums of 2004. This track makes a great transition from the A Place to Bury Strangers song, as they seem to be opposite sides of the same coin—ethereal effects, '80s influenced sounds, but in this case, more Stone Roses or Cocteau Twins than Cure or JAMC.
Download at
Xiu Xiu – "Bishop, CA"
Then again, shuffle can be downright disorienting. Maybe it's the sequence of songs in a row, or maybe it's just Xiu Xiu. I like this band a lot, really I do, but sometimes you really have to be in the right mood for Jamie Stewart's disturbed bedroom goth. This song is one that's emotionally exhausting to get through, its whisper-quiet dirge and lyrics of sexual abuse setting the listener up for jarring blasts of organ and an eventual coda of catchy, nonsensical refrains. It's a great song, but I'm not sure I could take more than one of these every 25 songs.
Download at
Stevie Wonder – "I Wish"
Now there's a palate cleanser, Xiu Xiu to Stevie Wonder. Damn! This is exactly the kind of insane, random transition that gets me excited. After three songs, I'm prepped for maximum mopeyness, but Stevie comes and changes all of that. You can't fight the good feeling that comes over you while this song is on. I don't even try.
Download at
Kanye West – "Touch the Sky"
Now here's a transition that makes sense, from a classic soul song to a recent favorite with a classic soul sample. Evel Knievel may have had his beef with Kanye over the video, but I find no fault with this feel-good jam. As an added bonus, the song features Lupe Fiasco as well, showcasing his skills a good year before releasing his debut Food & Liquor.
Download at
Justice – "Genesis"
It would probably seem more logical for Kanye to segue into Daft Punk, but why not switch it up with the next generation of French house music and usher in Justice's dirty cut-and-paste grooves instead. Justice got pretty big pretty quickly, and it's easy to see why. When dance music rocks this hard, everybody wins.
Download at
El-P – "Lazerface's Warning"
From soul to hip-hop to electro and back to hip-hop again; I'm thinking the iPod is done with sensitive guy music as well and just wants to party. Of course, El-P doesn't feel like as much of a celebration as Kanye West does. This track from Fantastic Damage is distorted and dark, which are two traits Jamie Meline does particularly well. I've already used the word `underrated' once in this feature, but I'll use it again, because that's what this album is.
Download at
Nelly Furtado – "Promiscuous"
Seriously, Mr. Pod, you just want to get freaky, now don't you? I've already gone into my adoration of Nelly Furtado, so this jam coming up on shuffle should be no big surprise. In the company of the two mega-heavy tracks that precede it here, this song needs to be able to hold its own, and thanks to Timbaland, it certainly does. Apparently having gone on record as having used steroids, Timbaland juices up this song as well with big beats and synthesizers, which just keep this party going stronger.
Download at
Radiohead – "Punchup at a Wedding"
Okay, now we're starting to slow down a bit, but for Radiohead, this is still pretty funky stuff. Considering I have six of Radiohead's seven albums uploaded on to my erratic portable device, sheer odds would dictate that at least one would enter this marathon sequence. That it was this one was a lucky break, as those bassy grooves merely perpetuate the danceable atmosphere that the last round of songs already established.
Beirut – "The Canals of Our City"
Huh, okay. Well, I got down while the getting was good, but it appears I've gotta check back in with my indie pop collection. Beirut seems to be in fine shape, this short, simple track from Gulag Orkestar revealing Zach Condon's songwriting skills with a few horns here and there, but fairly minimal orchestration overall. Sometimes elaborate arrangements can get distract from one's flaws, but in this case, the kid definitely shows his stuff without getting too fancy. But still, I think I need just one more jam before I settle into more slow material like this…
Download at
Herbert – "Something Isn't Right"
Aha! Yes, this will do nicely. Matthew Herbert is an interesting character to me, not just because of his use of really strange objects for samples, but also because of his refusal to use existing songs as source material. It's almost as if he's extending his middle finger to the DJ community, but at the same time, he's in a league of his own with his amazing variation on house music, if you can even call it that. This is more soul than anything, and a song that I keep coming back to, whether planned or not.
Download at
The B-52's – "Lava"
If there's a band that should be mandatory at every social gathering, it's the B-52's. They're pretty much as fun as music can get, especially on their 1979 debut album. I like telling people that "Rock Lobster" is one of my favorite songs (and it really is), because it always comes as something of a surprise. I don't know why, maybe I don't come off as that silly initially. No matter, this song, from the same album, is just as fun and rockin'.
Download at
Beulah – "My Side of the City"
For some reason, I've been reading a lot about Beulah lately, though not because there's any news about the band. Miles Kurosky has a solo album coming out at some point, though there's nothing concrete about that at the moment. In any case, while they were together, Beulah made some breathtaking tunes. Yoko is a classic in my book, for many reasons, and this song definitely helps its cause.
Download at
The Decemberists – "Grace Cathedral Hill"
Okay, now it would appear that I'm ready to settle back into something slower and easier on the hips. For some people, The Decemberists are exactly the kind of band that could turn one away from indie rock. While I could understand that (maybe the stuff about mariners' revenge and Billy Liar get out of hand), I'm of the opposite opinion. They're a band that I sought out upon hearing a few samples of Castaways and Cut-Outs (back when they were on Hush, that's how twee I am…or something) and I've been hooked ever since. "Grace Cathedral Hill" still floors me. It's a stunning song, beautiful in melody and lyrically. Colin Meloy sings of a day spent in San Francisco over a breezy folk tune that's simple, but perfect. I could probably stop here and be satisfied.
Download at
New Pornographers – "Falling Through Your Clothes"
Wow, haven't heard this one in a while. Twin Cinema was a good one, too. I should probably put that one on again soon. I saw The New Pornographers just last fall and they put on a damn fine show, but didn't play this song. And when I saw them just after Twin Cinema came out, they didn't play it then either. Maybe it has something to do with the chop-ups and looping of hooks, making for a difficult sound to recreate live, but I'd like to see them at least give it a shot.
Download at
Prince – "Dirty Mind"
While this shuffle session is beginning to balance out into shorter intervals between danceable songs and ballads (or at least songs that are hard to dance to), it would appear that I'm being pulled toward some kind of disco utopia. And that utopia would require a steady influx of Prince. "Dirty Mind" is a good start—sexy, funky and simple, a classic slice of His Purple Badness.
Download at
Jens Lekman – "Shirin"
Now here's a pretty one. Jens Lekman never fails to come up with sweet melodies and clever little tales, often autobiographical, to adorn them. This one, about his hairdresser, who actually served in the Iraq War, is hard to top. In fact, I could have picked four or five songs from Night Falls Over Kortedala to place on my 2007 year end list, this being one of them, but you have to draw the line somewhere I guess.
Download at
The Twilight Sad – "And She Would Darken the Memory"
More distortion and reverb heavy indie rock, this would have actually been great in the first half of the shuffle, but I suppose that, in my experiment here, this is less about patterns and perfection and more about being thrown for a loop. This Scottish group has some great songs beneath their awesome wall of effects, this being one of the absolute best.
Download at
Vampire Weekend – "I Stand Corrected"
Going back to my original statement, about me needing a break from indie rock and all that, I find no better way to illustrate this point than with Vampire Weekend. The hype surrounding this band is so stifling that I didn't even want to like them. I pretty much decided that I didn't care, based on non-stop Internet rumblings and "Cape Cod Kwassa Kwassa," which I really didn't like that much at first. But then I heard "Mansard Roof" and "Oxford Comma" and "A-Punk," and, well damn, these guys are pretty good. In fact, they've released one of the best albums of the year, with this song being one of the best on that very album. Sounding more Walkmen than Paul Simon, here's one instance where, done with the right care, a fairly straightforward sound can be unstoppable.
Download at
Stars – "My Favourite Book"
I hesitate to say that Stars' last album was a disappointment, because I really liked it. It just maybe had two or three too many songs. This one, however, was one of the songs that kept bringing me back to the album. Just some great organ and flute grooves, Amy Millan's sexy vocals and a catchy chorus is all you really need for a great song.
Download at
Q & Not U – "Wonderful People"
If I could direct more people to Q & Not U's music, I would. In fact, that's exactly what I'm doing right now. They went from abrasive post-hardcore to mega-funky dancepunk, the kind that most NME cover boys only dream about making. Q & Not U got it right though. Here's the proof, a big fat sandwich of bassy synthesizers, falsetto vox and guitar scratches.
Download at
Girls Against Boys – "Anotherdroneinmyhead"
Another D.C. post-hardcore act, one that doesn't get as much recognition as they deserve. I'm sounding like a broken record now. Let's just rock out, shall we?
Download at
Slaraffenland – "Watch Out"
Here's a great band that likely slipped under many folks' radar last year. Sort of a Danish take on Mogwai's post-rock intensity, Slaraffenland was an unexpected and invigorating listen when it arrived. "Watch Out" is a lengthy and complex tune, not giving easy way to catchiness or hooks, but good music isn't necessarily supposed to be easy. Sometimes it needs to challenge you in order to be appreciated.
Download at
The Faint – "Total Job"
I still wonder whether or not I should consider The Faint a guilty pleasure. Their records provide me with no shortage of listening pleasure, and yet, a part of me still thinks that kitsch is part of the appeal. If that were really the truth, though, I would have gotten sick of them long ago. As it is, they're not for everyday listening, but then again, what is? Eh, whatever. I dig these guys, just fine.
Download at
Beirut – "Mt. Wroclai"
And, oddly enough, we finish off with another Beirut song. "Mt. Wroclai" has the biggest chorus on Gulag Orkestar if not the biggest sound overall, and it brings this long, intensive session to a close with drama and grandeur. In the process, I learned that I still love indie rock as much as I ever did, but hip-hop, soul, dance music, new wave and funk sometimes need to intervene in order to maintain a healthy outlook and not let my ears fatigue from the sounds of guitar jangle and imperfect, nerdy male voices.
Download at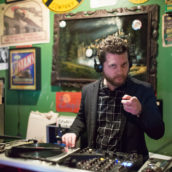 Jeff Terich
Jeff Terich is the founder and editor of Treble. He's been writing about music for 20 years and has been published at American Songwriter, Bandcamp Daily, Reverb, Spin, Stereogum, uDiscoverMusic, VinylMePlease and some others that he's forgetting right now. He's still not tired of it.