Los Campesinos! : We Are Beautiful, We Are Doomed
While every once in a pink flag a band will come along and create music years ahead of their time, the vast majority of artists are doomed to repeat the past. Some of them may be `classicist', some maybe paying homage, others just merely dated. But it's a particularly rare band that sounds very much of the present. Some groups, like Crystal Castles, perhaps, seem tied to current hipster trends, perhaps, but the 8-bit sequences in their music suggest an inherent nostalgia. But Los Campesinos! is a band that could only exist right now. Their post-twee, post-emo, high fructose indie cheer is slightly obnoxious enough to not be a Postcard Records tribute act, and yet their endearing humor keeps them from ever truly being obnoxious. What's most interesting about Los Campesinos!, however, is that their evolution is quite visible. In fact, you can almost watch while it happens.
We Are Beautiful, We Are Doomed is an album that could only exist right now. Or to be more specific, We Are Beautiful, We Are Doomed is an album that could have only been released by Los Campesinos! right now. It's a slightly more mature and complex work of art than Hold On Now, Youngster, if not as immediate and giddy. Yet it carries an equal share of aural delights, revealing a band that has added subtle new layers and progressions to their already irresistible sound. On Beautiful/Doomed, the Welsh band still spins like a top through 9 overwhelming tracks, yet hand crafts considerably more intricate ear candy than before and with a touch more wisdom, and a twinge of bitterness.
When Gareth sneers "at least I've come to terms with my own mortality" on leadoff track "Ways To Make It Through The Wall," he seems to take a step away from the giddy stationery sex-chat from earlier this year, though the buoyant pop underneath tells a different story. "Miserabilia" begins humbly and mid-tempo, until Gareth's distorted whisper about urinating in garish Mexican restaurants kickstarts an enormous coda, marked by an "Undone-The Sweater Song" riff on steroids and the deliciously cathartic scream "shout at the world, because the world doesn't love you!"
The title track could almost be mistaken for Andrew Bird, were it not for the accents. Yet where Bird would coolly dish out witty wordplay, Gareth spits high-speed venom too clever to be angry, too angry to be funny. In one instance he declares, "absence makes the heart grow fonder/ fondness makes the absence longer," yet aims his jabs more directly as he sings, "You say he got his teeth fixed/ I'm gonna break them." And as he laments "all I ever get is another stupid ringtone" in "It's Never That Easy Though, Is It?", the frustration becomes all the more palpable. Yet it's only in "You'll Need Those Fingers For Crossing" in which Gareth's voice reaches a near breaking point, his exhausting emotional peak arriving shortly after he mentions a "soft-porn version of the end of the world."
One could easily take the title of We Are Beautiful, We Are Doomed quite literally, as most of the songs therein make up equal parts sex and death in some way or another. While that, in itself, isn't a dramatic change from their previous album, the cynicism seems to have amplified a bit. If Hold On Now, Youngster was carefree youthful fun, We Are Beautiful is the escalation into teenage angst. That probably sounds absolutely unbearable, but Los Campesinos! have managed to create some of their most impressive and most accomplished work through this evolution.
Similar Albums:
Andrew Bird – Armchair Apocrypha
Love Is All – Nine Times the Same Song
Shout Out Louds – Howl Howl Gaff Gaff
MP3: "We Are Beautiful We Are Doomed"
Download at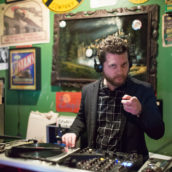 Jeff Terich
Jeff Terich is the founder and editor of Treble. He's been writing about music for 20 years and has been published at American Songwriter, Bandcamp Daily, Reverb, Spin, Stereogum, uDiscoverMusic, VinylMePlease and some others that he's forgetting right now. He's still not tired of it.