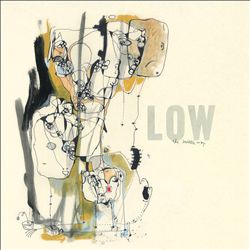 Low isn't known for their expediency. Since the release of their debut, I Can Live In Hope, the band's style has been dubbed "slowcore," much to their chagrin. Yet given their tendency to lean toward a slower and steadier pace, productivity-wise, they've managed a pretty steady stream of music at an average clip of about one every two years (despite the four-year break after 2007's Drums and Guns). Right on schedule comes the Jeff Tweedy-produced The Invisible Way, which follows 2011's stellar C'mon. And while The Invisible Way offers the classic Low sound, it also introduces some new surprises.
"Plastic Cup" opens the record with striking call-and-response dual vocal harmonies between guitarist Alan Sparhawk and drummer Mimi Parker. The shared vocal duties, a benchmark of the Low sound, are scattered throughout the record, but the harmonizing between the two singers sounds much more intimate on The Invisible Way than it does on past releases. "Waiting," again, sees the duo feed off of one another, and in the process, they create an unforgettable minimalist masterpiece. With "So Blue," the band parades through a series of crescendos that builds the tension to near breaking points while showcasing their mastery of dynamics.
Mimi Parker steps to the forefront only slightly less than Sparhawk, taking on lead vocals for a handful of The Invisible Way's tracks, the most effective of the bunch being the haunting track "Holy Ghost," highlighting contemplative spiritual leanings and sparse instrumentation. With "Clarence White," Parker introduces a sound akin to handclaps to compete with her snare drum, giving the song a feeling of live warmth in spite of its somber presentation. "On My Own" begins as an acoustic track that slowly builds to include full instrumentation, replete with percussive flourishes before a crushing wall of distortion wipes out the serene soundscape that came before it. It's a welcome reminder of the band's seminal 2005 effort, The Great Destroyer, and serves as a poignant connector for new Low fans.
The Invisible Way is a generous slice of the minimalist rock that Low has perfected. While it should please longtime fans (and garner some new ones), what really makes The Invisible Way stand out is the attention to detail. Each note is played with such extreme precision, every melody and harmony playfully dances off one another and delicately crafted performances subsist throughout. Perhaps these meticulous nuances are a result of working with the enigmatic Jeff Tweedy, but more likely, it's the result of a band that has expertly honed their sound for the better part of the last two decades.
Similar Albums:


Cat Power – The Greatest


Sun Kil Moon – April


Wilco – Yankee Hotel Foxtrot