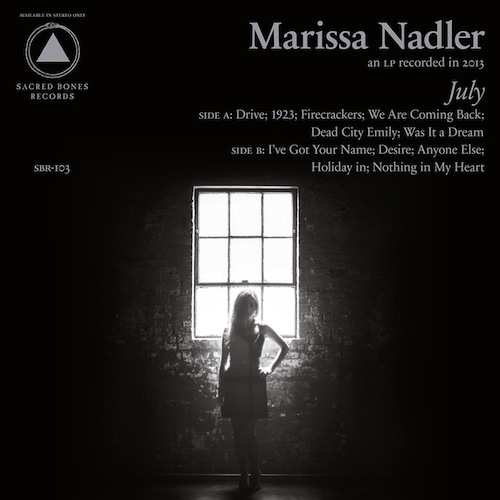 Buy at iTunes | Buy at Insound (vinyl)
Marissa Nadler's music is bittersweet. It's demonstratively sad, and yet so, so beautiful. For the entirety of July, Nadler feels close to you, singing with a mezzo-soprano voice that could melt ice or set fire to a brick building, searing over her gently ringing finger-picked guitar licks. It's a mixture of folk and dream pop wrapped in ambiance that can either make you shed tears or scream at walls. For me, it's 47 minutes of never-ending thoughts about every girl I've ever loved to the core of my bones.
Still, relationships fade, and so does July. But it always comes back. On "1923," Nadler sings of a letter that was sent during that year in history. "Some things never change, be it a river or your name," she sings. "I called you from another century to see if the world had been kind and sweet." Later she sings, "Baby come back to me," hitting an emotional high that's fronted with crisp production from Randall Dunn, who is known for working with considerably heavier acts such as Earth, Sunn O))), and Wolves In the Throne Room. Despite those post-metal chops, Dunn has helped Nadler reach her own peak of sorts. However, July doesn't really rock; it sways in loss, sadness, and hope.
"Drive" opens July with a concept that all music lovers understand — driving a vehicle to the tune of our favorite music. In the U.S. in particular, we drive so much that we may take it for granted, but there's "nothing like the way it feels to drive," she sings. "Still remember all the words to every song you ever heard." Indeed, when that song comes on during a car ride, alone, we sing out loud for no one to hear. In that moment, we can all be free. But it's hard to sound even more open than Nadler does on July. Sometimes, I wonder if she's even really there, tangible and breathing. The whole album is contradictory; she sounds so alone, but ultimately ready to take off for the heavens. During "Firecrackers," Nadler even laments, "Baby, I'm a ghost when you're away."
July is great, but much better when you close your eyes. You'll have visions, which are only heightened by Nadler's descriptive lyrics. Her vocal harmonies are serene and immersive, soothing and therapeutic. Nadler has looked at all the time "spent wasted on you," and it may be the shitty weather that has her down, but to hear her sing it, she's got nothing left in her heart. An empty spirit can only be filled with promise, though, and there's more than enough of that based on the sounds on July.
Similar Albums:


Laura Marling – Once I Was An Eagle


Kate Bush – 50 Words For Snow


Grouper – The Man Who Died In His Boat