Mark McGuire : Our Family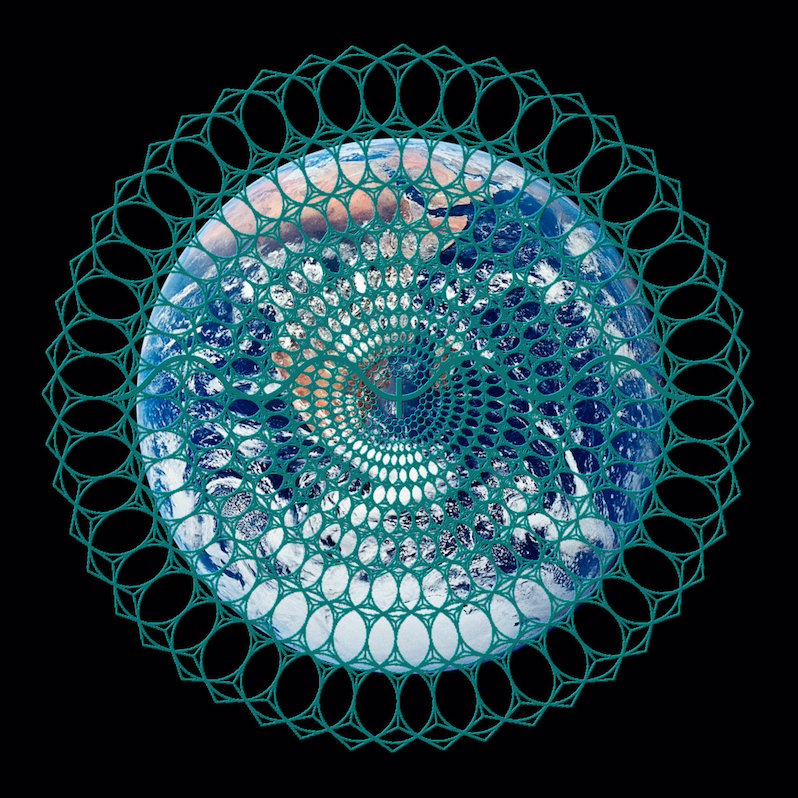 It's been a fascinating journey watching the evolution of guitarist Mark McGuire in the years since the dissolution of Emeralds, the trio through which he, John Elliott and Steven Hauschildt broke through. Their sound in that trio environment had long been marked by the alchemical union of McGuire's dense layers of new age guitars, glistening and draped with reverb, Hauschildt's dense kosmische keys and arpeggiators and John Elliott's deep and often noisy soundscapes. The breaking of the band into its constituent parts seemed destined inevitably given the trajectory of the band's music, separating these components further and further from each other until it became clear even from the outside that the most fruitful development for these players would be pursuing their own paths. And so it was for several years, each of these three producing music that lived comfortably within the broader constellation of Emeralds work and even interlocking well with one another while having their own distinctive flavors and approaches.
As commented before in a review of his work here, 2017's Ideas of Beginnings seemed to introduce the first real differentiating strain to McGuire's work. On that record, he stripped away the psychedelic production and new age gloss that had girded his delicate and deeply melodic guitar playing for years, instead laying bare a series of acoustic numbers that felt more in keeping with the works of someone like Michael Hedges than David Helpling. Our Family extends this conceit further; its first half contains several pieces that are out-and-out singer/songwriter guitar pieces, feeling almost more in the company of John Mayer and the like. Thankfully, similar to Mayer's own critical reevaluation, these pieces are satisfyingly complex on a compositional level while still containing great sweetness for the ear. They are not disarming by their content, which is well-arranged and well-played, but by their mere presence. This is, to be blunt, not exactly what one would expect when pressing play on a record by a former member of Emeralds.
This seems, however, to be largely the point. There is no sense of being ashamed of that legacy nor of the continued work his peers from that group have carried on with; the back half of this record, in fact, gradually ups the density and opacity of the lush psychedelic new age swirl of melodic guitars and rich harmonies in a way that feels quite commensurate with the ongoing work of Hauschildt in particular. It reads instead like an individuating statement, a sense of aesthetic ownership, producing something that none of the others ever would and thus belongs fully and completely to McGuire. Likewise it's satisfying to hear material that fully indulges in guitarisms, often a dirty word in certain independent music spaces but something a maturing instrumentalist one day reconciles themselves against. There is a particular guitarishness to the way those acoustic guitar-driven songs are constructed, feeling less concerned with the guitar as a vehicle to sound but instead with the guitar-qua-guitar. This is especially satisfying to see in a player like McGuire, who has proven more than capable on the instrument.
Still, while it is satisfying to hear those different directionalities and tantalizing to imagine the spaces they may develop into, it is on the backhalf of this record where he returns to kosmische that McGuire produces the most compelling material. It is easy to imagine that one day soon, material in different forms from him will no longer feel like detours and will instead be able to command a more concentrated attention, but as of Our Family, it is still clear where his greatest talent lies and best thoughts are manifested. The addition of vocals in those earlier tracks in particular feel more like the obvious road forward, finding space to integrate his singing voice into more and more segments of his compositions regardless of the genre context. Hopefully we get there. He is, after all, one hell of a player.
---
Label: Self-released
Year: 2021
---
Similar Albums:
Langdon Hickman
Langdon Hickman is listening to progressive rock and death metal. He currently resides in Virginia with his partner and their two pets.