Matthew Herbert & The London Contemporary Orchestra : The Horse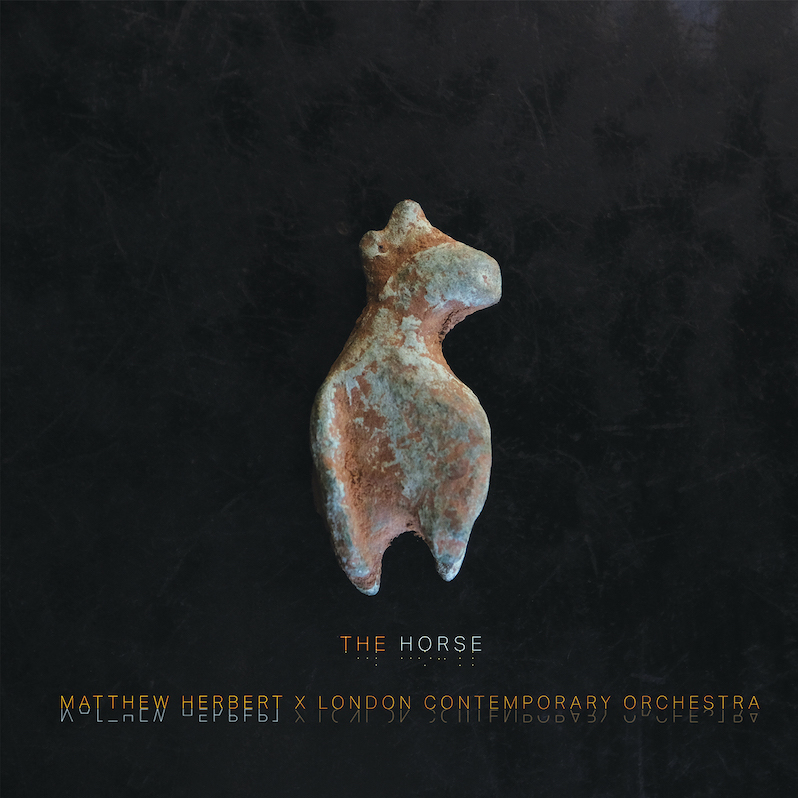 There just aren't enough experimental electronica albums recorded in collaboration with jazz musicians and an orchestra on instruments made out of a horse skeleton. This is the elevator pitch for Matthew Herbert's deeply strange but powerful new album The Horse. The eccentric Brit has a long-held penchant for crafting releases around unusual central conceits. His excellent 1997 release Around The House uncovered warm house beats in intricate samples of household appliances, while 2019 full-length The State Between Us crafted doom-leaden big band music themed around the Brexit referendum.
Along with some strong soundtrack work on three films by Chilean filmmaker Sebastián Leilo, Herbert's greatest achievement within the last decade or so is 2011's One Pig. An extraordinary and disturbing sonic journey through the life of a pig, its abrasive electronics and organic field recordings make an intriguing counterpoint to The Horse. These 15 tracks are like the hollowed inverse of One Pig. Where that album moved through an animal's life trudging inexorably towards death, The Horse reanimates its central subject, whereupon it reveals depths of memory history—both equine and human.
It's a long, sprawling work that earnestly and admirably attempts to chronicle the myriad uses of horses across human history. The album's start and end points fabulously elucidate its scope. Opener "The Horse's Bones Are in a Cave" takes us back to the origins of our shared past. Bones rattle as if scattered underfoot, dissonant flutes whistle in shamanistic fervor. It's truly primeval stuff, reflecting the earliest human art, which frequently depicts horseback hunts. Closer "The Horse Is Here" travels to a pastoral idyll built on tranquil ambience, gentle whinnies and Jon Hopkins-esque pianos. It's heartbreakingly pretty and a reflection of what a more ecologically harmonious future could look like.
Unlike these bookends, The Horse doesn't move in a strict chronology. Instead, it dips into varying tones that reflect specific interactions between humanity and horses. The 9-minute "The Horse Is Prepared" is a glorious and reverential piece, one that conjures images of an animal being ritualistically prepared by an indigenous culture. Most beautiful is the similarly-long "The Rider (Not The Horse)". This kinetic piece ripples with gentle but sturdy motion, like a rider galloping across the grassy steppes. Its lush chimes recall the work of Pantha Du Prince, layering a glittery grandeur atop its transcendent sense of movement.
Beyond the beauty, there are also moments of darkness. "The Horse Remembers" is fired by panic-inducing staccato strings, "The Horse Is Put To Work" bounces with more than a glimmer of menace, while "The Horse Has a Voice" similarly bounces towards a frightful crescendo. The rhythms of these tracks seem to mirror the grind and ever-increasing speed of industrial society, of which horses played a vital foundational role. They blur the line between the organic sounds played on the skeletal instruments with modernist strings and heavy bass, reflecting the fusion of machine and horse.
It's hard not to be taken in by Herbert and his collaborators' ambition. Herbert himself supposedly sourced nearly 7,000 samples for use here, along with field recordings made near Spanish cave paintings and hand-made instruments including, I kid you not, a shaker made out of cement and horse semen. These eccentricities won't be endearing to everyone. However, tracks like the truly-resplendent "The Rider (Not The Horse)" are pieces of cinematic-scaled art that should leave any listener in awe of their ambition and emotional power. The Horse is undeniably odd, but canters with a unique and compelling gait.
---
Label: Modern Recordings
Year: 2023
---
Similar Albums: