Mekons : Fear and Whiskey
"I was out late the other night/fear and whiskey kept me going/I swore somebody held me tight/but now there's just no way of knowing."
This opening line of "Chivalry" may sound like the sort of drunken rambling of a country troubadour, and in a manner of speaking, that would be an accurate statement. After more than half a decade as agitated Leeds punks, having been spawned from the same scene that birthed Gang of Four and The Au Pairs, The Mekons released the album that would go down in history as the first "alt-country" recording, Fear and Whiskey. Considering the genre is commonly viewed as a genuinely "American" one, it's almost ironic that the first band to get it right was English.
Just to be clear, Fear and Whiskey doesn't sound like most alt-country albums released by American bands. In fact, it shares a good many qualities with another fiddle-happy drinking album released in the same year, The Pogues' Rum, Sodomy and the Lash. And it doesn't quite have the dusty rootsy quality of Uncle Tupelo's classic albums. A more fitting description for Fear and Whiskey might actually be cowboy punk, though some may point to The Meat Puppets, whose sound is something quite different than that of the Mekons. Punk for cowboys maybe? I'm at a loss.
A glance at the cover art might bestow some insight where words fail—a long, desolate landscape unfolds, a straight, yet seemingly endless road pointing toward the horizon, and at the end, in sight but still some distance away, is civilization. The road is a washed out blue, the sky is pink, and the surroundings a blackish purple. Surreal, sure, but no matter the garish colors and feeling of vertigo, there is the all-too-familiar sight of a desolate path. And The Mekons tread upon this pink and blue weather-beaten path in typical fashion, completely drunk and with as many people in tow as humanly possible. Fear and Whiskey may have all the signs of a teary-eyed and dust-covered country album, but as performed by a sloppy bunch of rabble-rousing drinking buddies.
Observe "Hard to Be Human": ragged power chords, howling harmonica riffs, and strange vocals about being followed by Oliver Cromwell, being punched and beaten, and not knowing "when I'm coming home." It's patently British, but with all the markings of a great outlaw country tune. Narrative tracks like "Psycho Cupid" and "Trouble Down South" are significantly more bizarre, essentially spoken word experiments, but such was the pattern of The Mekons. Irreverence is a prerequisite.
"Darkness and Doubt" is a slow-moseying western ballad, one of the closest to a traditional country song, and with a node to the Duke: "Over the horizon/I saw John Wayne ride/darkness and doubt/followed him about." Side two marks a notable difference in sound and in tone from the first. For starters, its five songs were recorded in mixed in one day, and the reckless spirit of the sessions is evident in the hard rocking tunes. These tracks sound considerably more like familiar alt-country territory, and The Pogues. "Flitcraft," the first track on side two, waltzes in a spike-studded square dance, climaxing in Jon Langford's mug-raising refrain, "it's no accident I changed my name/Long Dead Slim." "Country" rocks in a straightforward manner, while "Abernant 1984/5" sounds even more like the sort of Irish drinking clamor that Shane McGowan would be famous for at the time. "Last Dance" is a major standout, Susie Honeyman's fiddle providing an upbeat harmony against the jangling guitar chords, making for a song that stands up to much of the period's best college rock staples. It thoroughly rocks, and what's more, in contrast to much of the album's more political leaning tracks and rip-roaring anthems, is a love song, an actual infatuation, as opposed to the hopeless drunken search for a mate in "Chivalry."
The album closes with "Lost Highway," a song made famous by Hank Williams, and the band's cowboy punk opera wraps up with a ragged, reasonably faithful traditional tune. At the time, country wasn't viewed positively in the punk scene, and was consistently tagged as a "conservative" music. The Mekons, however, knew this not to be necessarily true, being fans of the outlaw country of Johnny Cash, Merle Haggard and George Jones, who were often as anti-authority as The Mekons' peers. Though no distinct theme runs through the ten songs on Fear and Whiskey, it does stand as the band's best work, and a unique album. It may have been the first alt-country album, but no band since has so powerfully fused fiddles and fuck you.
Similar Albums:
The Pogues – Rum, Sodomy and the Lash
Waco Brothers – Cowboy in Flames
Camper Van Beethoven – Telephone Free Landslide Victory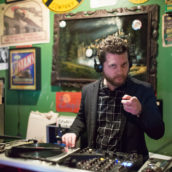 Jeff Terich
Jeff Terich is the founder and editor of Treble. He's been writing about music for 20 years and has been published at American Songwriter, Bandcamp Daily, Reverb, Spin, Stereogum, uDiscoverMusic, VinylMePlease and some others that he's forgetting right now. He's still not tired of it.