Mitski : The Land Is Inhospitable and So Are We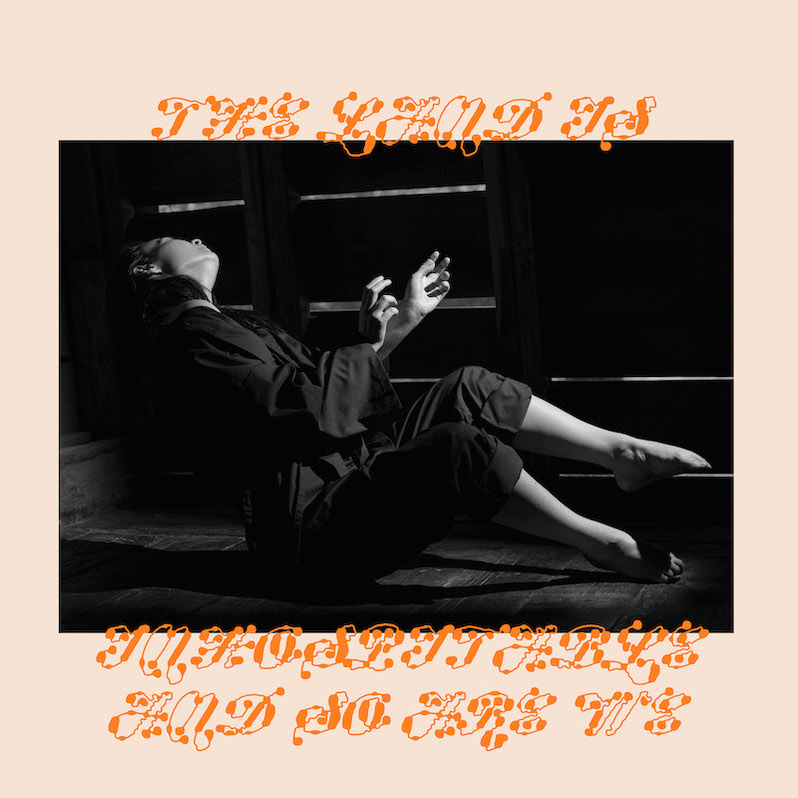 During the 2019 tour for her fifth album, 2018's Be the Cowboy, Mitski practiced with a dance choreographer to create unconventional dance moves inspired by Butoh, a Japanese avant-garde style of dance theater. Butoh dancers paint their bodies white and slowly dance with deliberate, awkward movements to express universal extremes of joy and pain. Mitski's own interpretations can be seen in her video for "Working For the Knife," from last year's Laurel Hell. She puts her hands in front of her, palms out, as if to block whatever evil comes her way. In another scene she passionately licks a wooden banister. Both moves represent those utmost passions that she wanted to express. Instead of a sharp instrument, the knife in this song becomes a blunt object that rips her soul into jagged strips.
On her seventh album, The Land Is Inhospitable and So Are We, Mitski cuts open yet more wounds in search of a safe place to heal in a rapidly changing world. Amid the dark imagery on the album are signs of hope, which Mitski clings to across a mere half-hour of music in 11 tracks. To find that hope, she looks in other realms, to the American buffalo, which are vanishing all too quickly, in everyday weather phenomena, and in the supernatural. The album title suggests a barren existence of earth and calls out humans who have made it so through industrialization and expansion, toxicity and crime, America is called the Land of the Free despite that not being true for everyone within it.
In a change from the electronic rock, pop and dance-oriented feel of Laurel Hell, the album settles into a dark, carefully electrified country music landscape where she ponders love and its conventions. The album is more serious in tone and instrumentally, orchestrally lush, from a lonely flute to an endearing fiddle to a warming pedal steel. Her soul bounces around the album as if in purgatory. She embodies endangered, caged animals—her soul at one point becomes a sad bird—and portrays herself as an unfeeling, deceitful man. The song "Buffalo Replaced" sees her as a relic being fossilized by westward expansion and our reckless regard for nature.
Elevating an insect stuck on the bottom of a glass to something supernatural in opener "Bug Like An Angel" is a pretty big jump to make, yet it feels natural. The nearly overpowering single-word chorus line ("Family") initially sounds harsh and out of place, but eventually becomes a comfort, a lifeline over repeated listens. The waltz-style "Heaven" has a more conventional country feeling. Mitski embodies the life that moves around her (bending "like a willow" or becoming a "murmuring curving brook") as she waits for her love to return. But then the images becomes lost in the orchestral coda.
"I Don't Like My Mind" is what happens when Mitski's world stops and regrets fill the void. She subverts the joy of eating cake and begs to keep her "job," which may hint at her previous plans to quit as a musician. But her storytelling goes deeper than the physical world. She goes for a walk at midnight to rendezvous with the devil In "The Deal." In her numbness, he takes her soul. She slows down the tempo to shift into this new reality, and then is told "You're a cage without me / Your pain is eased but you'll never be free." There's nothing left for her to do except to warn others of her mistake.
Imposing, dramatic piano notes and angelic voices on "When Memories Snow" juxtapose with daily errands and a buildup of aching thoughts. Another grand coda led by French horn, trumpets, cellos and woodwinds ends the brief song. "My Love Mine All Mine," is an understated love ballad, and the mournful chorus on the muffled, acoustic "I'm Your Man" clashes with the sounds of dogs circling in the background. "The Frost" offers a feeling of anonymity. The loss of her best friend makes her "witness-less," and breaks her frayed connection with the outside world.
Mitski has had a troubled relationship with her public image and separating that identity from her personal life. She's been open about fears that her fame as a musician would wind up destroying her. On the last day of her Be the Cowboy tour, Mitski planned to step away from her music career, which had been on an accelerated upswing ever since 2016's Puberty 2—so titled to signify the body's transition into adulthood—brought her widespread acclaim. The Land is Inhospitable and So Are We represents her reconciliation with her role as artist, while offering safe harbor as she navigates her own demons.
---
Label: Dead Oceans
Year: 2023
---
Similar Albums: