My Bloody Valentine : EPs & Rarities 1988-1991
Kevin Shields has suggested on numerous occasions that, despite 20 years of no new music (save for a Wire cover and some remixes), he never really stopped working on My Bloody Valentine material. How one chooses to parse out what counts as continuous work and how long an interval has to be before it's considered a hiatus is a matter up for debate, but as of yet, no follow up to Loveless, not even an EP, has surfaced as of yet. The two-decade delay is practically comical at this point, it's easy to forget that My Bloody Valentine once was a band that operated in a relatively normal fashion, issuing full-length albums, singles and EPs at a fairly standard rate. What's more, for a four-year period between 1988 and 1991, essentially everything the band released was phenomenal.
In their earliest days, My Bloody Valentine were playing Cramps-style psychobilly that did them few favors in terms of record sales or critical acclaim. Once they discovered effects pedals, however, the band, despite holding onto their horror-flick inspired name, started a process of metamorphosis that seems pretty drastic when viewed through their full-length releases. The space between 1985's This is Your Bloody Valentine and 1988's Isn't Anything is a chasm, but when viewed through their EPs, seems more natural and gradual. The New Record By My Bloody Valentine and Sunny Sundae Smile drop the rockabilly punk act for a fuzzy jangle pop sound, while the next two, Strawberry Wine and Ecstasy more explicitly embrace dream pop and shoegaze that would soon become their signature sound.
The real game changer for MBV was 1988's You Made Me Realise. Released only months before Isn't Anything, the five-track EP is a raw and heavily distorted final stage of their transformation, the beautifully harsh culmination of three years of experimentation and growth. The title track, still containing some of the punk edge they began with, was, to date, their most perfectly written A-side, buzzing and throttling with a noisy energy that, despite its overwhelming noisiness, couldn't overtake the hooks it contained. Its brief interlude of noise toward the end only lasts a few seconds, but on stage, the band extended it out to 20 minutes or more, turning a moment of chaotic beauty into an endurance test.
You Made Me Realise is the first of four EPs that, essentially, bridge the period between the band's two groundbreaking and truly essential full-length albums, all of which are collected on the new compilation EPs and Rarities 1988-1991. Two of them, Glider and Tremolo, have been available digitally for a while, while the other two, You Made Me Realise and Feed Me With Your Kiss, have gone in and out of print, the former being reissued in 2009 on vinyl while the latter languished in obscurity for the most part. Having them in one place, remastered no less, makes for a convenient package, as well as a strong summation of the band's strongest period of creativity. Likewise, the handful of b-sides and rarities included make it all the sweeter.
The four EPs are sequenced in chronological order, so there's a clear upward curve in production quality, with the lo-fi sound of You Made Me Realise getting a slight polish once the Feed Me With Your Kiss songs start up. Its four tracks, though essentially castoffs from the Isn't Anything period, are as strong as anything on that record, from the piano-plinking energy of "I Believe," to the fuzzy whoosh of "Emptiness Inside" and drone of "I Need No Trust." Ah, but then, with the drum machine shake and glorious fuzzbox waterfall of "Soon," Glider begins, and once again, a new plateau is breached. The irony of this particular EP is in its name; "Soon" is the real glider, elegant and graceful, while the title track creaks and clunks like rusty cogs in an old factory, serving as a reminder that one of Kevin Shields' strengths, in addition to making noise beautiful, is also making beautiful sounds turn ugly. By comparison, "Don't Ask Why" is remarkably straightforward, while "Off Your Face," despite a gloopy, ghostly intro, is just plain lovely dream pop.
It's only fitting that Tremolo is the final EP in the sequence, as its leadoff track, "To Here Knows When," is one of the band's most beautifully abstract compositions. It flutters in an almost amorphous cloud of melody, only the faintest hint of a beat lingering beneath. By comparison, its companion tracks don't quite measure up to its majesty, though they are pretty damn good in their own right. "Swallow" contains some bizarre effects that turn what are, presumably, guitars into horn-like sounds. "Honey Power," in spite of its freakish riffs, takes on a fairly simple pop progression. And "Moon Song," for all of Shields' efforts to make it sound like it's being performed inside of a cave, is as true to MBV's dreamy, gorgeous aesthetic as anything else here.
Forgive me for burying the lede, but deep down at the end of the compilation's second disc are a handful of unreleased tracks. One of them, the spunky, uptempo "Good For You," has been floating around in lower fidelity form for a few years, a fun and solid track that sounds more like MBV-influenced bands such as The Pains of Being Pure at Heart. The other two, "Angel" and "How Do You Do It," are cut from the same cloth, representative of the band's mid-period creativity and energy, without the density of their Loveless songs. These three songs, while excellent, aren't worth the price of admission alone. What is, however, is the package as a whole, a one-stop source for four essential slices of My Bloody Valentine growth and evolution in gradually varying stages.
Similar Albums:
The Jesus and Mary Chain – The Power of Negative Thinking: B-Sides and Rarities
Yo La Tengo – Prisoners of Love: A Smattering of Scintillating Senescent Songs
Dinosaur Jr. – You're Living All Over Me
Video: My Bloody Valentine – "To Here Knows When"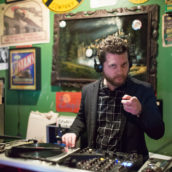 Jeff Terich
Jeff Terich is the founder and editor of Treble. He's been writing about music for 20 years and has been published at American Songwriter, Bandcamp Daily, Reverb, Spin, Stereogum, uDiscoverMusic, VinylMePlease and some others that he's forgetting right now. He's still not tired of it.