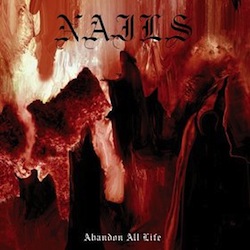 Powerviolence, of all metal or hardcore (sub)genres, is not necessarily the one that I would pinpoint as having the richest or most extensive tradition. In fact, even among music buffs, it would probably be uncommon to find somebody who could define the word (a kind of pastiche of hardcore punk and grindcore) or name a band that played it (Assuck probably being the most well-known). Nevertheless, the future is not yet written, and if there were ever a time for powerviolence to gain recognition, it would be now, alongside the recent resurgence of its two antecedents: hardcore punk (with contemporaries such as Fucked Up, Gallows, Pissed Jeans and Iceage, to name a few) and grindcore (Pig Destroyer and Brutal Truth).
Let me make myself clear, though: I don't think that Nails is trying to fight for popular recognition. In fact, the goals of powerviolence are all but standardized (angry sociopolitical commentary and provocation), and the lyrics of Abandon All Life generally follow along the same lines. They don't want to be told (by the public or by me) that they're good; they want to call out shit that they see and pass judgment themselves, e.g. on "Absolute Control," where vocalist Todd Jones screams, "Absolute control / Manipulated / Segregated / Do as you are told / So pathetic."
That isn't to accuse Abandon All Life of being a pure genre piece, devoid of ambition. With some sharp production from Kurt Ballou (his second impressive production credit this year, in addition to Kvelertak's Meir), Nails is able to achieve a few feats; first of these is compiling approximately 19 minutes of some heavy, heavy music. In Southern Lord's press release, the label claims that the album is influenced by Suffocation, early Nasum, and Celtic Frost (which stands out in the doom-ier portions, like "Suum Cuique"). That's all fine, but the best stylistic touchstone for Abandon All Life is probably Ballou's own band, Converge, specifically their 2009 album Axe to Fall. This isn't necessarily a bad thing, because that's a pretty sick album in its own right, but also because it means that Abandon All Life is dynamic enough to be interesting. The charging, dual-guitar interplay; the frantic, Chris Pennie-style percussion; and the exasperated screams that lead the charge (which are unstylized enough to be about 75 percent clear) blend together and belie Jones' expressed intention of "caus[ing] you pain."
The lyrics, though minimalistic, aren't a dealbreaker either (and I'm quite severe when it comes to that subject). At first glance, they're basic hardcore punk stuff: fuck politics; fuck religion; fuck (insert pillar of society here). But if you dig slightly deeper, there's cathartic personal struggle, reminiscent of Minor Threat. Yes, it's all filtered through a lens of anger, but the subject matter shifts from DIY ethic ("Tyrant," "In Exodus") to interpersonal relationships ("Pariah," "Cry Wolf") and Nietzsche ("God's Cold Hands"). Okay, that last one was a joke, but still.
All in all, this is a concise, lean, and well-executed piece of metal. To borrow a maxim that a friend of mine once used to describe Decapitated's Winds of Creation, Nails doesn't reinvent the wheel, but they polish it until it rolls competently. It's maybe best not to look for this on any of our year-end lists, but if you're craving an extreme music fix, spin it.
Similar Albums:


Converge – Axe to Fall


Pig Destroyer – Book Burner


The Secret – Agnus Dei