Neil Young : After the Gold Rush
Some say that Neil Young was the "Godfather of Grunge," based largely on his tendency to delve into abrasive, dirty sounding rock songs full of angst and unrest. Not to mention he had big fans in the likes of Pearl Jam, one of the biggest bands of the genre. Yet, the funny thing about Neil Young is that these grungy, distorted rockers only made up about one-third or less of his total output. He was also a sensitive singer-songwriter, a wildly experimental free spirit and an all around great musician. And the album that best combines his talents, save for the wildly experimental part, is, arguably, 1970's After the Gold Rush.
For most of his career, Young split his time between solo releases, those with his rock band, Crazy Horse, and a little extra time, still, with Crosby, Stills and Nash. After Crazy Horse's Everybody Knows This is Nowhere and CSNY's Déjà vu, Young quickly released the third proper album to bear his name, a masterpiece in folk-rock, containing many of his best-known songs, many of which he still performs live to this day. Recorded in collaboration with then 17-year-old musician Nils Lofgren on the keys, the album encompasses all of the qualities that have made Young a rock legend.
Opener "Tell Me Why" is a simple, but beautiful song which asks many a question, yet never seems to offer any answers, hence the title. Young's tenor and acoustic guitar are the driving forces in this song, a stripped-down work of art that begins the album simply, yet powerfully. The title track follows, a longtime fan favorite played on piano, borrowing its title and themes of the apocalypse from a screenplay written by Dean Stockwell. "Only Love Can Break Your Heart," by comparison, is a sweet, pretty country waltz about love and love lost. Young sings, "I have a friend I've never seen/He hides his head inside a dream/Someone should call him and see if he can come out/Try to lose the down that he's found." It's a simple sentiment, yet one everyone can relate to. And in the hands of Young, it goes beyond mere common sense lyricism into something more transcendental and far-reaching.
The grungy rock of Crazy Horse echoes on "Southern Man," easily the hardest rocking track on the set, a song about racism in America's south, which prompted Lynyrd Skynyrd to reply, in "Sweet Home Alabama," "I hope Neil Young will remember, the Southern Man don't need him around anymore." Though it's been said that both artists were mutual admirers of one another, it's likely that this was one of the earliest known pop music battles. The song that follows, "Till the Morning Comes," ignited no controversy, conversely, as its 80 simple seconds are about as pleasant and bouncy as the album gets. Nonetheless, even as a brief, transitional track, it's a damn good song.
"Don't Let It Bring You Down" is easily one of the best songs on the album, though that could be said about almost all of them. This track, in particular, stands out for its stark melody and Young's vivid imagery:
Cold wind ripping through the alley at dawn
And the morning paper flies
Dead man laying by the side of the road
With the daylight in his eyes
"Don't Let It Bring You Down" has also been covered by many artists, ranging from Annie Lennox to Q and Not U. None surpass Young's, but if nothing else, they all attempt to do something different with the song. "When You Dance You Can Really Love" is the other rocker on the album, sounding something like a companion piece to Everybody Knows This Is Nowhere's "Cinnamon Girl." Some argue that Young's live version from Live Rust, louder and slightly faster, is the superior version. But in this format, it's still pretty damn good.
The album ends with "Cripple Creek Ferry," a minute-and-a-half long folk tune with a lighthearted melody and sinister underpinnings. It's been said that this track is an allegory about Young's own fame, but no matter the motivation, it's a fantastic contrast between two extremes.
Young went on to record many other classics — On the Beach, Rust Never Sleeps, Harvest — but After The Gold Rush was his first truly perfect album. It's a triumph in the Toronto native's songwriting and an essential addition to anyone's collection. Though Young held off on the release of many of his own albums on CD because he insisted they sounded better on vinyl, he neglected to include this one. Considering how amazing this set sounds on LP, it's a wonder why he did.
Similar Albums/Albums Influenced:
Songs:Ohia – Didn't It Rain
Bob Dylan – Bringing It All Back Home
Gram Parsons – Grievous Angel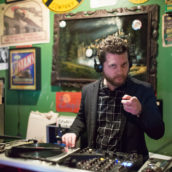 Jeff Terich
Jeff Terich is the founder and editor of Treble. He's been writing about music for 20 years and has been published at American Songwriter, Bandcamp Daily, Reverb, Spin, Stereogum, uDiscoverMusic, VinylMePlease and some others that he's forgetting right now. He's still not tired of it.