Truly Great
In 1980, Bernard Sumner, Peter Hook and Stephen Morris were faced with a difficult decision. After Ian Curtis committed suicide, the three remaining members of Joy Division had to decide whether or not to go on as a band. At first they continued on as Joy Division, playing a handful of shows with the moniker before shedding it to create a new band: New Order. It was the same three blokes, of course, but with New Order, Hook, Morris and Sumner had begun a new chapter of a musical body of work that was to continue for 24 years (and counting). And 1981's classic Movement was the first full-length to come out under the name New Order.
In some ways, Movement was both a continuation of Joy Division and a re-birth. Clearly, the band had become infatuated with synthetic sounds, blanketing the album with dark and atmospheric synth effects. And tracks like "Dreams Never End" showed the trio emerging as more of a pop band (only merely hinted at here), while Joy Division always veered toward the bleak side of pop songwriting. Closer was about as far as you could get from "pop" and still have the tag apply. Yet, Movement still carried shades of Curtis, as many of the songs find Sumner singing in creepy, dark registers, much like that of their befallen former leader.
On many of Movement's tracks, New Order comes off as something of a more dance-friendly version of Joy Division. The gloom and doom are still there, but the edgy, distorted guitar has been traded in for more subtle riffs and analog synthesizers. Several songs carry the tribal drum sounds of tracks like "The Atrocity Exhibition" and "Dead Souls." And for a band that later became known for such perfect pop songs as "True Faith" and "Regret," there's very little sunlight shining through on these mechanical post-punk dance dirges. Oh, and that's not a bad thing, by the way. While still haunted by Curtis' ghost, the Manchester trio was in a strangely experimental and bizarre, yet accessible place. To this day, there are few albums that sound remotely like Movement. Though there are many that borrow from Power, Corruption and Lies or Technique, Movement still seems a little too advanced for some listeners.
Martin Hannett's production can also be credited for encasing the band's music in a cold metal box, but the music seems to hold its own. Though Joy Division still looms largely over this release, there are future shades of the hit-producing New Order of later on. "Dreams Never End" find the meeting place between Sumner's crisp guitar and Hook's characteristic basslines. "Chosen Time" is one of the few truly danceable tracks on here, with a synth hook that almost lays the groundwork for "Blue Monday." "Senses" fills up space between bass rumbles with crashing industrial sounds, creating a song that sounds more than fit to be released on a label called Factory. "Doubts Even Here" recall some of the more melancholy and edgy moments of Low-Life and leave a melodic template for The Killers' Brandon Flowers to borrow from. And "Denial," strategically placed at the end of the album, bridges the gap between the first seven songs and the album's successor, Power, Corruption and Lies.
It's probably safe to say that Movement is something of an anomaly. Certainly fewer people own it than those who have a copy of Substance or Brotherhood, and it's a little darker and more eerie than any other release by the band. And yet, somehow, the cover image, a design borrowed from German Expressionist posters, has made it on to an asymmetrical shirt sold at Urban Outfitters. How this album became kitsch, I'll never understand. It's not like Van Halen's first album or anything. On the contrary, Movement is one of the coolest albums ever, and a unique bit of post-punk history that has yet to be matched.
Similar albums:
Joy Division – Closer
Depeche Mode – A Broken Frame
Public Image Limited – Second Edition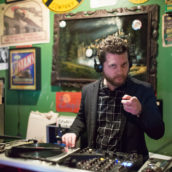 Jeff Terich
Jeff Terich is the founder and editor of Treble. He's been writing about music for 20 years and has been published at American Songwriter, Bandcamp Daily, Reverb, Spin, Stereogum, uDiscoverMusic, VinylMePlease and some others that he's forgetting right now. He's still not tired of it.