Nine Inch Nails : Hesitation Marks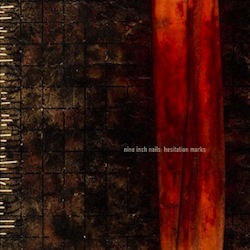 When Nine Inch Nails took the stage at the Wiltern Theatre in Los Angeles in the fall of 2009, it was widely speculated to be the end of Nine Inch Nails, a notion that NIN mastermind Trent Reznor did little to dispel. Speaking to the sold-out crowd in attendance, Reznor stated "We're not going to tour anymore as Nine Inch Nails, but we're all still going to be making music." Reznor made good on his statement over the last four years, successfully venturing into soundtrack work and forming a new band, How To Destroy Angels. New music poured out of the Reznor camp at a fairly decent clip, though none of it as Nine Inch Nails. That changed earlier this year as Reznor announced the surprise return of Nine Inch Nails, with both a new album, Hesitation Marks, and a world tour to follow.
It's important to remember that musicians are a notoriously fickle bunch, however, especially when they begin to flirt with the idea of retirement. Kiss has been on a "farewell" tour for years, David Bowie just reemerged after a nearly decade long absence and the Rolling Stones will likely let nature decide their retirement. But Reznor's reactivation of the Nine Inch Nails project doesn't have the feel of a blatant cash grab, or the stink of a once-great artist scratching and clawing desperately to maintain his place in the spotlight. In spite of Nine Inch Nails' rapidly approaching its 25th anniversary, Reznor has managed to keep the project current and relevant, and new album Hesitation Marks is further proof of that.
As it usually goes when an artist releases a so-called "comeback" album, it's merely a reiteration of what came before, displaying little or no growth (see: In Space, Chinese Democracy, The Weirdness). While Hesitation Marks features many of the traditional elements that have made up Nine Inch Nails releases of the past (even down to the artwork by Russell Mills, whose designs were also featured on The Downward Spiral), the album transcends mere nostalgia. Sure, there are aggressive, swirling electro maelstroms to be found like "Copy of A" and "In Two," which will no doubt satiate longtime fans, but what makes Hesitation Marks special are the sounds that you wouldn't expect to hear from a Nine Inch Nails record.
Lead single "Came Back Haunted" features pulsating rhythms and seductive synth grooves that permeate the track, custom tailoring it for the dancefloor, a hallmark that Hesitation Marks leans heavily on. Continuing this approach, "Satellite" showcases a beat that sounds more like a Timbaland production, yet lyrically, the song paints a much darker picture with Trent singing "Satellite/ I'm watching you/ I'm one step ahead/ Satellite/ I'm part of you/ I'm inside your head."  But the most unexpected (and satisfying) cut from the album is "Everything," a three-minute slice of post-punk-pop goodness. With its straightforward approach and major-key tone, its sheer simplicity is essentially uncharted territory for Reznor. Lyrically though, "Everything" is about as honest a song as Reznor has ever written, which speaks even greater volumes.
While Hesitation Marks leans decisively toward an electo-pop feel, there are certainly exceptions. "All Time Low" sees Nine Inch Nails explore a trashy funk beat that's equal parts Red Hot Chili Peppers and Kraftwerk. "Various Methods of Escape" is likely the most familiar sounding song on the album, with numerous swells and builds before finally exploding in a torrential wall of sound. Certainly, it's a method that Reznor has used in the past, but one that still works to great effect. The album's final (non-instrumental) track, "While I'm Still Here" follows in the vein of past closers "Hurt" and "Right Where It Belongs," but it's delivered with a newfound purpose and intensity unique to this album and era for Reznor.
On the surface, Hesitation Marks is likely to provide a shock to some listeners. It contains elements that have either been heavily subdued or never before featured on past works, but with Hesitation Marks, Reznor isn't in it to deliver the expected. After a few spins through the album, his vision begins to come into focus, and it slowly unfolds to present a dense yet unflinchingly honest work. Attempts at reviving an old sound and a dormant brand aren't always successful — particularly when the one in charge says it wasn't actually going to happen — but Reznor does so with such conviction on Hesitation Marks that it's easy to forget he ever left in the first place.
Similar Albums:


Nine Inch Nails – The Slip


How To Destroy Angels – Welcome Oblivion


Author & Punisher – Women & Children